Disclosure of Material Connection: Some of the links in this post may be "affiliate links." This means if you click on the link and purchase an item, I will receive an affiliate commission. Disclosure in accordance with the Federal Trade Commission's 16 CFR, Part 255. This site is a participant in the Amazon Services LLC Associates Program, an affiliate advertising program designed to provide a means for sites to earn advertising fees by advertising and linking to Amazon.
We've finally gotten to be old hands at hitting the long road with small ones. It's never precisely easy but when you take a few key things to smooth the way, it's much more enjoyable for everyone.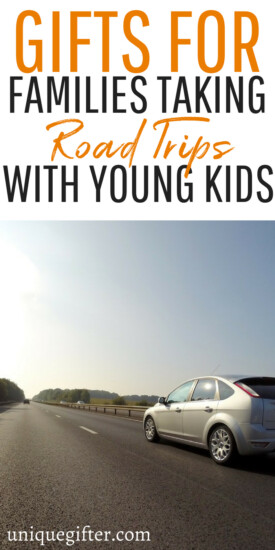 We try to opt for less waste where we can to balance out those times that we can't and pick toys that aren't all disposable. When they're treated right, the toys can be used for years and even passed down to younger family and friends.
Creative Gifts For Families Taking Road Trips With Young Kids
If you need more gift ideas, we have em here too.
Marvel Superhero Bib & Boppy Cover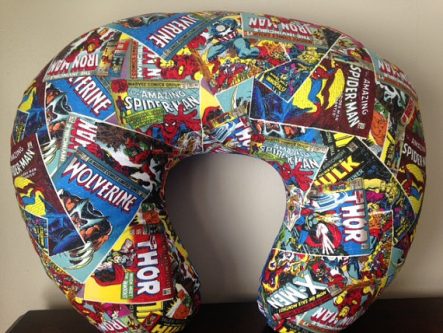 Kids seem boneless when sleeping in the car but they nap much better, and longer, with a good pillow – the cover is for us adults who don't want to wash whole pillows after unfortunate reversals of food and drink.
Organic Milk Boxes
I can't believe we never realized there was such a thing as shelf stable milk – we could have saved so much room in the car and cooler!
Low Fat Chocolate Milk
Pure and blatant bribery. We can negotiate HOURS of good behavior in exchange for a chocolate milk. It helps to deprive them of this treat well before the trip.
Organic Apple Blueberry Pomegranate Squeeze Pouch
Confession: I bought these for our emergency kit. We adults can function on a handful of protein bars, happily or no, small children are way more cooperative when they've got proper nutrition in a fun squeezeable pouch and it turns out that applies to plane rides and road trips too!
Daniel Tiger's Neighborhood Coloring Book with Stickers and Crayons
Mr. Rogers 2.0 plus crayons plus stickers = half an hour of peace.
Daniel Tiger's 5-Minute Stories
We are a pro-Daniel Tiger household – the graphics are cute and the stories are fun with that classic Mr. Rogers teaching tone.
Marvel Super Hero Adventures Save the Day!: A Lift-the-Flap Book
This is one of our favorite lift the flap books – we can learn counting, comparisons, how many Spider heros there are.
Water Wow
All the fun of paint without any of the mess – you just add water to this little brush and the colors magically appear on the page. Let them dry and play again the next day.
Marvel Window Clings
These stick to windows and come off easily. Anyone who prefers not to advertise that a kid's gone crazy with stickers in their back seat can appreciate this cling set.
Small Storage Jars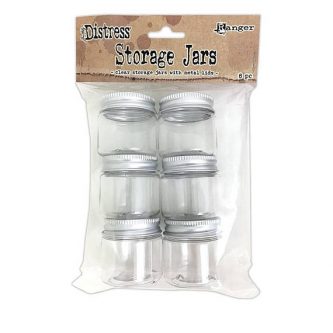 Fill half of these with small beads and other countable things you've got lying around, fill the other half with reward crackers and snacks. Learning to unscrew the jars alone will keep them busy for a while.
Training Chopsticks
Mr. Miyagi had the right idea – let the kids practice much earlier though, and see if they can't learn how to feed themselves by the time you get out of the car!
Handheld Car Vacuum
This is a lot more for parental sanity unless your kid, like ours, loves to clean up. Then it's fun for everyone to bust those inevitable crumbs after a long haul.
Canvas Bag
Everyone gets one bag to fill with their essential books, plushes, and other toys.
Fabric Markers
Mom's reserve bag always has a few extra surprises for when the kids have gone through their own packed bags, usually worth at least another hour of distraction. This surprise means the kids get to decorate their own canvas bags!
Mini Aluminum LED Flashlight Set with Lanyard
Your mileage may vary with this – you might regret giving these to the kids for the car ride. Or it might be the best reward for long late night drives! You decide.
Piano Book
We received one of these as a gift last Christmas and it was such a hit on the long drive home!
PJ Masks clock book
PG Masks are one of the big things right now, and kids around 3-5 get really into moving the clock hands around to figure out how to tell time.
Crossword Puzzle Book
If you're a puzzling family, there's no time like the present to start the young ones on learning to do the crossword!
Double Sided Chalk and White Board with ABC Magnets
This handy lapboard has storage compartments for the letter magnets and other magnets you might add for the kids to play with. Both fun and educational if you can spare the attention to play hangman with them!
Insulated Cooler Backpack
Rather than subsisting on 3.5 fast food meals a day, we rely mostly on healthy snacks we pack into our cooler bag: sliced apples, cheese, bananas, small portions of turkey mac n cheese or rice and curry, and lots of water.
Do you have a go to kit for the car that everyone should imitate? Is there anything that's actually a terrible idea that we should avoid? Let us know!