Pisces season is fast approaching and that means it's time to start thinking about what would be ideal for gifts for a Pisces man.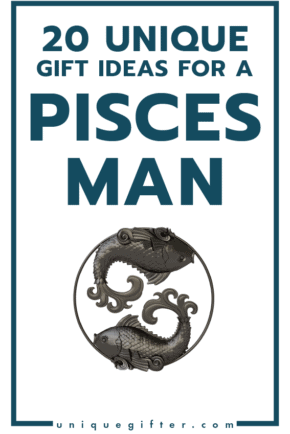 Notorious for their sensitivity and nurturing side it's needless to say that any Pisces man is a keeper, either in friendship or love. To show your love for this keeper, whether he is your boyfriend, husband or friend, we've put together 20 gifts for a Pisces, that put his zodiac sign to use.
These make great Pisces season birthday gifts, but could also be wonderful ideas for Valentine's Day, Christmas, or any other holiday you celebrate with the water sign guys in your life.
It doesn't matter if he diligently reads his horoscope or not, let's use his astrological sign as a fun way to find the perfect gift for that special water sign in your life.
Unique Gift Ideas for the Pisces Man in Your Life
If you're not sure, Pisces season runs February 19th to March 20th; if your man was born during this timeframe he'll love these Pisces themed gifts! (Even if he doesn't know it.)
We also have gifts for a Pisces woman if you're looking for something more feminine to give to the Pisces in your life.
Put those big Pisces emotions to good use and hit your Pisces man right in the feelings with these gifts. Whether you go with something practical or more romantic and thoughtful, your watersign friend, boyfriend, or husband will love these gift ideas.