Disclosure of Material Connection: Some of the links in this post may be "affiliate links." This means if you click on the link and purchase an item, I will receive an affiliate commission. Disclosure in accordance with the Federal Trade Commission's 16 CFR, Part 255. This site is a participant in the Amazon Services LLC Associates Program, an affiliate advertising program designed to provide a means for sites to earn advertising fees by advertising and linking to Amazon.
If your father or husband is a hunter, your Father's Day gift to him this year might be something hunting related because it is something he will love and cherish even more. You may be at a loss of what to get him for Father's Day, but there are so many awesome gifts to choose from! Check out some of these and see what your father or husband would like to receive this year.

Outdoorsy Father's Day Gifts for a Hunter
Father's Day is Just Around the Corner!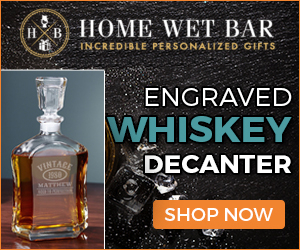 "I have too many guns… said no one ever" Shirt
Hunters can never have too many guns!
Personalized Camouflage Hunting Pocket Knife
This personalized camouflage hunting pocket knife will quickly become his favorite hunting tool!
"If it flies, it dies" Duck Can Cozy
For the duck hunter, this duck can cozy is perfect for when he wants to drink a nice cold can of beer.
Duck Hunter and Dog Vinyl Wall Clock
The duck hunter in your life, especially one who hunts with his dog, will love hanging this vinyl wall clock up on the wall so that he can tell what time it is much easier… and with style!
"I like big racks" Beer Mug
As a hunter, he likes big racks for all those guns he has for hunting.
"Got you in my sights" Bullet Keychain
He's got you in his sights because he loves you so much.
Antlers Necklace with Initial Charm
This antlers necklace with his initial on it will quickly become his favorite piece of manly jewelry.
Deer in Crosshairs Coasters
These deer in crosshairs coasters will keep his tables free from watermarks and some other messes too.
Oak Gun Rack
Every hunter needs a quality oak gun rack to hang his guns on when he's not using them.
Personalized Antler Leather Wallet
All men need wallets or money clips, and what better wallet can your favorite hunter have than one with his initials and antlers engraved on it?
"Roses are red, violets are blue, here's some ammo, let's go pew pew" Keychain
Ammo is important for hunting for sure.
Duck Hunter Whiskey Glasses Set
Your father will enjoy his whiskey even more with these duck hunter whiskey glasses. He even has enough to share with friends!
Personalized Stainless Steel Camo Water Bottle
When he is hunting, he needs to stay hydrated!
Hunting Deer Heartbeat Shirt
For your deer hunting father on Father's Day this year, a hunting deer heartbeat shirt is perfect for him.
"I love you deerly" Personalized Keychain
Remind him how much you love him with this keychain that is personalized just for him.
"Every day is a good day when you hunt" Coffee Mug
Every day they hunt is a good day!
Personalized Deer and Tree Cutting Board
Help him cut meat, fruits, and veggies and have more fun, with this personalized deer and tree cutting board in his arsenal.
"Making the moose out of life" Water Bottle
Help him make the most out of life, and stay hydrated at the same time, with this awesome water bottle!
"Funniest hunter in the galaxy" Shirt
He is the funniest (or any other adjective) hunter in the galaxy when he loves Star Wars as much as he loves hunting.
Grizzly Bear Pop-Up Pedestal
An awesome piece of decor to put up outside their home and let everyone know that they love the rugged and hunting lifestyle.
Father's Day gifts are not always hard to find, and for the hunter in your life, one of these gifts will bring a smile to their face.