Disclosure of Material Connection: Some of the links in this post may be "affiliate links." This means if you click on the link and purchase an item, I will receive an affiliate commission. Disclosure in accordance with the Federal Trade Commission's 16 CFR, Part 255. This site is a participant in the Amazon Services LLC Associates Program, an affiliate advertising program designed to provide a means for sites to earn advertising fees by advertising and linking to Amazon.
Working on a tight budget, but need to get Mom a gift? Well, you can definitely wow a Mom on Mother's Day without emptying your pockets. These 20 Cheap Mother's Day Gift Ideas are sure to make this day extra special.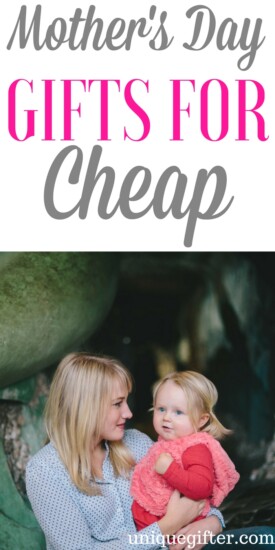 Cheap Mother's Day Gift Ideas
"Remember I Love You Mom" Cuff Bangle Bracelet
Mom can feel your love wherever she goes with this adorable cuff Bangle bracelet.
Butterfly Suncatcher
This unique suncatcher presses real flowers between the glass wings. Let the sun shine and brighten up your Mom's world.
Anti-Stress Coloring Book
Help Mom relieve stress on those challenging days with an anti-stress coloring book.
Mother Mermaid Wall Art
Add to Mom's home decor with this beautiful Mother Mermaid Wall Art.
Tricycle Plant Stand
Gift the mother in your life a super unique plant stand to showcase her plant collection.
"I'm a Mom. What's Your Super Power?" Coffee Mug
Give a Mom an extra boost of confidence every morning as she sips her coffee from this brilliant coffee mug.
One Line a Day Five Year Memory Book
Mom can capture some of the best moments with just one line, and fill up a book that she will cherish for the rest of her life.
What I Love About Mom Fill in the Love Journal
Tell your Mom all the things you love about her in this Fill in the Love Journal.
Laser Engraved Mom's Magic Baking Spoon
Shopping for a Mom who loves to bake? This Mom's Magic Baking Spoon is the perfect gift.
Mom Poetic Decoration Plaque
Poetry always makes such a lovely gift. This poetic decoration plaque for Mom is definitely a winner.
"Everything is better in Mom's Kitchen" Apron
If your Mom loves cooking, she will definitely love this apron. She can keep her clothes mess-free, and get a boost in confidence all at once.
Decorative Throw Pillow
Add some decor to Mom's home with this decorative throw pillow.
Succulent Cactus Candles
These candles are both unique and decorative. Mom is sure to love these.
Makeup Bag
Does your Mom stock up on makeup like she's going on a MUA World Tour? If so, a makeup bag would be a very appropriate gift.
Mulberry Silk Eye Mask
Help Mom get a good night's sleep with this Silk Eye Mask.
Handheld Massager
Wouldn't it be nice to get a little massage while you're at work or on the go? This handheld Massager can make that happen.
Aromatherapy Diffuser Necklace
Aromatherapy has many benefits. Thanks to this handy aromatherapy Diffuser necklace, Mom can experience her aromatherapy while on the move.
Matcha Tea Gift Set
Are you gift shopping for a tea loving Mom? This matcha tea gift set will most definitely please her.
Pocket Guardian Angel
Remind your Mom that she is loved and protected at all times with this adorable pocket guardian angel.
Framed Poem
Mom will feel extra special reading this beautiful verse poem. This will be the perfect addition to her tabletop.
It's not the price tag that makes a gift worthwhile; it's the thought that goes into it. An inexpensive gift filled with love is enough to evoke tears of joy. This year you can make Mother's Day extra special without the strain on your bank account. Enjoy!