Disclosure of Material Connection: Some of the links in this post may be "affiliate links." This means if you click on the link and purchase an item, I will receive an affiliate commission. Disclosure in accordance with the Federal Trade Commission's 16 CFR, Part 255. This site is a participant in the Amazon Services LLC Associates Program, an affiliate advertising program designed to provide a means for sites to earn advertising fees by advertising and linking to Amazon.
Here's the thing about Halloween: Kids get way too much candy. Sure, I love stealing my favourite treats out of their bags on Halloween night as much as the next parent, but let's be real, I don't need that either. That's why I like to give out Halloween treats that aren't candy to trick or treaters.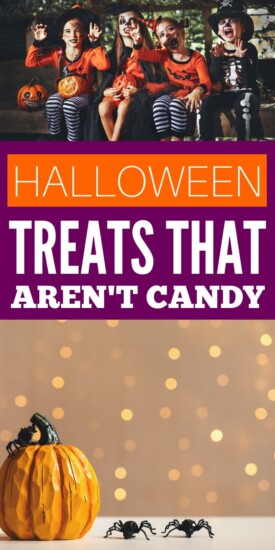 20 Halloween Treats that Aren't Candy (for trick or treaters)
There's another reason to skip the treats on Halloween too – allergies. If you haven't heard of the teal pumpkin project, it's basically to bring awareness to kids who have allergies. Halloween is tough for these kids! And it's not just peanut stuff. So non-candy gifts are a good way to avoid a lot of problems.
Play Doh
This is one of my top non-candy Halloween treats for trick or treaters. The thing about Play Doh is it's great for almost all ages, inexpensive, and most families will enjoy it.
Wind Up Toys
Kids love little wind up toys any time of the year. Pick up a pack of Halloween themed ones and they'll be thrilled to find them in their bags instead of candy.
Crayons
Crayons are great Halloween treats that aren't candy because they're something, like the Play Doh, that most kids will appreciate and use. You could even pair them with a cute notebook.
Small Halloween Toys
If you can't decide or want an assortment, grab a pack like this to hand out on Halloween.
Bubbles
Pick up bubbles on sale at the end of summer to hand out. To make them Halloween themed you can find lots of great labels on Etsy that can be printed out right at home.
Bendable Zombie
Kids love playing with bendable toys like these. Plus these zombies are a bit cooler than the smaller novelty toys.
Light Up Pumpkins
Kids love anything with lights. What makes these great Halloween treats that aren't candy is that your trick or treaters can use them to be seen more easily which is great when it gets dark.
Stretchy Skeletons
These are a Halloween staple! There's something so fun about stretching out these skeletons and watching them bounce back into shape.
Slap Bracelets
These never really went out of style, you just grew up. Halloween themed slap bracelets are super fun for kids and they'll love wearing them even when it's not Halloween.
Rubber Ducks
These are super cute candy alternatives for Halloween. The best part is they're perfect for younger kids who can't have treats yet.
Do You Want to Build a Jack 'o Lantern?
You'll be the coolest house in town handing these adorable gifts out. Build your own little jack 'o lantern out of clay – it comes everything you need!
Halloween Tattoos
Tattoos are great Halloween treats that aren't candy to give out on their own or as part of a treat bag.
Bouncy Balls
Parents are going to hate them but you'll make all the kids in your neighbourhood really happy with these Halloween treat alternatives.
Mini Notebooks
Kids can keep all their important notes with these cute notebooks. You could even hand them out with Halloween pencils for a fun non-candy gift!
Pumpkin Slinkies
They'll probably be broken in a couple of days but that doesn't mean they won't be the greatest find in their loot bag until then. These are fun for kids of all ages too.
Do you think you'll hand out Halloween treats that aren't candy this year? Some people think it's lame but as a parent of 5 I can tell you kids love it!