Disclosure of Material Connection: Some of the links in this post may be "affiliate links." This means if you click on the link and purchase an item, I will receive an affiliate commission. Disclosure in accordance with the Federal Trade Commission's 16 CFR, Part 255. This site is a participant in the Amazon Services LLC Associates Program, an affiliate advertising program designed to provide a means for sites to earn advertising fees by advertising and linking to Amazon.
There are tons of things to see and feel when you visit the beach, so why not have a scavenger hunt for the beach? Your children will be paying extra close attention to their surroundings to see who can find the most stuff. I can assure you that there are going to be laughs, giggles, and tons of smiling going on. I wouldn't even be surprised if other kiddos nearby don't want to join in the fun too. But who can blame them?!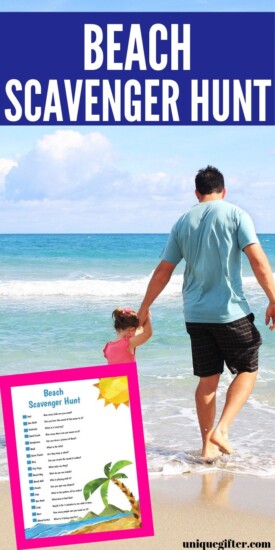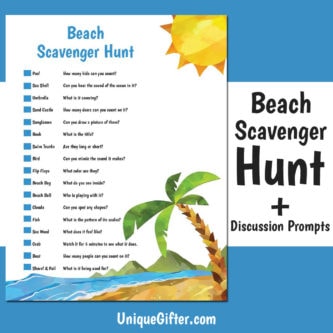 How Do I Get This Free Beach Scavenger Hunt Printable?
What do you have to do to get this printable? All you need to do is fill in your email address and it will be delivered right to your email. That's it! Nothing difficult or fancy, just plain and simple. Then you can print as many copies of this beach-themed hunt as you wish.
Scavenger Hunt For Kids
I know, I know as an adult you are probably a little jealous that these free printables are for kids, but don't worry I promise you are going to have fun too! You will get to enjoy the kiddos running around laughing and looking at the next clue. But, the great news is that there is actually plenty of adult hunts out there too. Check out the website Riddle Me for TONS of ideas and different themes. They have everything from Harry Potter-themed hunts to Presidential hunts and even indoor hunts.
Scavenger Hunt Clues
Each one of the free printable hunts comes with clues so you know exactly what each participant is looking for. If your kiddos can't read yet, they can still participate you may just need to give them the clues. This scavenger hunt is geared towards younger kids, but you could change the clues a little to make it harder for older kids too.
Prizes For Kids
These awesome prize ideas are beach themed and a total blast for the kids. Here are some of my favorite ideas:
Beach Balls – What is more fun to play with at the beach than a new beach ball? This set comes with 50 in case any blow away. :)
Sunglasses – Everyone needs a new set of shades when they hit the beach.
Snap Bracelets – It's impossible to not smile when you play with a snap bracelet.
Scavenger Hunts For Traveling
Going on vacation to the beach? Besides taking in all the sights and sounds of the beach, why not bring some of your own entertainment along. Giving the kids something to do will keep them enjoying the great outdoors while they are still learning. This beach hunt helps enhance the kids listening skills, counting, drawing, shape recognition, and so much more. The best part is the kids will be learning and working on their skills without even realizing it. Huge win in my book!
Even More Free Printable Hunts