Disclosure of Material Connection: Some of the links in this post may be "affiliate links." This means if you click on the link and purchase an item, I will receive an affiliate commission. Disclosure in accordance with the Federal Trade Commission's 16 CFR, Part 255. This site is a participant in the Amazon Services LLC Associates Program, an affiliate advertising program designed to provide a means for sites to earn advertising fees by advertising and linking to Amazon.
If you are in charge of throwing a wedding shower, you might be on the hunt for some entertaining games for all the guest. I have gathered some awesome wedding shower game ideas and activities that will make the shower a huge success. Keep your guest laughing and enjoying themselves with fun games and activities. Your bride-to-be will be thanking you for one of the most memorable parties. Games are a perfect way to help break the ice of guest who may not know each other and just liven up the atmosphere.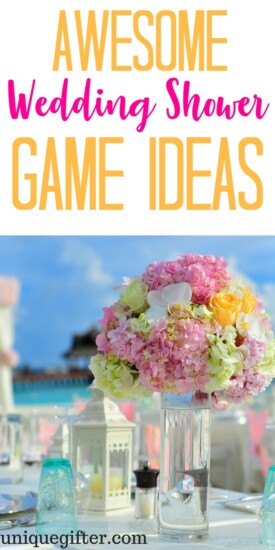 The Perfect Wedding Shower Game Ideas
He Said, She Said Game
A fun game where guest can get to know the bride and groom a bit more. Let the guest guess the answers and see who gets the most answers correct.
Scratch Off Game Tickets
This pack of cards will have one winner where you can give out a prize or something if someone scratches off the winning ticket. You can hand out so many cards at the beginning of shower or they can play games to win tickets for a chance to win.
Advice and Wishes
Let the guest write any tips or well wishes to the bride and groom to be. A great keepsake to look back on over the years.
Photo Fun
Let the guest have fun in a photo book taking silly pictures and more to create a photo album for the bride to remember her special day.
Bingo Cards
If you like playing Bingo, this is a fun one to do. The beautiful floral cards really dress up the idea of playing bingo at a shower.
Wedding Word Search
Let the guest have fun and race to see who finishes the word search and unscramble the words the fastest. All words are related to weddings.
What's In Your Purse
Let the guest rummage through their purses and put a mark by each item they have in their purse. The person with the most points can win a prize.
Wedding Traditions
See if you know which wedding traditions go where in this fun game. Like is it good or bad luck if it rains on your wedding day, and more.
Champagne Search
Another word search that is very classy and fun, and a great way to pass some time if you are waiting to serve up dinner, or transition to a new activity.
"I Do" Bridal Games
This is a set of 6 games all in one, so it gives you options as to what to play, or allows you to buy multiple games all at once instead of buying them all separate for a money saver.
Candy Guessing Game
Have jars of candy and let your guest guess how much candy is in each jar, the winner gets a prize.
Date Night
Have each guest write out their perfect date night to help give the new couple to be ideas on what to do to spend time with each other!
Bridal Toss
Toss around the beach ball and pick up a question and answer quickly, if you get it right take the points on top of the card. Fun questions to help break the ice.
How Well Do You Know The Bride
See how well each guest really knows the bride by these fun questions. It is fun and silly and will get people laughing trying to guess the answers.
Bridal Shower Party Dice
Each guest can roll the dice to see what they roll and answer the question that is there. It is a wonderful icebreaker and helps set the mood for a fun and relaxing party.
Plush Hound
Not a game but a great keepsake for the bride. Let each person write their name on the dog, so she can look back and see who all came to the party.
Name That Cake
Calling all cake lovers. This game has everyone guess what type of cake it is by the clue given! I love cake so I would love trying to find the correct answers.
Love Song Match Game
See if you know the love songs and whoever matches the most wins. It is a fun game and perfect for trying to think of what the first dance song might be at the wedding.
How Many Kisses
Get a jar full of Hershey kisses and let the guest try and guess how many kisses are inside. Person closest or who guesses right wins.
Marriage Advice
These marriage advice cards area a wonderful keepsake, put them in a photo album so the lucky couple can look through and read them.
Which one of these awesome wedding shower game ideas and activities did you add to your plans? The best thing about them is just how easy they are to put on. That way, you can rest assured the whole thing will be a success!