Disclosure of Material Connection: Some of the links in this post may be "affiliate links." This means if you click on the link and purchase an item, I will receive an affiliate commission. Disclosure in accordance with the Federal Trade Commission's 16 CFR, Part 255. This site is a participant in the Amazon Services LLC Associates Program, an affiliate advertising program designed to provide a means for sites to earn advertising fees by advertising and linking to Amazon.
No matter the season, kids tend to get a little bit of cabin fever and need something fun to entertain them. That's where this fantastic free printable Scavenger Hunt For The Backyard steps in and saves the day! There is something that is so intriguing to people of all ages when it comes to scavenger hunts.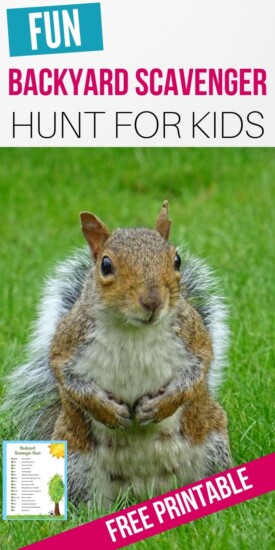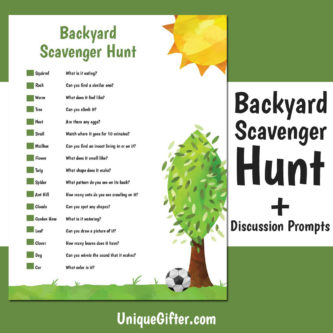 Free Printable Scavenger Hunt
I am so excited to share these FREE printable scavenger hunts with you because I know your kids are going to have a blast! I promise when you tell your children they get to participate in a scavenger hunt, they are going to get over the top excited. Why? Because they are simply FUN! They are ideal for kids that love a good competition but are also suitable for more reserved kids. The best part about this scavenger hunt is that you can do it right in your own backyard. No travel needed and it's all necessary items you probably already have laying around the house. Enter your email address to have it delivered straight to your inbox.
Scavenger Hunt Ideas
When it comes to scavenger hunts, you can have kids and adults go on the hunt for all kinds of things. Just use your imagination, and you can't go wrong.
When you are brainstorming about fun scavenger hunts for kids or adult scavenger hunts, don't forget to check out the page Riddle Me. They have TONS of ideas, tips, and you can even help you plan your next event. Create invitations, create activities, and also help make thank you cards. They have thought of everything!
Outdoor Scavenger Hunt For Kids
Let's be real; we know that our kids spend a lot of time indoors watching TV, playing tablets, and missing out on the happenings of the outdoor life! While you can learn many things using tablets and playing games, a nature scavenger hunt will allow you to breathe fresh air, learning new skills, and encourage you to use your mind in different ways.
With this backyard scavenger hunt, not only will the kids be looking for specific items like an animal or rock, they will need to answer some questions too. I love when kids (and adults) can exercise their bodies as well as their minds at the same time!
Having an outdoor scavenger hunt is especially fantastic if you are working with a group of kids. They can develop teams and build their teamwork skills too.
Backyard Scavenger Hunt Prize Ideas
While prizes aren't required by any means, they always make things more fun! Especially if you are kiddo. Here are some of my favorite prize ideas:
Pencil Erasers – Kids go crazy for these adorable pencil erasers! This set comes with 32 different ones too.
Bubbles – One thing that always brings a smile to your child's face is bubbles. They are the perfect outdoor prize!
Jump Ropes – They are a wonderful way to encourage exercise without ever having to say anything. You hand out jump ropes and they will be happy to exercise!
Scavenger Hunts That Promote Learning
I know I have mentioned it, but not only are these scavenger hunts great for playing around, but they are great to enhance learning. They learn cause and effect, teamwork, hand-eye coordination, critical thinking, and so much more. It's time to sign up for this amazing FREE printable scavenger hunt and start searching!
Check out some of these other free scavenger hunts