Disclosure of Material Connection: Some of the links in this post may be "affiliate links." This means if you click on the link and purchase an item, I will receive an affiliate commission. Disclosure in accordance with the Federal Trade Commission's 16 CFR, Part 255. This site is a participant in the Amazon Services LLC Associates Program, an affiliate advertising program designed to provide a means for sites to earn advertising fees by advertising and linking to Amazon.
40 Gifts For Camping Enthusiasts
Ah, the great outdoors! While we'll gladly agree that it's not for everyone, we all have friends or family that would live outdoors if it weren't for that pesky job thing! These people are always on the lookout for things to make their lives a bit easier and make camping more enjoyable. These are out gift ideas for camping enthusiasts!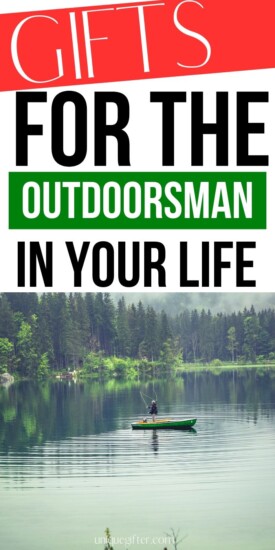 Surviving With Style
There are plenty of things on the market that can help the camping devotee make the most of their time out with Mother Nature and since there are limitless gadgets and supplies available, shopping for these things can be a bit intimidating. Never you worry because we've got the perfect gift ideas with these 40 gifts for camping enthusiasts! Hey, if you're spending abit of time outside the office, give your boss a smile when you get back with one of these gift ideas for your boss!
8 Piece Camping Utensil Set
There are certain comforts that you don't want to give up when you leave home and cookware is definitely one of those things. This 8 piece set even includes a cutting board among plenty of other utensils!
First Aid Kit
Accidents happen and just because you're out in the wilderness doesn't mean that they won't. Help your gift recipient with this 150 piece first aid kit!
Cottonelle Flushable Wipes
We spoke earlier about creature comforts and staying clean is absolutely a top priority. Outdoors gurus can't just run off and take a shower whenever they get a bit dirty so help them stay sparkline clean with these!
Marshmallow Roasting Sticks
One of the best parts of camping is roasting marshmallows over and open fire and these make that safe and easy! Telescoping for easy storage and sporting an insulated handle, they'll make sure your hands stay cool while the marshmallows get toasty.
Jackery Portable Power Station
Not everyone likes to go out in the great outdoors without their electronics and this gift is sure to make sure they don't have to. Offering over 12 charges for smartphones and up to 26 hours on a camping light, it's a must have for camping!
Coleman Camping Coffee Maker
Coffee. There is a countless amount of people that can't start their day without it and with this nifty little coffee maker that works with camp stoves, you can ensure that the camping lover in your life doesn't have to!
Vont Camping Lanterns
Let there be light! When a roaring campfire isn't enough to illuminate the campsite, this two pack of camping lanterns is sure to help out. One charge can last for up to 30 hours, so they won't have to worry about sitting in the dark!
Pop-Up Trash Can
No one likes a litterbug! Coghlan ensures that the avid camper in your life has plenty of room for their refuse with this portable trash can. Complete with a zipping top so nothing can fly or spill out!
Folding Campfire Grill
There are few things more delicious than catching your own fish and grilling them over the campfire. Amazonbasics makes this super easy with this campfire grill that's made easy to pack around and store by folding!
Lifestraw Personal Water Filter
Sometimes even the most experienced camper is put into bad situations and won't always have access to clean drinking water. This will make it certain to where they'll never have to face that problem. This LifeStraw filters out 99% of harmful bacteria and can process up to 1,000 gallons of water!
Camping Cot With Air Mattress
Roughing it in the great outdoors doesn't always mean you have to sleep on the hard ground anymore. This Coleman camping cot comes with a cushy air mattress and even has side tables attached!
MallowMe Hammock
Isn't it great to just be able to lay back in a comfy swinging hammock and relax with only the sounds of nature around you? We completely agree and you can give your camper that awesome experience with this MallowMe hammock!
Collapsible Sink
Your camping enthusiast is going to need somewhere to wash that cookware or those marshmallow roasting sticks and where better than this cool little collapsible sink? Able to hold 2.25 gallons, they'll be overjoyed to have it with them!
Paracord Bracelet with Compass (2 Pack)
Just in case of emergencies, paracord should always be around. These bracelets come with 12 feet of military grade paracord, so they're capable of supporting up to 550 pounds. The compass is just an added bonus at this point!
Headlamp Flashlight
Perfect for those nighttime hikes, this headlamp flashlight has 4 different lighting mods, has a 90 degree tilt and is even waterproof!
Coleman Portable Kitchen
If you know someone who really loves to take all of the comforts of home out into nature with them, this kitchen is most definitely for them. Able to be folded to be more suited for travel, this portable kitchen makes cooking outside a breeze!
Coleman Gas Stove
With all of this coffee makers and portable kitchens, the camper is going to need a heat source for it and what better than this Coleman gas stove? This model has 2 burners and even includes wind block panels to protect that flame!
SE Outdoor Tanto Knife With Firestarter
The perfect small knife for the outdoorsman, it has a nylon cord for the handle and for a lanyard for carrying around and even has a firestarter. How handy!
Glow Sticks
Whether they are there in case of an emergency or just plain fun to have for the kids that around, glow sticks are always a great addition for camping! Make sure your camper isn't in short supply of them.
Coleman Dinnerware Set
We've covered the cookware and now it's time for dinnerware! This Coleman dinnerware set is 24 pieces and includes plates, bowls and utensils.
LAMURO Campsite Organizer
This cool little organizer is to make sure that the outdoors lover's gear and goodies are always easily reachable and not rolling around on the ground getting filthy. With 8 different hooks, you can hang things horizontally or vertically!
Regalo Toddler Camping Cot
Even little ones love getting out in Mother Nature and this cot gives them a comfy place to sleep as well. It also includes a tiny fitted sheet!
Folding Shovel With Saw
Between digging latrines and digging firepits, there tends to be a lot of digging involved when it comes to camping. No one wants to carry around a regular bulky shovel so make sure that nature lover in your life has this folding shovel that even has a nifty saw attached!
Bungee Clothesline
Sometimes, you've gotta do laundry while you're camping and there's not exactly a lot of dryers out in the wilderness. This clothesline is sure to make your camper's experience a heck of a lot easier when it comes to drying their clothes!
Portable Tankless Water Heater
Some campers don't want to sacrifice their hot showers and we can't say that we blame then. You can ensure that they don't have to with this awesome portable water heater! Fueled by propane and it even includes a shower head!
Tactical Waterproof Flashlight
We've covered light sources aplenty on this list because light is important in the outdoors where streetlights aren't a thing. These flashlights are perfect for exploring at night with their bright LED bulbs and they are even waterproof!
Disposable Toothbrushes
I bet you forgot about the little things like oral hygiene didn't you? Luckily, we didn't and you can make sure that your camping enthusiast has the shiniest smile with these prepastened and disposable toothbrushes!
Portable Camping Chairs
That camper of yours has to have a place to sit, right? Give the gift of outdoor comfort with these portable camping chairs that are ultralight so they are easy to pack around!
Wenzel 8 Person Tent
Even if your camper already has a tent, now would be the time to give them an upgrade. This monster of a tent can sleep up to 8 people and is sure to be a spacious surprise for them!
Camping Logbook
Camping memories are more than just photos. Give your camper the gift of being able to record their feelings and experiences from all of their trips in their own words with this camping logbook.
Portable Toilet
Does a bear poop in the woods? Absolutely they do but you can ensure that the camper in your life doesn't have to with this portable toilet!
Pop-up Shower Tent
We've covered portable water heaters and towel for showers but we haven't covered the privacy aspect until now. Make sure that your camping lover isn't baring it all for nature and give them the coverage they need during their showers!
Rubber Horseshoe Set
There's bound to be a lull in activities where your outdoorsman will need to kill some time with their friends and loved ones and what better way is there than with a fun game of horseshoes? Made from rubber instead of metal, it makes these way more portable and easy to lug around!
Rugged Camping Pillow
That certain someone is going to need a place to lay their head at night and we've got you covered on that front as well! These inflatable pillows are made rugged so they are puncture resistant and super durable.
Coleman Cool Weather Sleeping Bag
That camper is going to need a comfy sleeping bag while they're out in the wilderness and we've got just the one for them! This Coleman bag is perfect for 20 to 40 degree weather and is guaranteed to last them a long while.
Camping Cookware Set
That nature lover is going to need pots and pans to cook their meals with aren't they? Of course! We've found just the perfect set for them with this 11 piece cookware set, complete with portable utensils!
Pop-up Gazebo
On those hot and sunny days, sometimes a person just wants to sit and relax in the shade with a nice cold beverage. You can make it happen for the camping enthusiast in your life with this nifty pop-up gazebo!
See also: Just because you're out in the wilderness, doesn't mean you have to leave your football loyalties behind! Check out our football inspired gift guide here!
We're pretty sure that we've covered everything that the outdoors lover is going to need on their excursions out into the wilderness with this list of 40 gifts for camping enthusiasts. From sleeping to showers, you'll have them covered from every angle! If you've found anything you think they can't live without or you want to share how much they loved one of these gifts, feel free to give us a shout out on Twitter (@ugifter) or on Instagram (@uniquegifter)!