Disclosure of Material Connection: Some of the links in this post may be "affiliate links." This means if you click on the link and purchase an item, I will receive an affiliate commission. Disclosure in accordance with the Federal Trade Commission's 16 CFR, Part 255. This site is a participant in the Amazon Services LLC Associates Program, an affiliate advertising program designed to provide a means for sites to earn advertising fees by advertising and linking to Amazon.
Anyone else looking for a new hobby? Or maybe you're stuck at home and want something to help you keep busy. Either way, starting something new as an adult isn't always easy. That's why these craft kits for adults to keep busy at home are a great idea; they're tonnes of fun and have everything you need to complete the craft right in the box.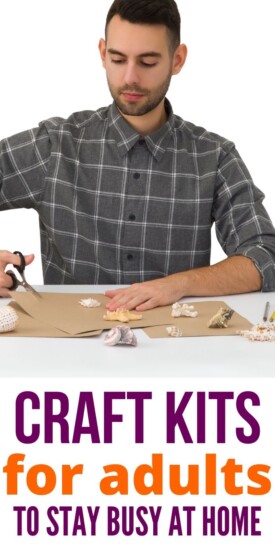 See also: Need something engaging and clever to keep the kids bust too? These robotics kits are a great way for kids to
20 craft kits for adults to keep busy at home
These would also make great gift ideas for family and friends. You don't have to be a crafty person to do most of them, but if they are really inexperienced stick with beginner adult craft kits. This is also an easy way to get someone interested in your favourite hobby without them having to buy a lot of supplies.
Hand Lettering Kit
Ever wonder how people learn to do beautiful hand lettering? It's a bit of talent, but a lot of practice. This kit has everything you need to teach yourself hand lettering techniques right at home.
Japanese Origami Kit
You might not be folding 1000 paper cranes but this book will teach you how to at least fold one. Not only are there instructions for 20 classic origami projects, it also contains 72 sheets of origami paper to get you going.
Yarn Elephants Kit
This kit lets you make two adorable yarn wrapped elephants. The elephants are made from cardboard and it comes with all the yarn you need to make cool designs. All you need to add is imagination!
Sticker by Number
These are great books for people who want to be artistic but aren't super creatively inclined or coordinated. Easier than a paint by number, you create beautiful pieces of art with stickers!
Editor's Choice Craft Kits for Adults to Keep Bust at Home
Bonsai Tree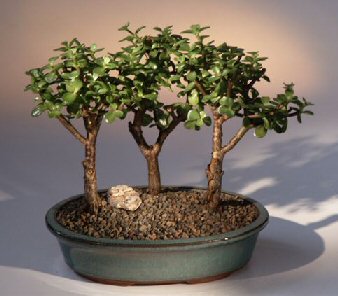 Baby Jade – 3 Bonsai Tree Group
(portulacaria afra)
What better way to keep yourself busy than with a living piece of art? Bonsai trees are a great way to take a minute to breathe, and focus on something.
Jewellery Making Kit
With this adult craft kit you can make 3 different jewellery designs. There's also a few different kit options so you can grab one that suits your particular taste.
Harry Potter Crochet Kit
If you already crochet this kit is a fun way to get a project done without having to shop for specific supplies. But, it also has instructions for total beginners to pick up a new hobby too. It comes with everything you need – even the hook!
Paint This Book
Not very artistically inclined? Then this watercolour book is for you! The pages are filled with very simple, easy to follow watercolour techniques and instructions that anyone can do. It also comes with some watercolour paints and a brush!
Drawing Set
This is a great adult craft kit for someone who likes to draw or is interested in getting started sketching. It comes with a sketchbook and complete array of drawing materials and accessories. Plus there's a handy storage case.
Scratch Art
Remember doing these as a kid? This is the adult version! The picture is made up of grey lines that you scratch over to make cool art.
Felt Succulent Kit
Felting craft kits for adults to keep busy at home are a lot of fun! This one is perfect for people who can't have plants (or struggle to keep them alive). It would also make a super cute gift idea.
Candle Making Kit
This kit has absolutely everything you need to get started making candles. Not only does it include the soy wax, cotton wicks, and fragrances but also all the processing and packaging containers you need too.
Paint Your Own Stepping Stone
This is a great kit if you want a finished product that you can keep at the end. After this stepping stone is painted add it to your garden!
Wood Slices Kit
This unique adult craft kit comes with 24 wood slices for you to decorate with acrylic paint pens. Create beautiful designs on them that you can use in your decor or as gifts for family and friends.
Mini Bob Ross Paint by Numbers
If you're a fan of Bob Ross' show but aren't very confident when it comes to painting this craft kit is for you. The mini canvas is modeled after his in the show and you can create a tiny masterpiece inspired by Bob Ross' popular art.
Editor's Choice Craft Kits for Adults to Keep Busy at Home
Felt Animal Craft Book

Make Animals Felt Arts From Japan SC Craft
If you're looking for a heartwarming craft kit for adults to keep busy at home, this is a great activity! This Japanese felt craft book illustrates methods for creating beautiful felt animals of your own.
Needle Felting Kit
Needle felting is surprisingly easy to do, even for beginners. This kit has everything you need to get started including needles, wool, and instructions.
Paint by Numbers
Paint by numbers are a great way to relax, unwind, and paint without having mastered painting skills. This oil painting kit comes with everything needed to produce a work of art including paint and brushes.
String Art kit
String art is totally in style right now, and for good reason. It looks super cute and fun! Make your own right at home with a string art kit . There's quite a few different options to choose from, too.
Sew Mini Treats
Even inexperienced sewers can master these super cute treats to sew. It comes with everything you need to make 18 food themed stuffed creations. Even the instructions are adorable!
Picking up any of these craft kits for adults to keep busy at home will give you a few hours of fun. Who knows, you might even find your next new favourite hobby! Or consider giving them as gifts for family and friends who are cooped up in their houses instead.