Disclosure of Material Connection: Some of the links in this post may be "affiliate links." This means if you click on the link and purchase an item, I will receive an affiliate commission. Disclosure in accordance with the Federal Trade Commission's 16 CFR, Part 255. This site is a participant in the Amazon Services LLC Associates Program, an affiliate advertising program designed to provide a means for sites to earn advertising fees by advertising and linking to Amazon.
If you're short on gift ideas, think about whether the recipient of your gift has expressed any interest in getting fit. A gift to motivate someone can be just the push they need and it shows that you really do listen to what they're saying. For regular exercisers, a fitness related gift comes across as thoughtful and is something the recipient will use a lot – far better than a box of chocolates which will be gobbled in minutes or a pretty but impractical piece of jewellery. There is something to suit every budget and, no matter the cost, all of these get fit gifts will send the message that you really do care about your loved one's well-being.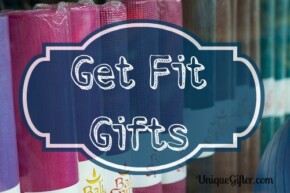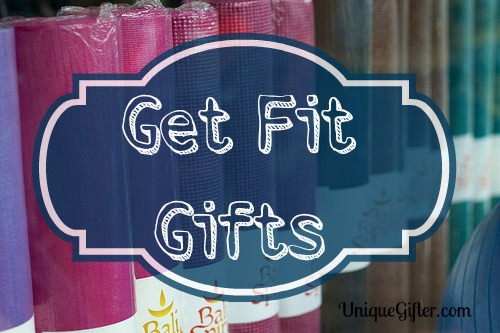 1. Water Bottles
Exercising without water is no fun at all, leading quickly to dehydration and its unpleasant side effects, namely cramp. To help your friends and family stay hydrated, invest in a water bottle. Look for something spill proof with a built-in filter to deliver great tasting water whether you're loved one is drinking from a water fountain at the gym or out and about on a jogging trail. There are some great designs out there so choose something bright and quirky or simple and elegant to suit their tastes.
2. Roller Blades
If your loved one is looking to get fit on a budget, most cities have purpose built recreational skating parks which are free to use. Roller blading is a fun, quirky activity for anyone. Buy a cheap pair of blades from eBay, whack on some wheels from Skate Hut as a cheap way of personalising them and you're loved one will be good to go. Fun, fashion and exercise rolled into one – and on a shoestring budget, to boot!
3. Yoga Mats and Yoga Mat Bags
Help your friend practice comfortably by buying them a great new mat. Look for a mat with good grip – as well as stopping the one you love from slipping all over the place, a textured surface will block sweat from seeping into the mat and breeding bacteria. To really go the extra mile, look for a fantastic pattern to suit your friend's personality – something so eye-catching that they won't be able to pass it by without pulling it out.
If you have some money to spare, buy a yoga bag to match. Look for a unique design to make your gift just a touch more personal.
4. Pedometer
If you're buying for someone who wants to start exercising, but hasn't committed to a particular activity, a pedometer is a great gift. Pedometers and heart-rate monitors are particularly useful for monitoring daily activities and aerobic workout, but can be utilised by most athletes. If you know someone who needs a little push to use the stairs instead of the lift, let this sleek fitness device give them some motivation to move. Pedometers are available in a range of models with different bells, whistles and prices associated with them, which means that even if you're a buyer on a budget, there's something out there for you.
5. Exercise Apparel
The majority of us would like to exercise without looking like a sweaty mess, so exercise clothes that wick away sweat are very appealing. Wicking shirts, shorts, jogging bras, socks and pants are all available, ranging from luxury designs to bargain basics. Try choosing an item in your loved one's favourite colour to add a personal touch.
Double the rewards of giving this year by helping to keep your friends and family feeling fit and healthy as well as loved.
[Photo – Creative Commons – mckaysavage]