Disclosure of Material Connection: Some of the links in this post may be "affiliate links." This means if you click on the link and purchase an item, I will receive an affiliate commission. Disclosure in accordance with the Federal Trade Commission's 16 CFR, Part 255. This site is a participant in the Amazon Services LLC Associates Program, an affiliate advertising program designed to provide a means for sites to earn advertising fees by advertising and linking to Amazon.
So many fun things start with the letter M. For example, magnets, monkeys, and mohawks. Check out these toy ideas for ages 2-5!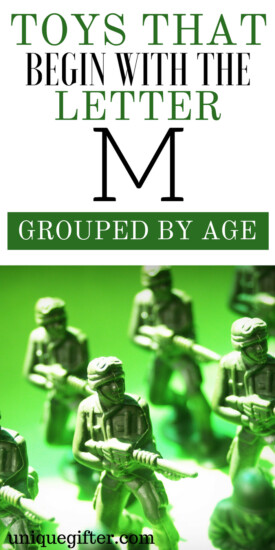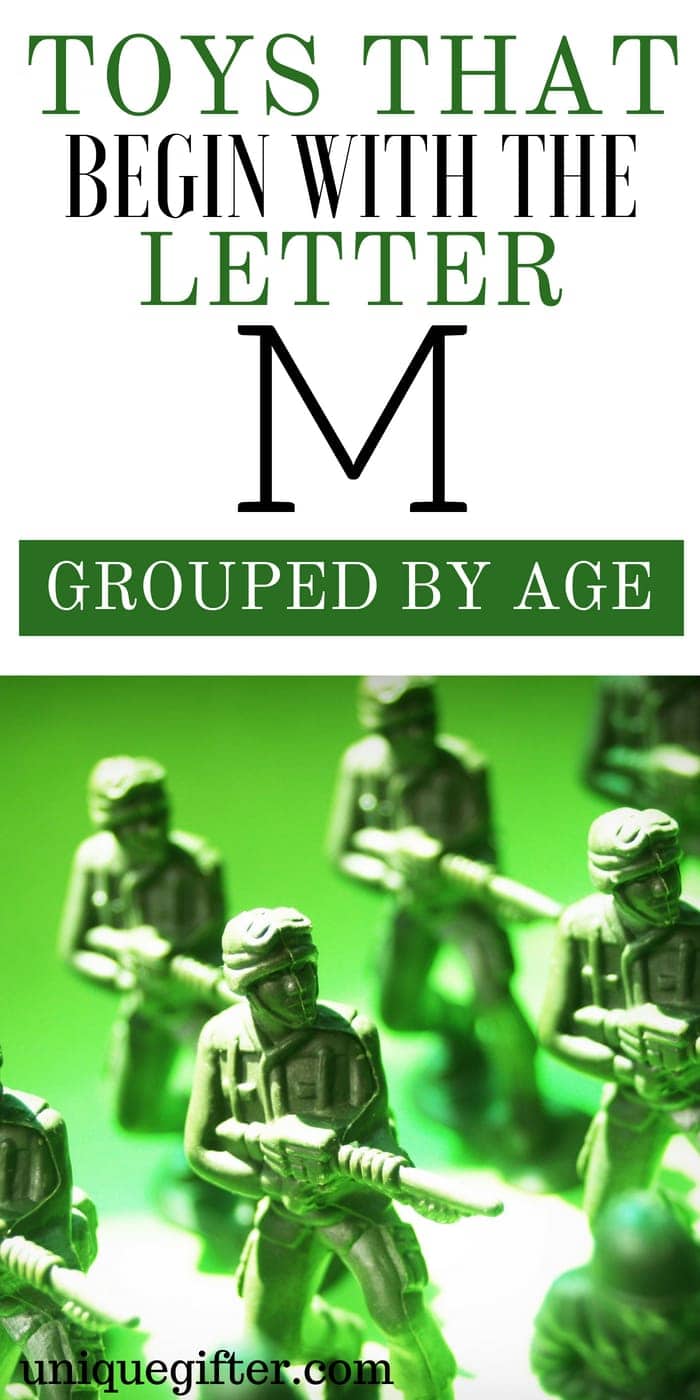 Finding fun toys that start with the letter M for your kids between the ages of 6 and 8 is not as hard as it seems. There are so many words that start with M that make fun toys: monkeys, magic, mountain, market, and so many more that I couldn't list them all. Check out these fun ideas for the letter M!
Find more toys for the rest of the alphabet:
Toys that Begin with the Letter M for Ages 2-5
Magnetic Drawing Board with Shape Magnets
Magnetic drawing boards are classic and have been around for awhile, but are still some of the most fun your toddler will have.
Melissa & Doug Monster Plush 6-Pin Bowling Game
Keep them busy, and teach them how to go bowling at the same time with their brand new Melissa & Doug monster plush bowling game.
Monster Friction Powered Trucks
These friction powered monster trucks are super interactive!
Magic Doodle Mat
Magic Doodle Mat allows them to color without too much mess.
Microphone Karaoke
They can now exercise their voice and practice their favorite songs with their own microphone karaoke.
Munchkin Mozart Magic Cube
Keep them playing music for a long time, with this Munchkin Mozart magic cube.
Mega Bloks Ride on Caterpillar with Excavator
Mega Bloks brand is also something that has been around for a long time, but is still very relevant and fun. They can ride on this caterpillar with excavator and pretend to be a construction worker.
Mailbox for Kids
Help them learn about mail and being a mail carrier with this mailbox for kids.
Melissa & Doug Community Vehicles Play Set
They can learn about mail carriers, tow truck drivers, recycle truck drivers, and school bus drivers with their very own community vehicles play set.
Magic Star Learning Table
More for young toddlers, but still fun for up to age 5, this Magic Star learning table will keep them busy for hours.
Magic Water Drawing Book
Water and drawing are two very fun things, especially when you put them together.
Matching Color Egg Set
Matching color eggs will help them learn more about matching in general and give them something to occupy both their minds and hands.
Magic Milk and Juice Baby Bottles for Dolls
Yet another classic, magic milk and juice baby bottles for their dolls will keep their baby dolls fed and happy.
Mirror and Bench Vanity Table
Mirrors are even more fun for young children as they discover more about themselves and others.
Munchkin See, Shave, and Squirt Bath Mirror
This is a great way for them to have fun in the bath and learn about themselves at the same time.
Mommy Please Food Set
I have not met a toddler who doesn't like playing with play food!
Minnie Cash Register
This Minnie cash register will teach them about money, shopping, and customer service when they play with their friends.
Mermaid Wind-Up Floating Bath Toy
You can never have enough bath toys for your toddler. After all, they are what makes bath time fun and smoother.
Montessori Teaching Tool Math Number Wood Board
Help them learn math and numbers with this math number wood board.
Mickey Mouse Music Mat
They can make all kinds of music with their very own Mickey Mouse music mat.
Toys that Begin with the Letter M for Ages 6-8
MasterMagic Magic Kit
Every young kid with an interest in magic should have a magic kit to experiment with!
Melissa & Doug Stamp and Sort Wooden Mailbox
Your kiddo can learn more about mail with this Melissa & Doug stamp and sort wooden mailbox.
Map of the United States Geography Puzzle
Teach them more about the United States geography with a puzzle that they can do that is appropriate for their age range.
Match Madness Board Game
Matching games are so much fun for all ages!
My Little Pony Cutie Mark Magic Pinkie Pie Sweetie Belle & Apple Bloom Rolling Sweets Cart
If they love My Little Pony, they will love their rolling sweets cart My Little Pony toy set.
Marvel 6" Legends Series Captain America Figure
Captain America is so cool and awesome, what better way to celebrate the letter M than a Marvel Captain America figure?
Magnetic Building Blocks Set
Fun for all ages, this magnetic building blocks set will allow them to stretch their imagination and build whatever their minds dream of.
Mini Market Play Set
They can learn more about running a market with this Mini Market play set at hand.
Minion Plush Buddies Bob
Kids love the Minions and now Bob can go anywhere with them!
Master Toys Lab Putty
This Master Toys lab putty turns magnetic and does some cool things. Imagine all of the experiments that they can have with it.
Master a Million Yellow Ball
See how long it takes them to get to a million bounces. Who knows, it might just keep them busy for a long time!
Math Whiz from Educational Insights
If they love math, then they will love Math Whiz!
Magnetic Double Sided Chalkboard Easel
While this is designed for toddlers, it is great for older kids too. You can set it on a table and they can write or play with magnets on it.
Magnetic Math Toy
A toy that makes math more fun is never a waste!
Minions Set of 8 Action Figures
This set of Minions action figures will give them a chance to be whichever Minion they want to be while they play by themselves or with others.
Mustaches with Adhesive
Pretend mustaches are super fun to play with, and disguises are mysterious and funny!
Madagascar Mini Toys
The movie Madagascar is very loved, which is why these Madagascar mini toys will be too.
Military Figures and Accessories Set of 100 Pieces
Help them learn more about the military, with military figures and accessories. There is a whopping one hundred pieces in this set.
Minecraft Redstone Light-Up Torch
Minecraft is one of the most popular games, so it is only natural that this is on the list as a toy that starts with the letter M.
Matchbox Mission: Marine Rescue Shark Ship
They can play with this Matchbox Mission: marine rescue shark ship in the bath, pool, or wherever there is water.
M is such a fun letter to learn about! What will your kiddo enjoy the most about it?
As you can see from this fun list, the toys that start with the letter M vary widely and are some of the most fun toys around!