Disclosure of Material Connection: Some of the links in this post may be "affiliate links." This means if you click on the link and purchase an item, I will receive an affiliate commission. Disclosure in accordance with the Federal Trade Commission's 16 CFR, Part 255. This site is a participant in the Amazon Services LLC Associates Program, an affiliate advertising program designed to provide a means for sites to earn advertising fees by advertising and linking to Amazon.
Remember there's no "I" in team, but our team has plenty of gift ideas for the letter I. Whether you're shopping for a fun scavenger hunt, your best friend Ivan, or the most important "I" (yourself) these inventive I-themed gifts for adults are sure to inspire.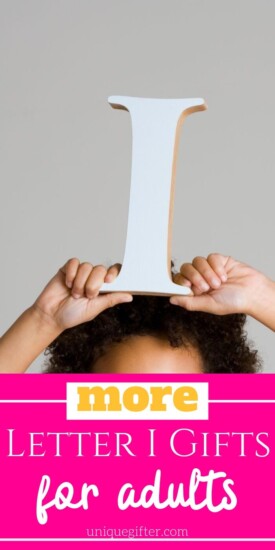 Gift Ideas for the Letter I
How about a game of I spy before we begin? I'll start: I spy with my little I… 20 inventive gift ideas that start with the letter I! Ok , ok, here they are. We also have more letter gift guides like this one here.
Ice Cream Maker
Who doesn't love eating ice cream? There's only one thing that can beat it…inventing your own flavours and eating those! And that's exactly what the person you buy this for will be able to do.
Incense
Modern life is stressful! So help your friend relax with this gorgeous gift set of Sandalwood incense.
iZombie Season 1
TV addicts will be grateful to get this iZombie DVD. A show about a crime-fighting zombie ex-medical student? Does it get any better?
Ink Pen Set
This Ink Pen Set is a classic gift that will add a touch of class to anyone's writing!
Iron Cooking Tripod
Outdoor lovers will be stunned when they receive this Iron Cooking Tripod! They'll have hours of fun cooking cowboy grub on top of an open fire with this unusual gift.
Ibi Shea Butter Hand Cream
Ibi Shea Butter Hand Cream is a lovely gift for the letter I for someone you don't know too well. Moisturizer always comes in useful right?
Insulated Lunch Bag
This pretty Insulated Lunch Bag is perfect for ladies who lunch! They'll be able to swap that used plastic grocery bag for a way prettier alternative.
Ibiza Chilled House Soundtrack
Whisk a music lover away to experience sunset on the gorgeous island of Ibiza with this chilled house album.
Iavo String Light
If they've got a backyard, get them these Iavo String Lights. They'll create such a lovely atmosphere in the garden that your friend will be having parties all summer!
IBC Root Beer
If they love root beer, this pack of the classic IBC brand will surely go down well.
Indian Cookbook
Need to get a gift for someone who is happiest when cooking up a storm in the kitchen? This Indian Cookbook is perfect for them. They'll love trying out the recipes and learning new, exotic cooking techniques.
Icing Cake Decorating Set
Serious cake bakers will be happy to receive this Icing Cake Decorating Set so they can turn their plain cakes into incredible iced creations.
Ice Skates
You never know, give these ice skates as a gift and you could inspire a whole new hobby!
Idli Maker
Take your friend on a trip to Southern India with this unique Idli Maker. It makes a delicious Southern Indian breakfast cake using dahl and rice.
Iron Campfire Grill
If you need to get a gift for someone who enjoys camping, this iron grill is a great idea! They'll love cooking their morning breakfast on the grill while enjoying the fresh air of the great outdoors.
Indian Healing Clay
Beauty fiends will be excited to receive a magical pot of Indian Healing Clay. It makes an effective clay face mask that draws out impurities to cleanse and tone the skin.
Italian Food Gift Set
Know someone who needs a holiday? Give them the experience of a week in Italy with this delicious Italian food hamper! Delizioso!
Ifrogz Bluetooth Speaker
If your friend enjoys music, they'll enjoy receiving an Ifrogz Bluetooth Speaker. All they've got to do is connect it up to their phone and they'll have a party that they can take anywhere!
Iguana Hot Sauce
Do know someone who is proud of how much heat they can handle? Give them a challenge with this Iguana Hot Sauce! Can they take it?
Illy Coffee Beans
Who can ever have enough coffee beans? Illy coffee is a favorite in Italy so you can add a touch of European glamour to their workday mornings!
Which of these inventive gifts for the letter I are you going to choose? If you do buy any of these gifts, we'd love to hear about it! Let us know in the comments or find us at @ugifter on twitter and @uniquegifter on Instagram.
More Letter I Gifts
The eighth letter of the alphabet. One of only 5 vowels, which can also be you! It's the letter "i," yes it is! What kind of gifts are out there that begin with the letter "i?" Well, let me show you! This list has a variety of gift ideas, from white elephants gifts (that may end up regifted), to useful gifts that are sure to become a favorite! What are you waiting for? Take a look!
Infinity Sign
Nothing says forever like infinity! Have this lovely signed customized with the happy couple's names, and perhaps their wedding date, for a gift that they will cherish for, well, infinity!
Ice Balls Tray
Ice cubes? Psh! Stop being so square and take a look at these fun sphere shaped ice cube trays! There's something about drinking a beverage with fun shaped ice that makes it a little more enjoyable, no matter who you are!
Ironing Pad
Not everyone has an ironing board these days. They tend to take up too much space! The solution? An ironing pad! And if it doesn't get used much (because not everyone has time or the care to iron), at least it will look nice atop the washer or dryer!
Igloo Decor
How cute is this wooden igloo decor?! What a cute piece to decorate with in the winter. This seller even has other custom winter piece that can be added to make a whole scene!
Iguana Sign
Whether or not the recipient has an iguana or not, this hilarious sign may just make a great white elephant gift! Though if there is a pet iguana, they may just like this sign even more!
Ice Cream Maker
You don't have to be a kid to enjoy homemade ice cream. Nope. Adults love homemade ice cream just as much as the kiddos do, and this Cuisinart ice cream maker creates a tasty soft serve that anyone is sure to love!
Insect Bite Relief
There's nothing peskier than a mosquito bite! The Bug Bite Thing will help prevent the annoying itch from mosquitos and other bites or stings, by removing the poison, before it becomes a nuisance!
Infinity Stones Cufflinks
Is there a fella in your life who is an absolute Marvel fanatic? Then I have just the gift for you! These Avengers cufflinks, with bright colored infinity stones, were made with him in mind!
Ink Stamp
Who enjoys writing down a return address on envelopes? Especially around the holidays, or for parties, when there are lots of cards to send out. Gift this fantastic self inking address stamp, and maybe even consider getting one for yourself!
Instant Pot
If your friend hasn't jumped on the Instant Pot bandwagon yet, it isn't too late! Step aside, crockpot. It's time for the Instant Pot to become the star of the kitchen!
Ice Cream Cooling Bowl
Ice cream is meant to be eaten with a spoon, not a straw! This amazing ice cream cooling bowl will help prevent it from melting, before it can get eaten. But that's not all! It even has a silicone band to keep those hands from freezing, while holding the bowl!
iPhone Charging Dock
Any Apple obsessed person is going to truly enjoy this charging dock that can charge all of their favorite Apple products. iPhone, iPad, iWatch, it can charge them all at the same time!
It DVD
There's a reason so many people in the world have a fear of clowns. It's likely due to this classic movie from Steven King.
Inflatable Dinosaur Costume
It doesn't have to be Halloween to dress up in any of these fun, inflatable dinosaur costumes! Though that would be the prime time to wear them, people wear these around all the time, doing silly acts!
Ice Cream Scoop With Easy Release
Having to use your finger to scrape the ice cream off your scoop is less than pleasant, especially when you are scooping ice cream for other guests. But what if there was an ice cream scoop that would release the ice cream thanks to the warmth of your hand? That's exactly what this nifty, little gadget was made to do!
Indoor Wall Planter
Why take up precious floor or counter space when you can hang plants from the wall! These circular wall planters are sure to add a bit of excitement to the room, and make a great conversational piece!
ID Badge Holder
Why carry around a wallet and an ID badge, when you can carry credit/debit cards in the same holder as an ID badge? The badge even comes with a keychain, to help keep daily essentials together.
Icy Hot
Let's admit, the older we get, the more aches and pains we notice. Mess free Icy Hot is a great gift idea for an older adult, who may be sore from time to time. It can also make a great gag gift for younger adults!