Disclosure of Material Connection: Some of the links in this post may be "affiliate links." This means if you click on the link and purchase an item, I will receive an affiliate commission. Disclosure in accordance with the Federal Trade Commission's 16 CFR, Part 255. This site is a participant in the Amazon Services LLC Associates Program, an affiliate advertising program designed to provide a means for sites to earn advertising fees by advertising and linking to Amazon.
Dinosaurs are pretty flippin cool. It often seems that dinosaur themed gifts are for kids, though. Not everyone has kids that allow them to justify a collection of plastic toys, like Mr.1500 does.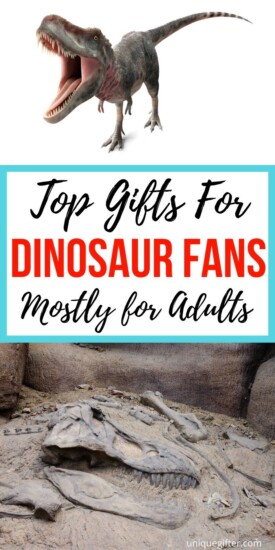 Never fear, my friends. There are quite a few things out there that you can justify owning as an adult, from the classy to the entertaining.
This post contains affiliate links; should you decide to make a purchase, the site will get a small portion at no additional cost to you. Thank you for your support!
Here are 25 Dinosaur themed gifts that are mostly for adults, enjoy!
These dino gifts really get the party started.
Dino Pillows

Pinata


They might be cute, but how much fun would a party with a dino pinata be? Have one this weekend, in fact.
The Dino Pet: Bioluminescent Dino

The Dino Pet is a living micro-aquarium, full of bioluminscent marine plankton. It glows in the dark when shaken. Definitely a sweet dino gift that combines living nature with creatures of the past.
Cookie Cutters
Fred and Friends DIG-INS Dinosaur Fossil Cookie Cutter/Stampers

Who else would like to eat some cookies right now? I sure would. Make some dino cookies and chomp chomp chomp like the dinos do.
Pasta Server
Fred and Friends PASTASAURUS Pasta Server

RAWR! Pasta night has never been ths much fun before. Now here's a dinosaur themed gift that will feed your favorite fossil fanatic!
Dino Baking Cups
Fred and Friends FOSSIL FOOD Dinosaur Baking Cups

Dinosaur brownies? YES PLEASE.
Notecards
Dinosaur Notecards

Stay classy and on top of your etiquette with a selection of dinosaur note cards.
Dino Serving Stand
Dinosaur Tribe Tyrannosaurus T-Rex Cake Plate Stand by imm Living

Dino Insulated Cooler Bag
Dino Insulated Cooler Bag

Isn't this adorable? Take your lunch to work in style, or go have a picnic in the park, adult style.
Dinosaur Chocolate/Candy Mold
Silicone Dinosaur Chocolate Candy Mold

This combines several amazing attributes of adulthood: chocolate, crafting, and dinosaurs.
Okay, it may only be your girlfriend who sees the dinosaur, but she's going to double over laughing when you bust out this shirt.  Ditto your friends at the bar.More Cookie Cutters
Cookie Cutters

We haven't had enough cookies yet and we'd like you to make some more.
Electronic Wood Walking Dinosaur
Electronic Wood Walking Dinosaur

How cool is this thing? It's like lego, AND it moves, AND it's wooden.
Dinosaur USB

Chomping on some data? Dinosaurs are scary, so it will probably keep your data safe. Didn't you know dinosaur themed gifts could be practical, too?
Dinosaur Desk Toppers

These little guys will hold tape, pencils, pens, cell phones, etc. Add some pizzazz to your office life.
Fossil Statue

Design Toscano T-Rex Dinosaur Skull Fossil Statue on Museum Mount

Assuming you cannot afford the real thing, museum mount replicas are an "adult" way to tip your hat to your dinosaur fascination.
Dinosaur Vinyl Sticker
Dinosaur Vinyl Sticker Skin Decal

DinoCoffee Mug

T Rex Head
T Rex Head

This is normal art, right?
T Rex Shower Head
U-B Charmed T-rex Shower Head

Start your morning off with a refreshing prehistoric shower… while nearly being attacked by a T-Rex. It will get your adrenaline going.
Adult Dinosaur Footie Pajamas

Footie PJs are amazing, and these ones are doubly amazing because you can be an adorable dinosaur. When it comes to dinosaur themed gifts, awesome PJ's like these are a whimsical and fun idea.
Adult Dinosaur Costume
Adult Dinosaur Costume

Helloooo Halloween!
Adult Dinosaur Slippers

Clomp clomp clomp.
Dinosaur 3D Puzzle

These are pretty fun and make for great desk top ornamentation when they are built.
Dino Teeth
(One) Authentic 95 Million Yr Old Mosasaurus Dinosaur Tooth Fossil w/ Certificate of Authenticity Card


These are REAL fossils. You can legitimately own your own piece of dinosaur! Surprisingly, they are quite affordable. I guess dinos have a lot of teeth.
Dinosaur Vase

Stay classy with dino-themed floral decor.
Dino Beer Bottle Opener
Dino Bottle Opener

A small nod to dinos.
Dino Beer Glass
Dino Beer Mug

Have a drink with your prehistoric dino buddies.
T-Rex Dinosaur Terrarium
While it's not possible to give your dinosaur-loving friend or family member an actual pet dinosaur, there is this detailed and fun second option!
What Now Handtowel
Even a T-Rex with grabbers is bound to get agitated when it's being asked a ton of questions in the kitchen. I think that this towel conveys the frustration of some dino lovers when they're bothered while cooking.
CowCow Dinosaur Leggings
You're not really a huge fan of dinosaur unless you have some cute leggings including them within your wardrobe, right? Give your loved one the gift of reptilian style with this nifty masterpieces.
Raptor Wine Bottle Stopper
Well, if you've got a dinosaur fan in your life that wouldn't mind a new option of guarding their wine, this bottle stopper is for them! Looking fearsome, yet efficient, this raptor is bound to please any dinosaur lover.
Adult Dinosaur Coloring Book
Don't get confused by the title of this gift: It's not a coloring book for adult dinosaurs. It's a coloring book for adults that love dinosaurs, so this should be right up your friend's alley!
Dinosaur Tie
When you've got a dinosaur lover in your life that also spends a lot of time dressed up in their day to day life, you're sure to have them covered with this awesome and stylish tie!
Dinosaur Toilet Paper Holder
Even toilet paper holders aren't immune to the charm of the dinosaur style! This nifty toilet paper holder is sure to be a welcome and beloved gift among adults who are fans of these massive reptiles!
Dinosaurs Coasters
Every adult needs coasters, right? What better ones than these wonderfully crafted wooden coasters with sweet looking engraved dinosaurs? Sure to be a favorite gift of your loved one.
Dinosaur Scarf
We all know that scarves aren't just for staying warm. Dinosaur lovers everywhere can rejoice, stylish scarves representing their most favorite animal have arrived!
Jurassic Park Hoodie
Can't have a dinosaur-related list without including Jurassic Park, right? Right! This hoodie features the classic logo from the hit franchise and is sure to fill any dinosaur lover with glee!
T-Rex Fossil Baseball Cap
Everyone has their favorite hat, right? You can be the one that gives the dino lover in your life their favorite with this simple, yet pretty stylish, cap!
Dinosaur Pajama Onesie
What better gift to give a dinosaur lover than the opportunity to become a dinosaur?! You can do that for the special someone in your life with this super-cool onesie pajamas!
The Rise and Fall of the Dinosaurs: A New History of Their Lost World (Hardcover)
If you're a fan of something, it's only natural that you'd want to learn everything about it, right? This book is here to help the dinosaur fan in your life learn the expansive history behind these wondrous titans of the past.
T-Rex Magnet Pad
There are a few things that the T-Rex absolutely hates even attempting. No worries, these things are included on this list but there's plenty of room for your loved one's grocery lists and chores!
Raptor Socks
I'm not usually one to say that socks look really cool, but these are the exception to that rule. Any guy who loves dinosaurs is likely to enjoy these outstanding socks with their sweet color scheme and great art.
Winosaurus Rex Wine Holder
I'm sure you've got a certain someone in your life that has something in common with this adorable dinosaur here: They both love wine! What better way to store your wine than in the mouth of a beastly Winosaurus Rex?!
Ask Me About My T-Rex T-Shirt
When you've got a dinosaur fan in your life with a sense of humor, you've got this outstanding gift for them. Just don't be too horrified when all of your dinosaur-loving friends are flipping their shirts up at you!
Inflatable T-Rex
Does your dino lover have a pool? Know what? The question is irrelevant. What dinosaur lover in their right mind wouldn't want a 37" inflatable T-Rex hanging out around their house?
Archaeology Theme Messenger Bag
Not only is it a spacious messenger bag, but it also includes some pretty nifty sketch-type art of dinosaur fossils. Any dinosaur fan worth their salt is going to be clamoring for this sweet bag!
Rawr Means I Love You Coffee Mug
There are some people who understand the delicate intricacies of the dinosaur language and your loved one is going to be one of the few when you present them with this stellar gift!
What is your favourite of the dinosaur themed gifts available out there in the big wide world?