Disclosure of Material Connection: Some of the links in this post may be "affiliate links." This means if you click on the link and purchase an item, I will receive an affiliate commission. Disclosure in accordance with the Federal Trade Commission's 16 CFR, Part 255. This site is a participant in the Amazon Services LLC Associates Program, an affiliate advertising program designed to provide a means for sites to earn advertising fees by advertising and linking to Amazon.
Here are some of the very best gifts for grad students. They may have finished the basics of college, but now they are onto bigger and better things as a grad student. If you are looking to get a loved one, who is a grad student, a great gift, this list is the perfect place to find a good idea for them. Encourage them to keep going while giving them something fun and useful.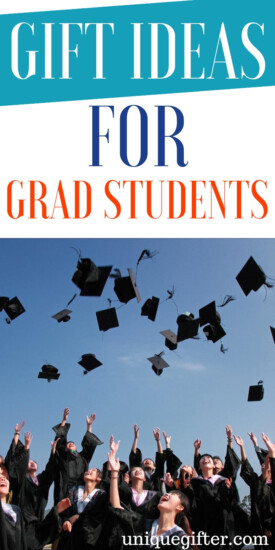 Unique Gifts For Grad Students
Give an extra special gift for the grad student in your life!
"Stay focused and extra sparkly" Mug
Staying focused might not be easy or fun, but being extra sparkly is fun!
Indiana University Wall Word Art
If they are going to Indiana University, this wall word art will look great up on the wall of their apartment near campus.
Heart Shape to Anatomical Heart "Imposter!" Mug
For the aspiring doctor or grad student who is interested in medical stuff, this "Imposter!" mug with the two different kinds of hearts will be fun to drink from.
Mathematics Scarf
Keep them inspired to do mathematics if it isn't their favorite with this mathematics scarf. Plus, it will keep their necks warm in the cold outside or in their air-conditioned classrooms.
Computer Error Shirt
For programmers, they are always fixing computer errors!
"Snap in case of frustration" Pencil Set
When school and work get frustrating, they just might need to snap a pencil in half! A fun gift to add some humor! 
Personalized Faux Leather Notepad with Pen
Taking notes in class will never be the same with this personalized faux leather notepad that even comes with its own pen.
"Trust me I'm a dogtor" Mug
Whether they are studying to become a vet, or they just love dogs and are going to be a doctor, this mug is fun!
"Stats or it didn't happen" Poster
For the statistics student, this "stats or it didn't happen" poster will look great on the wall of their apartment.
Periodic Table Engraved Cutting Board
There is nothing like cutting vegetables and fruits on a periodic table engraved cutting board! Plus, they can study while they cook!
"One degree hotter" Shirt
As a grad student, they are about to be one whole degree hotter than they were before!
"Because Grad School" Wine Glass
Grad school calls for wine!
Tech Themed Business Card Holder
As they approach their career, they are going to start collecting business cards, what better place to put them than a tech-themed business card holder?
"Wicked Smaht" Water Bottle
They are wicked smart, even if they can't spell sometimes. This water bottle will help them keep hydrated as they run from class to class this year.
"Future engineer" Shirt
Keep them inspired to become an engineer with this cool shirt.
Giraffe Spots Scrunchie Stethoscope Cover
The giraffe spots scrunchie stethoscope cover will keep their stethoscope cozy and fun if they plan to work with kids in the medical field.
To Kill a Mockingbird Book Bracelet
If one of their favorite books is To Kill a Mockingbird, they definitely need this book bracelet to wear.
"I'm not arguing. I'm just explaining why I'm right." Mug
For the law student or someone who just loves arguing, this mug is an excellent and funny gift!
"Done is better than perfect" Print
Sometimes just getting their homework done is half the battle, they need to remember that it will never be perfect; they just need to focus on the getting it done part first.
"The struggle is real" Shirt
The struggle is real to complete school with excellent grades!
Grad students are starting a new, slightly familiar and slightly unfamiliar, the chapter of their life and one of these gifts will make it more fun!