Disclosure of Material Connection: Some of the links in this post may be "affiliate links." This means if you click on the link and purchase an item, I will receive an affiliate commission. Disclosure in accordance with the Federal Trade Commission's 16 CFR, Part 255. This site is a participant in the Amazon Services LLC Associates Program, an affiliate advertising program designed to provide a means for sites to earn advertising fees by advertising and linking to Amazon.
As a well known cat lady, I can tell you that any crazy cat lover will enjoy these gifts. Read on for twenty wonderful and ridiculous gifts for cat ladies and future cat ladies
Gifts for Cat Ladies
Guys Can Be Cat Ladies Too:

If you have a guy friend who loves cats, this book is perfect for him. Or if you just know a guy who hates your cat you can get him this out of spite.
Black & White Cat Coffee Mugs:

Two cat mugs for one present = double the cat love!
Cat Print Dress:

Your friend will love you if you get her this. She will Instagram it and tag you, it will get 10 likes, and you can re-gram it with pride.
Creepy Cat Car Decal:

Let your friend scare people on the open road with this adorably scary cat car decal!
Cat Ice Cube Tray:

It's like frozen cats, so your friend/grandma/great aunt Ruth will love it.
Cats The Musical:

This musical haunts my nightmares, but it has cats and music, so most cat lovers would dig this.
Space Kitten Leggings:

It says women's leggings, but surprise your boyfriend with these and threaten to break up with him if he won't wear them.
Post it Cat Dispenser:

This is great for your cat lover friend who works in an office, or like to pretend they work in an office.
Crazy Cat Lady Action Figure:

It comes with 6 cats, so I don't know what else you'd need. Also, if they don't like their cat probably will.
Cat Butt Magnets:

Cat lovers are used to cat butts. These six magnets will encourage your friend to have matching cats for each magnet!
Crazy Cat Lady Game:

Give your friend this board game she can play with her cats. The winner is the player with the most cats, so your friend is sure to win.
Cat Tights:
These are cute and actually socially acceptable to wear in public, so give your cat loving friend something to wear that's not covered with cat hair…yet.
Galaxy Hipster Cat Pillow:

The perfect addition to any couch, chair, bed, altar, etc.
Kitty Coin Bank:

This will encourage your friend to save their money instead of spending it on more cat toys. Also it's super cute when the cat grabs your money, and your friend will be proud that she made the cat bank happy.
Men and Cats:

Sexy men and cute cats make the world go round. Well my world, and the world of any cat lover.
Cat Self Defense Keychain:

Keep your cat loving friend safe. Don't let your friend walk her cat alone without protection.
Space Cats 2016 Calendar:

Cats. In space. Your friend will laugh every month at the joy of each space cat.
Cat Unicorn Horn: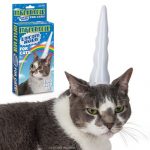 Your friend's cat wants to be a unicorn, trust me.
Perfect Petzzz Cat:

This is a great present for your friend who is allergic to cats or too unstable to care for a real animal.
Cat Undies:

These are real and I would wear them. This can be given as a gag gift, but know that one day your friend will walk this earth wearing these under her (or his) clothes.
Bonus:

How to Tell if Your Cat is Plotting to Kill You: If you think your friend's cat is a demon, this present is perfect! Any cat lover would love this addition to their ever growing cat themed library.