Disclosure of Material Connection: Some of the links in this post may be "affiliate links." This means if you click on the link and purchase an item, I will receive an affiliate commission. Disclosure in accordance with the Federal Trade Commission's 16 CFR, Part 255. This site is a participant in the Amazon Services LLC Associates Program, an affiliate advertising program designed to provide a means for sites to earn advertising fees by advertising and linking to Amazon.
Here are some amazing reading gifts for ages 12-16. My eternal hope is that kids in this age group have learned to love reading and are raring for more complex and exciting stories of a world and a life they've never lived. Opening a book, for me, is always about entering a new world, in another time, another place, another reality, and the immersive experience still leaves me feeling transported. This was a comfort during those tumultuous teen years where up was down and right was sideways.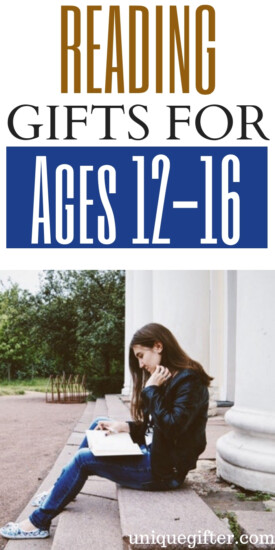 Reading Gifts For Ages 12-16 That You Can't Put Down
We firmly believe in encouraging literacy – reading opens windows into so many worlds that we may never personally experience, and what better way to spend your rapidly changing teen years than exploring the world?
Kabu Kabu
Kabu kabu is the Nigerian version of our unlicensed hacks. In this book of short stories, they take the readers into a wealth of West African culture, history, religion, and mythologies we have yet to encounter elsewhere.
Shadowshaper
Sierra Santiago is expecting a typical summer of hanging out with friends when she discovers not only that she's a legacy of the shadowshapers, but that they're in danger, and she needs to save them.
Spinning
Tillie Walden was a dedicated figure skater for a decade, but as she came of age, changing school and finding love with her first girlfriend, she found that she'd outgrown the world of skating and it was time to find her place and her voice.
Adventure Time Vol. 1
Adventure Time has been a massive hit for a good reason – the comic adaptation of the animation is funny, highly entertaining, and engaging for an all-ages audience.
One Last Word: Wisdom from the Harlem Renaissance
Original poetry is side by side with classic poetry from the Harlem Renaissance in this moving homage to the artists of the period and the African American experience.
The Surrender Tree: Poems of Cuba's Struggle for Freedom
These poems dive into a history of Cuba that has been otherwise obscured from our view, from this side of the Cuban Missile Crisis and a massive political divide, sharing the stories of healers, freed slaves, and refugees.
In Real Life
In this story, the fictional MMORPG that's strikingly similar to WoW becomes a place of discovery for a teen girl named Anda. She's good at the game, but while playing, she gets a look at economics, repression, and child labor in the real world.
A Fire in My Hands: Revised and Expanded Edition
Poetry drawn from a Latino youth growing up in California's Central Valley, Soto's poems resonate with all ethnicities.
The Hate U Give
The most influential art touches you deeply, challenges your perceptions, tries to share the artist's truth. Angie Thomas takes a real risk sharing a vision of today's world in all its complexity.
The Wee Free Men (Tiffany Aching)
The first of the Tiffany Aching books – an incredible adventure full of Crivens! and
All the Broken Pieces
An adoptee from war-torn Vietnam, Matt Pin, has to face a past in which his soldier-father abandoned him, his mother couldn't care for him, and his brother was irreparably injured.
The Adventures of the Princess and Mr. Whiffle: The Thing Beneath the Bed
It looks like a children's story, but it's not all sweetness and light. This story has three endings: the good, the bad, and the ugly.
Keeping Corner
Married at 9, Leela's future seems cut short when she's widowed at 13. Required by culture and custom to be sequestered in the home for a year, and never marry again, once widowed, she and her family must find a way forward.
Dactyl Hill Squad
Dinosaurs + civil war + a field trip in 1863. What could possibly go wrong? The better question is, will Magdalys and her Dactyl Hill Squad save the day?
Out of Darkness
Naomi, newly arrived in New London, Texas, in 1937, must navigate the politics of a racially divided oil-mining town as a 15-year-old coming into her own during a particularly tense time in history.
The Epic Fail of Arturo Zamora
Arturo is about to enjoy a relaxing summer in Miami until a land developer moves into town and threatens to gentrify the neighborhood. He can't stand for that and fights back for his family and community.
Dry
Living in California, the prospect of drought is always looming, one bad streak away from serious catastrophe. Dry takes it one step further toward the natural conclusion of when the water runs out – what does Alyssa do to protect herself and her brother?
Warcross
In a world where a video game has become a lifestyle, Emika is a teenage hacker/bounty hunter and finds herself embroiled in a security investigation that's far deeper than she ever suspected.
These reading gifts for ages 12-16 are extraordinary and perfect for the reader in your world. These page-turners are sure to brighten anyone's day.