Disclosure of Material Connection: Some of the links in this post may be "affiliate links." This means if you click on the link and purchase an item, I will receive an affiliate commission. Disclosure in accordance with the Federal Trade Commission's 16 CFR, Part 255. This site is a participant in the Amazon Services LLC Associates Program, an affiliate advertising program designed to provide a means for sites to earn advertising fees by advertising and linking to Amazon.
Gift giving in America is usually fun and a way to show that you are thankful and appreciate the person you are giving them to. The most important thing to consider when giving a gift in America, is making sure that your gift is thoughtful and considering what the receiver's culture is when it comes to gifts. There are many different cultures living in America, and they may each have different etiquette when it comes to giving and receiving gifts.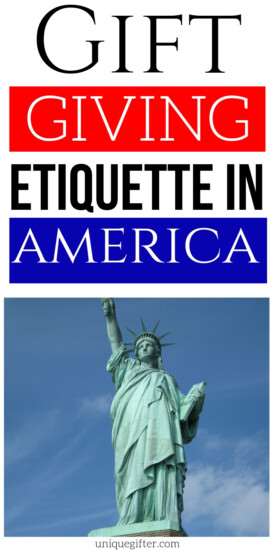 Read more in our gift giving etiquette series:
American Gift Giving Customs
When you are invited or visit someone's home, it is not required or expected of you to bring a gift. However, it is a nice touch. Some good choices are flowers, wine, chocolates, a potted plant, or the like. If you know what their interests are, that's even better.
Exchanging gifts on holidays is popular, but not required.
You should consider that there are many different cultures living in America, and their gift giving traditions may vary.
Gifts may or may not be opened in front of the giver, depending on personal choice and different cultures.
Giving Gifts to Americans
Gifts of perfume or clothing for women are usually personal gifts for people who know each other well.
Not many Americans are worried about the monetary value of a gift when it comes to giving something of similar value in return. The thought behind it is the most important part of gift giving. Spend what you are comfortable with.
Business Gift Giving Customs & Etiquette in America
Most Americans will avoid hugging or close physical contact in business settings unless they know each other well.
When giving a gift or object to someone, it is common to give it with one hand, or if you know the other person really well, to toss it to them.
It is a nice gesture to give a gift in a business setting, but not required. Gifts are usually given after a deal is made and then opened right away.
Gift Giving Occasions in America
Housewarming
Birthdays
Birth of a child
Weddings
Christmas
Valentine's Day
Easter
Graduations
Job promotions
Gift Giving Tips in America
Remember that the important part of giving gifts is the thought you put behind it. Put your emphasis on choosing a gift that the receiver will enjoy.
It is not necessary to give a gift later in return of receiving a gift but will likely be appreciated.
You don't need to give everyone a gift just because you give a gift to one person. However, if you aren't giving a gift to everyone in a certain area of your life, then try to give an individual a gift in private to avoid hurting the feelings of others.
Show appreciation when given a gift, a simple smile, and saying "thank you" works well.
Homemade gifts or gifts of experience, such as going to an amusement park or going to see a play, are extra special.
Gift Giving Don'ts in America
Avoid giving overly pricey gifts, as it may make the person you're giving them to feel uncomfortable or embarrassed, depending on the situation and how well you know each other.
Don't give gifts that are too personal unless you know each other well, or the situation calls for it.
Try not to overthink gifts. While thoughtful gifts are the most appreciated, the simple gesture of thinking of them enough to get or give them a gift is enough.