Disclosure of Material Connection: Some of the links in this post may be "affiliate links." This means if you click on the link and purchase an item, I will receive an affiliate commission. Disclosure in accordance with the Federal Trade Commission's 16 CFR, Part 255. This site is a participant in the Amazon Services LLC Associates Program, an affiliate advertising program designed to provide a means for sites to earn advertising fees by advertising and linking to Amazon.
Avast there, ye scalliwags! September 19 be Talk Like a Pirate Day -all hands hoay for a rousing party, or swing from the hempen halter!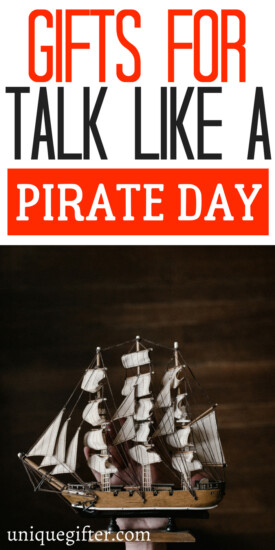 I'm not sure if people do throw Talk Like a Pirate Day parties but we certainly observe it in our circles, and isn't a pirate party good for any day of the week?
Talk Like a Pirate Day
Pirate's Booty Snack Puffs
No party snack board is complete without a crockpot full of Lil Smokies and these cheddar puffs, certainly not a piratical one!
Treasure Map Invitation
Send out a properly personalized invitation to the treasure hunt.
Pirate Piggy Bank
Doubloons need a home, and so do kids' dollars and cents. Get them started on the habit of saving their booty early.
Parrot Pirate Rubber Stamp
The most frustrated bureaucrat would enjoy rubber stamping with this rubber stamp. If only this could be an official signature.
Kid's Pirate Shirt
It's like Mom always says….!
Personalized Girl Pirate Tee
Order your own personalized pirate shirt – you have the option of iron-on or dye sublimated tees.
Pirate Dog Harness
A pirate puppy – the landlubber's version of the pirate's parrot. But much less profane.
ARRR Matey Mug
Technically you could only accurately use this once a year but it's totally worth it.
The Beatings Will Continue Sign
I've seen this in more than one cubicle and it's funny *every single time.*
Pirate Hooks
What pirate party is complete without pirate hooks to snag the food? None of them, of course!
Costume Buccaneer Tricorn Hat
Swashbuckle in style with your very own tricorn hat.
Pirate Coat
Aiming for the true period look? Don this handmade coat crafted from cotton, brocade, and silk with real buttons and pockets.
Skull and Crossbones Headband
For your next run on that special day, keep that hair and sweat out of your eyes with this pirate headband.
Pirate Mouse Ears
For the crossover fan of Disney and pirates – mouse ears!
Pirate Compass
Whether for Pirate Night on a Disney cruise or your own Pirate Night at home, these compasses can be customized with your name and message.
Custom Replica Pirate Wanted Poster
Plaster your walls with Wanted posters of all your Talk Like a Pirate scallywag friends!
Resusable Snack Bag
We believe in rewarding guests for venturing across bridges and through traffic. Send your party guests home with a little snack bag that can be used over and over.
"To err is human" Tee
Yarrrrr, this will always be punny to me.
Doubloon Replicas
Send your friends on a quest for the sunken treasure full of these doubloons (and perhaps some chocolate coins?)
Enter at Your Own Risk Sign
Welcome your guests with a frosty drink and a fair warning!
Do you celebrate Talk Like a Pirate Day, or do you believe pirates belong to Halloween and Disney cruises?