Disclosure of Material Connection: Some of the links in this post may be "affiliate links." This means if you click on the link and purchase an item, I will receive an affiliate commission. Disclosure in accordance with the Federal Trade Commission's 16 CFR, Part 255. This site is a participant in the Amazon Services LLC Associates Program, an affiliate advertising program designed to provide a means for sites to earn advertising fees by advertising and linking to Amazon.
Fishing for a fun-filled toy for the children? Don't fret! The littles ones will officially be your biggest fan after receiving one of these Toys that Begin with the Letter F! I have some really fun toys for all different ages listed below. You will find tons of toys that all fit the F theme so you can brighten your child's day. Lots of great gift ideas below.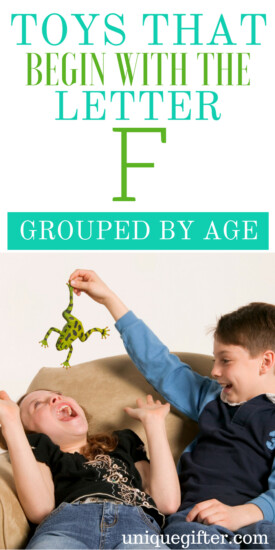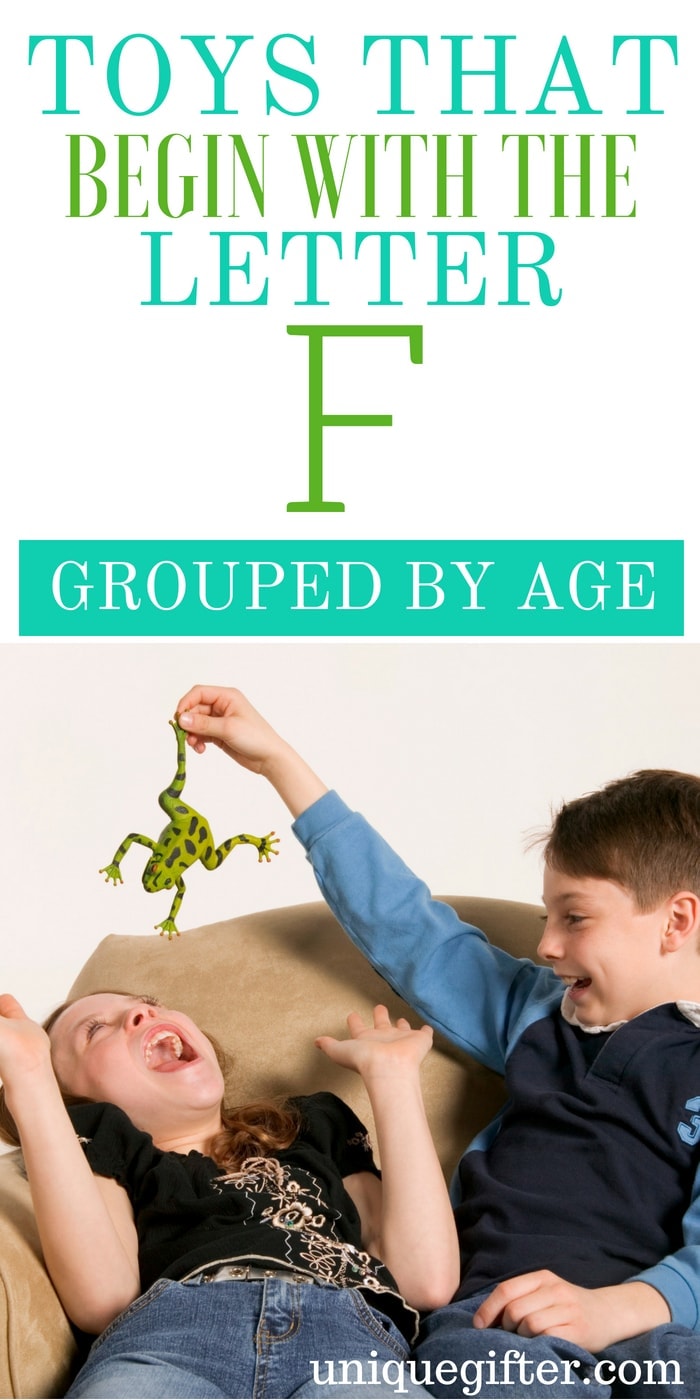 Find more toys for the rest of the alphabet:
Toys that Begin with the Letter F Ages 2-5
Feed the Frog Game
Kids will have so much fun flinging flies into the frog's mouth.
Fishing Net Bath Toy
Add a little fun to bathtime with this awesome Fishing Net Bath Toy.
Furreal Friends Plush
This interactive Plush Toy will definitely keep the little ones busy.
Fruits Pretend Food Set
The little ones can build a delicious fruit salad using this pretend play set.
Fitness Tracker Watch Toy
This Fitness Watch Toy is a fun educational toy for preschool-aged children.
French Fries Squishy Toy
These Squishy French Fries are the perfect fidget toy for children of all ages.
Fish Educational Development Toy
This Magnetic Toy Set is a super fun way for children to work on their motor skills.
Flipazoo Plush
The Flipazoo Plush Toys are a trendy toy option for young children.
Fuzzy Magic Toy
Children (and even adults) will be absolutely amazed as they watch the tricks performed with this Fuzzy Toy.
Fionna Adventure Time Plush
The kiddos will have so much fun letting their imagination run wild as they play with this Fionna Adventure Time Plush.
Franklin the Turtle book
Finger puppets are a great way for children to work on their social skills.
Fairy Costume
Take pretend play to the next level with this fabulous Fairy Costume.
Frozen LEGO Set
Children never seem to get enough of LEGOs, and this Frozen LEGO Set is definitely a winner.
Floof Modeling Clay
This Floof Modeling Clay allows children to have some "snowy" fun all year round.
Frosty the Snowman Plush
Children will enjoy bringing this Frosty the Snowman Plush to life with their playful imagination.
Ferb Mini Bean Bag Toys
Kids will absolutely love these Ferb Mini Bean Bag Toys.
Flashlight Spin and Learn Toy
This Flashlight is a fun and unique educational toy that the kiddos will absolutely love.
Ferris Wheel Spin and Discover Toy
This Ferris Wheel Spin and Discover Toy is absolutely perfect for early childhood development.
Fish N Splash Water Table
This is a super fun toy that more than one child can play at a time.
Finding Dory Personalized Plush
Do you have a Finding Dory fan on your hands? If so, they will be super excited to get their hands on this Personalized Plush.

Face it, it's a fact that these toys are tons of fun, and will definitely become a favorite. The kiddos will definitely feel fantastic playing with one of these
Toys that Begin with the Letter F for Ages 6-8
From funny to food and fake weapons, the letter F has countless possibilities for kids between the ages of 6-8. It is such a lovely letter for toys! If you are looking for one that begins with the letter F, then you certainly came to the right place.
Flexible Magnetic Construction Kit Rainbow Set
Buy Now
Now your kiddo can do construction in a fun and colorful way at home.
Fake Rubber Knife
Buy Now
You couldn't have a list of toys that begin with the letter F, without a fake weapon of some sort. Boys, especially, love fake weapons, but so do girls.
Food Fair Exclusive 20 Piece Polli Polish Super Shopper Pack by Shopkins
Buy Now
If they love Shopkins, they will love this food fair exclusive super shopper pack.
Flashing Emoji Rings Party Favors
Buy Now
Emojis are awesome, so awesome that they made a movie about them. Your kiddo will love wearing their new flashing emoji rings, whether or not they are actually used as a party favor.
Fabric Cheetah Toy Chest
Buy Now
There are never enough places to put all their toys!
Farmyard Friends Soft Activity Book
Buy Now
No matter the age, a farmyard friends soft activity book is fun for those times when they need something calming.
Funny Human Face Squishies
Buy Now
These funny human face squishies will have them laughing like crazy!
Foam Prince & Pirate Swords
Another fake weapon idea, except these swords are also made from foam, which just happens to be another F word.
Fat Brain Toys MiniSpinny
Buy Now
If they love spinning things or playing with toys that make simple movements, they will love the Fat Brain Toys minispinny toy.
Funko Pop Movie Moments: Captain America and Red Skull Collectible Figure
Funko Pop action figures are super fun, and this Captain America and Red Skull set will be popular with the kids that love Captain America.
Family Seven Seater Calico Critters
ForeverSpin Tungsten Spinning Top
Buy Now
The ForeverSpin tungsten spinning top is something they can play with at their desk while they do homework or read, just to reset their mind or get their body moving.
Fisher-Price Loving Family Laundry Room Playset
Buy Now
Do you want your kid to learn more about doing laundry themselves? Then, this Fisher-Price loving family laundry room playset is a great first step.
Farm Blocks from Melissa & Doug
Buy Now
They can play farm anywhere!
Fashion Sketch Kit from American Girl
Buy Now
Help them draw their fashion dreams with a fashion sketch kit from American Girl.
Fast & Furious 1970 Dodge Charger Off-Road Vehicle
Buy Now
One of the best movie series is the Fast & Furious movie series, and that is why this 1970 Dodge Charger off-road vehicle is one of the best gifts for the letter F.
Frog Bubble Maker
Buy Now
Bubbles are the best, and a frog that makes bubbles is even better!
30 Piece Building Blocks Set
Buy Now
They can build anything their heart desires with their Feather Friends 30 piece building blocks set at hand.
Fisher-Price Imaginext DC Super Friends Batbot Xtreme
Buy Now
Fisher-Price made this amazing Batbot for kids to shoot missiles and change their voice, and for Batman to hang out in while they play.
Frog Solar Dancing Flower
Buy Now

This frog solar dancing flower will entertain them and teach them about solar power at the same time.
20 Toys that Begin with the Letter F for Ages 9-12
When it comes to getting themed toys for your kid, whether that be toys that begin with a certain letter or are based on a movie or show, it can be tough to find what you are looking for. If your themed toys begin with the letter F today, you are in the right place because this list is all about the toys that begin with that letter. Chances are, you will will find what you're looking for here.
Fullfar Parafoil 3D Panda Kite
Buy Now
This Fullfar parafoil 3D panda kite will be fun to fly at the park, in the yard, or at the beach.
Fox Foldable Cube Box
Buy Now
You always need more organization options for their toys and accessories. That's where this foldable fox cube box comes in handy.
Fun Express Mini Vinyl Frogs
Buy Now
Frogs and fun in one toy!
Fairy Tails Bath Toys
Buy Now
Whether or not your 9-12 year old takes baths anymore, these fairy tails bath toys are great for pool play too!
Famous Drinking Bird Toy
Buy Now
They could be really fascinated with the famous drinking bird toy to play with!
Farm Tractor Stress Relief Toys
Buy Now
If they deal with stress and need something to squeeze, they definitely need these farm tractor stress relief toys.
Finger Magic Trick Fake Soft Thumb Tip
Oh boy! Imagine all the pranks they can pull with these finger magic trick fake soft thumb tips!
Funny Dark & Green Clockwork Spring Wind-Up Metal Jumping Frog
Buy Now
Who doesn't love a jumping frog toy?
Famous Words and Proverbs Fun Deck of Card with Secret Decoder
They can enjoy a good game with friends or family, with the Famous Words and Proverbs fun deck of cards with secret decoder.
Fabulous Flamingo Fancy Pals Pet Carrier
Buy Now
If they have ever wanted a fun pet, or even specifically a flamingo, then this is the F toy to choose for them!
Fancy Cat Plush
Buy Now
Fancy cat plush will please the cat lover!
Famous Bingo Game
Buy Now
Help them learn more about famous landmarks with this fun bingo game.
Fashion Angels Project Runway Portfolio
Buy Now
They will love creating and playing with their Fashion Angels project runway portfolio!
Fat Brain Toys Swingy Thing
Buy Now
This seems like a bigger version of a fidget toy, something to do when they need to clear their minds and move their fingers.
Fast & Furious Brian's Mitsubishi Lancer Evolution VII
Buy Now
You can't have a completed list of toys that begin with the letter F, without a Fast & Furious car!
Flashing LED Multi-Color Slotted Shutter Light Up Show Party Favor Glasses
Buy Now
These fun flashing LED slotted shutter glasses will be fun for dress up or just fooling around on a Friday night at home.
Forbidden Island Game
Nothing is more fun than playing games with their friends and family, and they are just barely old enough to play this Forbidden Island Game.
Funko Pop Movies: Harry Potter Action Figure
Buy Now
If they love Funko Pop action figures and also love Harry Potter, then this is the toy that begins with F that they need the most.
Flatbed Semi-Trailer Tow Truck
Buy Now
Wow! This flatbed semi-trailer tow truck is magnificent!
Flexible Tracks for LEGO City
Buy Now
These flexible tracks for LEGO City will help them create a really cool set of train tracks!
There are no shortage of toys that begin with the letter F. Make sure to choose your kiddo will enjoy the most.
As awesome as this list is, there are even more toys that begin with the letter F! As I mentioned, there are countless possibilities!