Oh the Taurus man. Reliable, patient, and always stable. We are so lucky to have a Taurus man in our lives, as brothers, husbands, boyfriends and friends to celebrate with these gift ideas.
As a Taurus myself, I understand how tough it can be to find the perfect gift for another Taurus. You already know they're a loving (and even romantic) person who values trust, loyalty, and honesty. Taurus men can be considerably materialistic. The male Taurus craves luxury in their life and believes they are entitled to it. They like to be surrounded by beautiful people, places, and things. Taurus' will spend money on things that make them happy. This zodiac sign values beauty above all else, closely followed by practicality.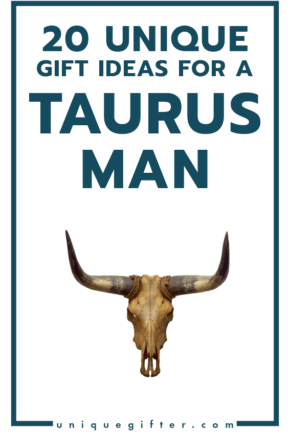 The Best Gifts for the Taurus Man in Your Life
We've also got the perfect list for gift ideas for a Taurus woman.
Keep these ideas in mind when purchasing gifts for a Taurus man! Simply look for something that will make his life easier, more fun, and more comfortable daily.
But what should we get him as a gift? Are you dreading picking out the perfect birthday or Christmas gift?
Do not worry! We'll put his zodiac sign to work to find gifts that he'll love.
When it comes to buying a gift for the Taurus man in your life, don't be afraid to spoil them a little bit! For inspiration, think about the Taurus traits – if it's functional, luxurious, and can be used multiple ways, you're on the right track! What else would you get for a Taurus man?