Disclosure of Material Connection: Some of the links in this post may be "affiliate links." This means if you click on the link and purchase an item, I will receive an affiliate commission. Disclosure in accordance with the Federal Trade Commission's 16 CFR, Part 255. This site is a participant in the Amazon Services LLC Associates Program, an affiliate advertising program designed to provide a means for sites to earn advertising fees by advertising and linking to Amazon.
Oh the Taurus man. Reliable, patient, and always stable. We are so lucky to have a Taurus man in our lives, as brothers, husbands, boyfriends and friends.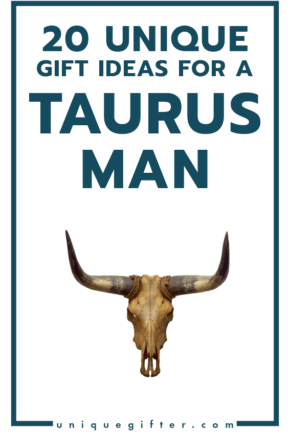 But what should we get him as a gift? Are you dreading picking out the perfect birthday or Christmas gift?
Do not worry! We'll put his zodiac sign to work to find gifts that he'll love.
Here are 20 gift ideas for the Taurus man in your life. 
We've also got the perfect list for gift ideas for a Taurus woman. 
Personalized Men's Apron
This men's apron can be personalized to read "Chef _______." It's a great gift for the cook!
The Doors Poster
A classic band for the music loving Taurus!
Alternative Music Mug
This mug just looks awesome, plain and simple.
Merino Wool Chunky Blanket
This blanket is HUGE and looks so warm and comfy.
Fun Culinary Print
Show him how much you appreciate his culinary-artistic endeavors with this print. Frame it and he can put it right in the kitchen!
Little Book of Great Dates
The Taurus is known for being somewhat of a hopeless romantic. Help him out with this book of date ideas.
Honey Badger Garden Gloves
These gloves come with "claws" for easy digging.
7 Piece Garden Tool Set
This garden tool set comes with everything: even a stool to sit on.
Garden Hose Nozzle
Perfect for getting that spring garden up and running.
Herb Gardening Kit
Herb gardening is super popular right now. These 5 herbs will be the perfect starter to his herb garden collection.
Electric Peeling Machine
Peels fruit, vegetables, and potatoes quickly so he doesn't have to!
Cast Iron Skillet Pan
Is it time for him to get some new skillet upgrades for his top-notch cooking skills? Then try out these cast iron skillet pans.
Rubbermaid Storage Containers
Necessary for meal prep, meal storage, and more.
Roadside Emergency Kit
A Taurus man is also known for always being prepared. He would love having this addition to his car, just in case.
Pocket Blanket
This multi-purpose beach blanket works for all sorts of adventures AND comes with a free beach ball. What's not to love?
Insulated Cooler Lunch Bag
This lunch bag is intense. It is insulated, super durable, and is big enough to double as a small cooler.
Vintage Scrapbook Photo Album
With this photo album, your Taurus friend can hold on to his memories through photos for a lifetime.
GoPro Compatible Snorkel Mask
Be able to see, breathe, and record underwater.
Polarized Sunglasses
New spring, new sunglasses.
Bluetooth Handsfree Car Kit
A car speaker that plays music and makes calls from his phono via Bluetooth.
Those were 20 gift ideas for the Taurus man in your life. Tell us your favorite ideas in the comments section and if you get him one of these gifts, be sure to let us know! We are @ugifter on Twitter and @uniquegifter on Instagram.