Disclosure of Material Connection: Some of the links in this post may be "affiliate links." This means if you click on the link and purchase an item, I will receive an affiliate commission. Disclosure in accordance with the Federal Trade Commission's 16 CFR, Part 255. This site is a participant in the Amazon Services LLC Associates Program, an affiliate advertising program designed to provide a means for sites to earn advertising fees by advertising and linking to Amazon.
Gift giving is a common thread throughout most cultures and countries around the world. It is a great way to connect with others on a deeper level and get to know them. The simple act of giving someone a gift that respects their gift giving traditions will help you cultivate friendships, professional relationships, and other relationships in your life. In India, gift giving shows affection and friendship. It is important to be aware of any gift giving practices and traditions in India so that you can cultivate a favorable relationship, whether friendly or professional.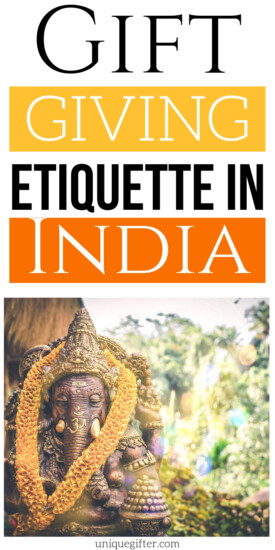 Read more in our gift giving etiquette series:
India Gift Giving Customs
When you are invited to an Indian's home, it is customary to bring the host or hostess a gift of flowers or chocolates.
If a man is giving a gift to a woman, it is considerate to say it is from both himself and a woman relative, such as his wife, sister, or mother.
It is customary for gifts to be given to the head of the household when you arrive.
Gifts will not be opened in front of the person who gave them, and you should not open any gifts you are given in front of the person who gave them to you either.
Giving Gifts to Indians
Always use your right hand when giving the gift to them, as left hands are seen as "unclean."
Consider the occasion and their personal tastes.
Things that they may not have access to and can utilize are appreciated.
Perfumes make excellent gifts.
Business Gift Giving Customs & Etiquette in India
Souvenir or gourmet food from your country are good choices as business gifts if you choose to give a gift to a business connection or associate.
You want to avoid most other gifts in a business setting, as they may be seen as bribery.
Gift Giving Occasions in India
Diwali- festival of lights, usually in November
Rakhi- celebrates the bond and love of a brother and sister, usually mid to end of August
Ganesh Chaturthi- celebrates the rebirth of Lord Ganesha
Housewarming
Weddings
Birthdays
Christmas
Baby showers
Gift Giving Tips in India
Unless you know for sure your host or hostess drinks, don't bring alcoholic beverages as a gift. Most Indians do not drink.
Black and white are considered unlucky colors. Use greens, reds, and yellows to wrap your gifts in instead as they are considered lucky colors.
A great number of Indians are vegetarians. If you bring food to their home, make sure it does not contain any meats or eggs.
Keep your gifts simple and avoid expensive gifts, as most Indians are conservative and don't care for expensive gifts.
Make sure that monetary gifts end with a number 1, such as $101 or $1001. The number 1 indicates a blessing, while the number 0 indicates an ending.
Gifts should be offered with both hands.
Gift Giving Don'ts in India
Don't give Indians gifts made from leather, as it can be seen as insulting. Cows are sacred for Hindus.
Avoid Frangipanis or white flowers as they are used for funerals or mourning.
Unless you a woman giving jewelry to another woman, or you are family members, avoid giving jewelry as a gift. It is seen as an intimate gift and may give an impression you don't intend to give.
Don't give gifts associated with pigs to someone who is Muslim.