Disclosure of Material Connection: Some of the links in this post may be "affiliate links." This means if you click on the link and purchase an item, I will receive an affiliate commission. Disclosure in accordance with the Federal Trade Commission's 16 CFR, Part 255. This site is a participant in the Amazon Services LLC Associates Program, an affiliate advertising program designed to provide a means for sites to earn advertising fees by advertising and linking to Amazon.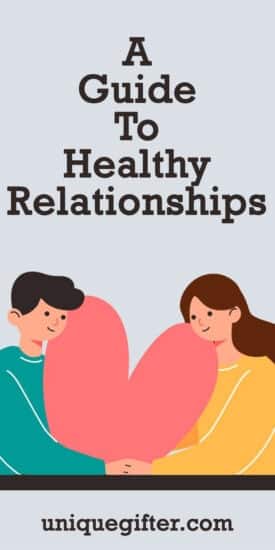 Introduction
Our relationships are an important part of our general wellbeing, from our friends, to our family and romantic relationships. It's especially important that we have healthy relationships around us.
Now, what may be 'healthy' can be a subjective thing for many people, since we're all different and that means that how we communicate with others can vary.
Likewise, some things may be okay in some relationships whereas they may be more problematic in others.
With that being said though, there are some common things that you should look out for to see if you have healthy relationships with your loved ones.
There are also some big red flags worth looking out for. Here's everything that you need to know about having a healthy relationship with your partner!
What Makes A Relationship Healthy
Communication
One of the single most important things in a healthy relationship is communication.
While you don't always need to tell your partner or family member every single thing that goes through your mind, it's still vital that you can communicate your feelings with them.
This also means communicating sensitively during conflict. Ultimately, good communication is at the heart of any healthy relationship.
Having good communication helps you to feel safe and valued in a relationship, and it is great for helping you to manage your emotions when you can talk to people.
The main thing to note is that people aren't mind readers. You should always be open and honest with your partner about what you need, rather than making them guess what you're feeling.
Sure, our partners learn more about us as time goes on, but even then you can't expect them to know every single thing that you're thinking.
Ultimately, it's about making sure that you talk about your feelings, whether they're positive or negative.
If you're in a healthy relationship, you should be able to work through any issues that you have together – you are a team after all.
With all of this in mind, sometimes communication can be difficult.
If you're struggling to communicate with your partner it doesn't necessarily mean your relationship is unhealthy – sometimes it just means that you need to work on your communication with each other.
After all, communication is a skill that we develop as time goes on. By working on how you communicate you can make your relationship even stronger.
Here are a few things that you can do to improve how you communicate in your relationship:
Recognize your Partner's Non-Verbal Cues
Understanding how your partner communicates comes down to more than just taking their words at face value. Sometimes you may need to read between the lines a little.
For instance, if your partner tells you that they're okay but they sound dejected, or they're a little snappy at you, it could be an indication that they're feeling something deeper.
Have a look at how your partner is behaving and whether their body language truly reflects what they're trying to say.
This can give you an indication about whether you need to dig deeper into what's bothering them or if you need to reopen the conversation in a little while once your partner has had time to process how they are feeling.
Ask Open Questions
Changing how you phrase things can have a huge impact on your communication.
If you ask your partner a question that they can answer yes or no to, you may be less likely to get as much information as if you had asked something more open ended.
This involves asking questions that require more explanation, such as ones that begin with 'how' or 'why'. If your partner is still hesitant to open up, that's okay too.
Some people just struggle more with opening up about their feelings. Allowing them to tell you more though can show your partner that you care about what they feel or think.
Don't Guess
It's easy to think after you've spent a long time with someone that you can read their mind and just know what they're thinking.
With that being said, it's better not to just guess how your partner is feeling and what we're thinking.
If you aren't sure about your partner's feelings, you should just be direct and ask them about it. Likewise, don't guess that they know exactly what you're thinking either.
We're human, many of us don't actually have the power to read minds. Honesty really is the best policy.
Take Time To Listen
We often assume that good communication consists of us talking and communicating our feelings. While this is certainly true, it's also important to listen too.
Take the time to truly listen to what your partner is saying, rather than planning what you're going to say next in your head. This can help your partner to feel valued.
You can also repeat what your partner said back to them if you are confused in any way.
Mutual Respect
Sure, love is important in a relationship, and so is friendship.
If you don't have mutual respect though, this can spell disaster in a relationship.
If you don't respect your partner and they don't respect you, your entire relationship can fall apart. People show respect in different ways, but ultimately it comes down to how you behave.
It means making sure that you consider your partner when you're making important decisions, and respecting their boundaries.
It means talking to them in a way that they appreciate, rather than using inconsiderate language.
It's really just about truly taking your partner into account in all aspects, rather than just thinking about yourself.
We all see respect in different ways. For many people, flirting with people who aren't in your relationship can be seen as disrespectful.
Some people may find keeping the toilet seat up disrespectful, whereas others may not care.
It's important to communicate to your partner when you are finding their behavior disrespectful, otherwise things won't change.
The amount of respect that you have for your partner can massively impact the trajectory of a relationship, so it's important to not only realize when you're being respected, but when you're being respectful to your partner, too.
Understanding
Another sign that you have a healthy relationship is if there is an understanding between you both.
Of course, we're all our own people, so the chances are slim that we will ever truly understand someone as well as we understand ourselves.
With that being said though, it's often difficult to make a relationship work when you don't understand your partner on at least some level.
Being in a loving relationship means having empathy for another person.
Sure, you may not have gone through a certain experience yourself, but it's about recognizing another person's pain or joy and putting yourself in their shoes.
It's about realizing that your partner is their own person and they should be free to express themselves without needing to worry about being judged.
Understanding can admittedly be a difficult thing to cultivate, but there are ways of becoming a more understanding partner if this is an area you are lacking in.
For starters, you should take a little bit of time to get to know each other better.
Take some time to learn things like what makes them happy, their different weaknesses and strengths and the things that scare them.
It's not possible to truly know someone overnight, it could take years. It's worth taking that time though in order to have a much deeper, more fulfilling relationship.
You should also allow some space for you to both spend time with others and to have a life away from your relationship too.
Most importantly, you should also remember that despite how much you may disagree, you're not always right. The same goes for your partner.
We all have our own beliefs and ideas, and though we may not agree with them, respecting these ideas is important for cultivating a healthy relationship.
Make sure that you compromise with your partner, and genuinely take a moment to understand why they may be thinking a certain way or why they may want to do a certain thing that perhaps you never would have thought of doing.
We're all different, but learning to understand each other can help to make us better people in our relationships.
Compromise
On the same subject, having the ability to compromise with each other is a good sign that your relationship is healthy.
The fact of the matter is, in order for a relationship to be healthy sometimes you just need to concede.
This is especially true if you keep having the same problem cropping up again and again, never getting resolved.
There's a common misconception that in order for a relationship to be healthy, you should never argue.
The truth is, when you're in a relationship for a long time, there are going to be occasions where you argue.
But if the same argument keeps coming up again and again, you may need to think about compromising.
Say for example you want to paint your kitchen yellow while your partner wants to paint it green.
In this circumstance, one of you may want to compromise on the issue and make an agreement that your partner can paint the kitchen green, but you should be allowed to choose the color of the bedroom.
Compromise is basically when you choose to sacrifice something that would make you happy in the short term for the sake of long term happiness.
This can help you to grow as people and can also help to make your relationship stronger.
Compromise also requires open communication. Sometimes it means that you need to discuss aspects of the compromise openly.
Being honest with your partner about the things that you care about, and allowing them to be honest too.
If you're candid with each other about how you feel about a particular situation, you're more likely to come to a compromise that you can both live with.
You also need to realize sometimes about when you shouldn't compromise.
For instance, when it comes to how you're treated you shouldn't compromise, as that won't make you happy in the long run and could just lead to you resenting each other.
As we've already mentioned, you also shouldn't stand for being disrespected, and you shouldn't have to compromise yourself or your core beliefs in order to make someone else feel happy.
Your partner should also be willing to compromise with you, too.
Trust
If you don't trust your partner, you may find that your relationship doesn't last for very long.
You need to have some faith that your partner is honest and genuine with you in order for your relationship to work.
More often than not, a relationship will break down if there isn't any trust. For instance, if your partner has an affair then how can you trust them not to do the same thing again?
You can't love someone that you can't trust. Also, when you trust someone you're more likely to get through hardships together if you trust them.
Trust allows you to heal, which is vital for having a healthy relationship. Most importantly of all, when you trust someone and they trust you, it means that you're free.
You don't need to walk on eggshells trying to explain things to your partner, and you can have your own personal space without needing to worry about a potential backlash.
With that being said, you also need to have faith in your partner. Being jealous is a perfectly natural thing, but excessive jealousy can make a relationship unhealthy.
For instance, if you've been cheated on by a previous partner then you may struggle to trust your next partner.
This may lead to behaviors such as checking your partner's phone when they aren't looking, and that's an invasion of privacy. This is unhealthy behavior.
If you want to have a healthy relationship, then you need to have trust.
Be honest with each other and respect each other, and if you ever have a reason to doubt your partner, make sure that you have an open, honest conversation with them about it to try to resolve the issue.
Space
In a healthy relationship, you should have space to be who you want to be outside of your relationship.
Having time apart is essential for your general happiness, and as such it's also essential for a relationship.
Sure, you love spending time with your partner, but you don't want to totally lose who you are in your relationship.
You need to have independence and your own sense of identity – you don't want to become a complete hive mind.
You've probably heard the phrase 'absence makes the heart grow fonder' before, right? Well, when it comes to relationships, that's most certainly true.
If you spend more time apart, you're more likely to value the time that you spend together.
Make sure that you take some time apart from each other every now and again, even if just for a few hours!
In the time you can spend apart, you can practice a hobby or you can spend time with some friends.
If your partner asks you for a little bit of space, then this is something that you should respect. If your partner isn't giving you space though, that's something that warrants a further discussion.
Spending time together every single waking minute of the day can get a little suffocating for both people in the relationship.
Intimacy
Human beings love to be close to one another, so intimacy is one of the most important things for a healthy relationship.
Intimacy is about more than just sex though.
Intimacy is about having a connection – it's a closeness that only you two have that binds you together.
Physical affection is important, but intimacy requires trust and allowing someone to see you for who you are, vulnerabilities and all.
It should be noted too that not all couples enjoy having sex, in which case other things such as hugging or sleeping next to each other can be great for physical intimacy.
When it comes to sex, you should be able to communicate your wants and needs to you partner clearly, and you should both respect each other's boundaries.
In short, intimacy is something that builds through time, and happens as a result of connecting with your partner or another loved one.
It can be physical, spiritual or anything in between.
Love
The most obvious component of a healthy relationship?
Love!
Love is important for connecting with our partners.
Love is also a great way to motivate you to be better – after all, how many famous plays or novels have you heard that have been inspired by love?
Love can be an addictive thing, and at a scientific level it's often caused by hormones in the brain such as dopamine, serotonin and oxytocin that help us to feel 'head over heels' for someone.
All of the things that we've mentioned above go into feeling 'in love.' Love is about devotion, trust and understanding. It's something that keeps us all going despite when times are tough.
Most importantly, love is an action rather than just a feeling.
Love is when you show someone that you respect and value them, love is when you feel compelled to help change your partner's tires on their car despite the fact that it's pouring with rain.
It sounds poetic, but it's true. A lot of people feel 'in love,' and while that feeling is important, it's not the most important thing.
That feeling of being in love and having butterflies in your stomach for the person you're with can fade over time.
Love is about making a conscious decision to stay with someone because you value and respect them, and because you want to be with them despite all else, even when the butterflies start to fade with time.
Often it's the feelings of being in love that propel us to get into a relationship, but it's the action of cultivating your relationship that keeps people together.
Other
So what other things are important in a healthy relationship?
Loyalty – Staying faithful is incredibly important in a monogamous relationship. If you have an affair, for instance, how can you expect your partner to trust you?
Safety – in a healthy relationship you should feel safe. Your safety is paramount. If you feel unsafe in a relationship, it's time to get out.
Happiness – It's not possible to be happy for every waking moment of the day. With that being said, it's hard to enjoy being with someone when you're miserable. You should be in a situation where you can name more good times together than bad.
Extra Things To Do To Make Your Relationships Healthy
Be Realistic
The truth is that there's no such thing as a perfect relationship.
Even couples that have been together for decades have issues.
For this reason, if you want to have a healthy relationship you should try to keep your expectations grounded in reality.
For instance, expecting your partner to always be the one that plans your dates just isn't realistic. Sometimes you will need to plan things.
You also can't expect your partner to always pay for every little thing – there needs to be a balance.
On the other hand though, there are some realistic expectations that you can set too, including:
You should expect respect

You should expect to be valued by your partner

You should expect to spend at least a little bit of time with your partner in some capacity

Loyalty

Honesty

Compassion

You should expect to be a priority for your partner
Don't Try To Change Your Partner
You should never be with someone that tries to change who you are deep down, and likewise, you also shouldn't try to change your partner either.
We are all individuals with our own flaws and shortcomings. Your partner isn't like a character on The Sims – you can't shape them to be exactly as you want them to be.
For your relationship to be healthy, you need to accept your partner for the person that they are, or else your relationship simply won't survive.
Your partner should not be made to feel like they aren't good enough for you because you keep trying to change them.
Consider whether your partner's behavior is something that you can deal with or is it a deal breaker for you.
Is their behavior harmful to you or themselves, and is it something that you need to have a further conversation about?
Trying to change your partner is unhealthy because not only is it disrespectful to your partner, but it can also be quite damaging as it can change how they see themselves too.
You wouldn't like it if your partner tried to change you, so don't try to change them either. You should love your partner as they are.
Accepting your partner for who they are is an important step in cultivating a much healthier relationship.
Give Each Other Gifts
You can't buy love, but showering your partner with gifts can be a great way to show them that you love them!
Giving and receiving gifts is a love language for many people, which means that they feel extra loved and valued when they are given gifts.
For many people, even something small that you made yourself can mean so much. How can you give gifts to show your love to another person? Think about your partner's interests.
For instance, if they're really interested in DC comics, you could get them a Batman Stainless Steel Water Bottle.
If your partner is interested in sports, you could get them a hat with the logo of their favorite team on it.
Perhaps your partner is in the military, so you can buy them an army flask. Or they're a big fan of The Lord of the Rings, so you buy them a themed bookmark.
There are so many options out there to fit any kind of person. Even the smallest gift can go a long way if you're trying to show your partner how much you love and value them.
Spend Time Together
There are very few better things to do with your partner than to just spend time together.
If you spend time together, you get the opportunity to learn more about each other.
Spending time together gives you a chance to connect and enjoy each other's company.
Life is busy, so how can you spend more time together? First of all, put your phone or computer down for five minutes. If you struggle to fit time into your schedules, you just need to make time.
For instance, if you have children together then you can check with family members to see if they will look after your children while you both have some quality time together.
It's also helpful to arrange to do new things that perhaps you haven't done before. Perhaps you've always wanted to go skydiving – why not try it together if your partner wants to do it too?
You may just find a new hobby together which can bring you closer together.
It doesn't always need to be something crazy and exciting either – even just sitting at home and watching a movie on Netflix while you order a pizza is a good way to spend some time together.
You can also integrate the time you spend together into your day. For instance, you could try cooking together, or turn your chores into a game and do them together.
Where there's a will, there's a way!
Be There For Your Partner
One of the most important things in a healthy relationship is to be there for your partner.
This means supporting them through both their bad days and their good days.
After all, we can't all be feeling great every single day. You would also want your partner to be there for you when you're struggling with things, too.
So how can you be there for each other when times are tough?
Ask Them Open Questions
Show your partner that you're interested in them and how they feel by asking them questions.
For instance, check in with them about how their day was at work and if they tell you, make sure that you actually listen to them.
You can then ask them later on about whether they're feeling any better, and they'll feel like they've been really listened to because you retained the information that they have relayed to you.
Make Them Feel Validated
It's easy to feel like your feelings aren't important because there's always someone else out there that has it worse than you do, in many situations.
With that being said, what you or your partner feel is valid too. If your partner is feeling upset because of something that happened at work, let them know that their feelings are valid.
Let them know that it's okay to feel upset or angry. Don't make them feel like they're overreacting, or they may be less likely to confide in you in the future.
Tell Them You'll Be There
It's rare that we ever think to just remind our partners that we're there for them, after all, it can sometimes feel like a contrived thing to say.
When you're feeling down though, this phrase can mean a lot. Remind your partner that you're there for them, even when they're going through tough times.
Understand How Your Partner Responds to Things
When you've known someone for a really long time, you learn a lot about them and how they behave.
Being able to anticipate how your partner will respond to certain things can be very helpful in supporting them.
For instance, some people will work a lot better when you're tough with them, whereas others may just need a hug and for you to tell them that they'll be okay.
Understanding what things will make your partner respond positively is incredibly beneficial in the long run.
Help Each Other Out
Relationships are about give and take. If one person is doing all of the giving, they may begin to feel resentful.
For this reason, it's important to make sure that you help each other.
If you own a home together, this may mean that you take on extra chores around the house when they're having a hard time or when they're working longer hours in the office.
It could mean running some errands and picking up groceries for their mother when they're out of town.
Of course, this doesn't mean piling everything onto your own shoulders. It just means offering to help when your partner is feeling a little swamped. A little bit of effort can go a long way.
Other
There are also all sorts of other things that you can do to have a healthy relationship and to make your partner feel valued in your relationship.
For instance, if your partner has a life dream that they want to pursue, you should support that and they should also support your dreams! You need to believe in each other.
Be proud of each other and all of your accomplishments, both as individuals and as a couple. You should also take time to celebrate things together.
Did your husband or wife just get a huge promotion at work? You could go for a nice dinner to celebrate!
While loving your partner is important in a relationship, you should also love yourself. You need to take the time to look after yourself, especially when you're in a relationship.
This will also help you to understand what things you're okay with, and what things you won't stand for in a relationship.
Learn the things that upset you and make you happy, and communicate that in your relationship.
Finally, make sure that you stay present in your relationship. Make sure that you're there physically with your partner and emotionally.
This could be something as simple as just touching their hand to let them know you're there.
Put your phone away when you're out on a date together to let them truly know that they are your sole focus in that moment.
Red Flags To Keep An Eye Out For In Your Relationships
So how can you tell when there are aspects of your relationship that aren't healthy? Here are some things to look out for.
Lack Of Trust
As we've already established, trust is essential in a relationship.
For this reason, it's a huge red flag if there's no trust in your relationship.
Likewise, if you don't trust your partner but they trust you or vice versa, that's also a sign that something deeper is going on and you may need to have a further conversation.
You should be able to be honest with your partner in a relationship.
If you find that you struggle to tell your partner things, or you've done something that has caused your partner to not trust you, then you may want to reevaluate your relationship.
You should never be made to feel like your partner is hiding something from you in a relationship.
Sometimes you can work past trust issues with some couples therapy and some candid conversations, but sometimes having a lack of trust in one another can be a sign that this relationship may not be for you.
Being Controlling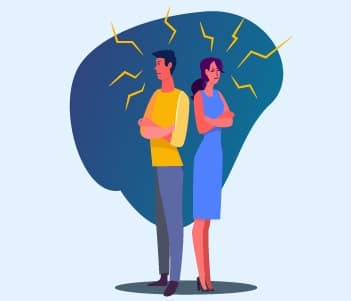 There are no circumstances in which you should try to control your partner.
You are both your own people, and you should be allowed to live your life without feeling like you're being controlled.
If your partner is trying to tell you what to do, or they're forcing you to do things like cutting relationships off with friends or loved ones, this is a huge red flag in a relationship.
No amount of 'love' is worth sacrificing your freedom for. Likewise, your partner should never give you a reason to be controlling either.
Feeling Insecure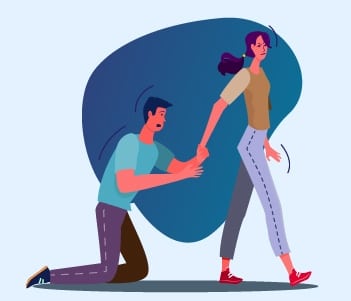 As we've already established, you should feel safe and secure in your relationship.
You should not be in a situation where you don't know where you stand.
You're in a partnership – it should not feel one sided.
You shouldn't be sitting there worrying that your partner is going to have an affair, and you shouldn't feel anxious about the direction that your relationship is heading in.
A constant sense of anxiety about your relationship is a red flag, and it's something that you need to talk to your partner about.
A healthy relationship is one where you feel comfortable, not constantly on edge.
Abusive Behavior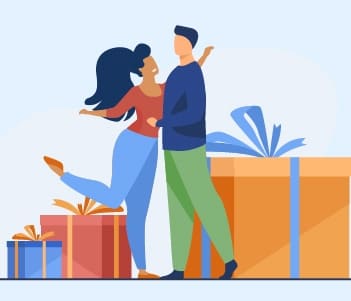 Abusive behavior is one of the biggest red flags when it comes to a relationship.
If your partner hurts you physically, that's a good enough sign that you need to get out of the relationship as soon as you are able to. Your partner should not try to hurt you.
Abusive behavior can also be emotional too. For instance, if your partner is constantly putting you down or they're making you feel like nothing you do is ever good enough for them.
Some examples of emotionally abusive behaviors include:
Telling you that you're selfish or needy whenever you tell them that there's something you need or want out of your relationship

Telling you what you think or feel is wrong – telling you that you're exaggerating

Being dismissive of you

Insulting or undermining you

Manipulating your perceptions of things

Emotionally blackmailing you

Isolating you from family and friends

Completely controlling finances
Others
What other signs suggest that your relationship is unhealthy?
Well, for starters it could be a sign that your relationship is unhealthy if you feel frightened to tell your partner that you disagree with them on any topic.
In addition to this, if you feel like there's an inequality in the relationship, this is also a red flag.
You should feel like your relationship is balanced – you should not feel like you're inferior to your partner.
You should not feel like all of the burdens of things like house work fall on your shoulders either.
You should also ensure that your partner respects your boundaries. This means respecting your privacy for instance, or respecting your requests for space.
If they continuously disrespect your boundaries on a regular basis, that can be a sign that your relationship isn't healthy.
Summary
Having a healthy relationship is important for your wellbeing, so it's good to recognize when you or your partner need to change the way that you behave.
By practicing some of the healthy behaviors listed in this article, you can hopefully have a much healthier relationship in the long run.
Citations