Respect and courtesy are important to the people living in Thailand. The way you act and your facial expressions will be more important than what you say, as those reveal more about you and your intentions. Gift giving is a normal form of social interaction in Thailand; there are things you need to know about giving and receiving gifts.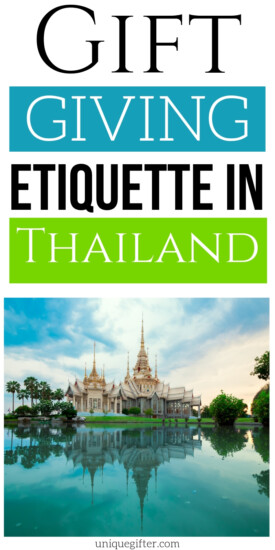 Read more in our gift giving etiquette series:
Thailand Gift Giving Customs
When invited into a Thai home, it is appreciated for you to bring a gift, but it is not required.
Gifts are usually not opened immediately upon receiving them. They are opened in private.
Gifts are given to show appreciation, thankfulness, kindness, and respect.
Gift giving is taken seriously in Thailand.
Only a small amount of people who live in Thailand are Christian, and therefore most do not celebrate Christmas.
Giving Gifts to Thais
Small gifts that are thoughtful and reasonably priced are a good idea as more expensive gifts may make them feel uncomfortable and cause them to refuse to accept it.
Flowers, chocolates, and fruits make good choices as gifts.
You need to consider how much the gift will be appreciated when evaluating the cost of it.
Business Gift Giving Customs & Etiquette in Thailand
Thai corporations will send or give gifts to their clients and customers during the New Year season.
Business associates give gifts to each other in business settings for New Year as well.
Gift Giving Occasions in Thailand
Thai New Year- Songkran- mid-April
Chinese New Year- late January to mid-February
Children's Day- mid-January
Mother's Day- August 12th
Father's Day- December 5th
Weddings
Birthdays
Big life events
Gift Giving Tips in Thailand
Use bright colors to wrap your gifts. Gold or yellow are good choices! Only use red when giving a gift to a Chinese Thai. Add bows and ribbons for a special touch.
3 is seen as a lucky number in Thailand. Giving gifts in groups of 3's is a good choice.
Use the right hand to give or receive a gift, as the left hand is seen as unclean.
Cash is acceptable for family members to give as a gift, or for big life events such as weddings.
Gift Giving Don'ts in Thailand
Avoid wrapping your gifts in green, black, or blue as those are used in mourning.
Don't give marigolds or carnations as they are used in funerals.
Don't rip the wrapping paper when you receive a paper as it can be seen as rude and inconsiderate. Do it carefully, fold the paper, and then set it aside.