When it comes to gift giving in Japan, there are many customs and traditions that you need to be aware of. If you are traveling there for personal or professional purposes, these tips will help you immensely. Gift giving in Japan is more modest than some other countries, and the focus is put on the relationship and thought put behind the gift. Birthdays and Christmas are not big gift giving times for the Japanese, but it may be more common now as Japan takes on some Western world traditions.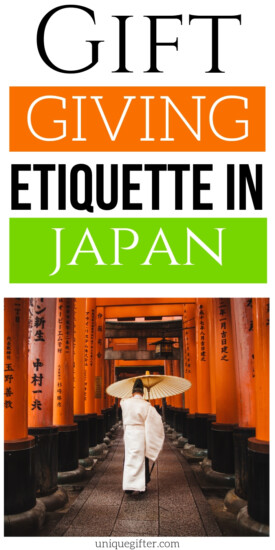 Read more in our gift giving etiquette series:
Japanese Gift Giving Customs
A wrapped gift is traditionally carried inside of a shopping bag so that it is not shown off or apparent to the person who will be given the gift.
The best time to give a gift is near the end of a visit and do it discreetly.
Give gifts with both hands.
When you are invited into a Japanese home, bring an uneven number of flowers, candy, or cakes as a gift.
Gifts that come in pairs are seen as lucky in Japan.
It is customary to give money to the couple getting married for their wedding.
Giving Gifts to Japanese
It is important to downplay the gift you are giving to show that your relationship with the receiver is more important than the gift itself.
If you receive a gift yourself, politely refuse it at least once or twice before finally accepting. Also, be sure that you reciprocate and give a gift to the giver.
Gifts that make good choices are imported alcohol, gourmet food, fruits, frozen steaks, meaningful photos, and also electronic toys if you are buying for children.
Business Gift Giving Customs & Etiquette in Japan
Gift giving in business settings is important.
Gifts are exchanged by business associates on July 15th and January 1st to celebrate midyear and the year's end.
It is a good idea to bring a variety of gifts for business trip to Japan so that you have one readily available for if and when you are given a gift.
It is important to remember that the gift itself is the most important. Expensive gifts will not be seen as a bribe.
Don't give the same gift to people of different ranks.
Avoid bringing gifts with your logo on them or gifts that say "made in Japan."
Gift Giving Occasions in Japan
Weddings
Coming of Age Day- second Monday in January
Valentine's Day
White Day- March 14th
Ochugen- mid-year
Oseibo- end of year
Obon- honoring the dead and people that are close to them
Coming home from a trip
Birthdays- not as common
Christmas- not as common
Gift Giving Tips in Japan
Gifts for one individual person should be done in private.
Gifts given to a group of people should be done with all people present and gathered together.
Make sure your gifts are wrapped. If in doubt, have the store personnel do it or have it done at a gift-wrapping service.
Wrap gifts in pastel colors, and don't put a bow on it.
Gift Giving Don'ts in Japan
Avoid giving gifts too early in a relationship or friendship.
Avoid wrapping gifts in bright colors.
Flowers that you should avoid are lilies, lotus blossoms, and camellias as they are for funerals. White flowers should also be avoided.
Potted plants are said to bring sickness, so don't bring those as a gift.
The numbers 4 and 9 are unlucky when it comes to gifts.
Funeral notices are traditionally red, so avoid giving Christmas cards in this color.