Disclosure of Material Connection: Some of the links in this post may be "affiliate links." This means if you click on the link and purchase an item, I will receive an affiliate commission. Disclosure in accordance with the Federal Trade Commission's 16 CFR, Part 255. This site is a participant in the Amazon Services LLC Associates Program, an affiliate advertising program designed to provide a means for sites to earn advertising fees by advertising and linking to Amazon.
Carrying around heavy tool belts and crawling in small spaces can be tiring. But not when the electrician is equipped with the right tools and gadgets.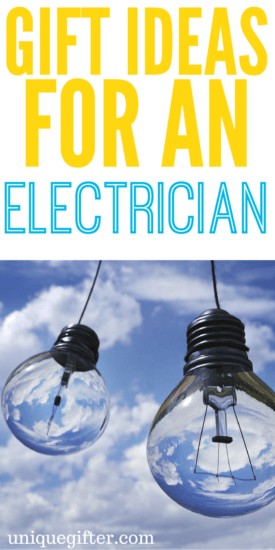 You may not be able to provide all the necessary tools, but a gift or two will be appreciated, especially if it is meant to motivate and encourage an electrician. Here are some of the notable gifts to give that electrician in your life:
Gift Ideas for an Electrician
Voltage tester
This is a great gift because it will be put into use frequently. An electrician will carry this device to work every day because of the need to locate shorts and open circuits. It can be easily carried in the shirt pocket and is easy to use when testing for energized circuits.
Digital multimeter
This is an essential tool for anyone who works with electricity. With this device, the electrician will be able to troubleshoot almost all electrical glitches.
Portable Power Cord System
RoboReel winds up the cord in seconds and only at the touch of a button. It is built to last longer and can be operated on a wall mount, or while free-standing. It also has a thermostat to prevent overheating. Save the electrician from the sweaty task of winding reel.
Padded Adjustable Tool Belt Suspenders
It provides comfort by relieving pressure from the hips and back with its pads. It has extra storage and is made using durable material to withstand the demands of an electrician.
Makita multi-charger
It is wrong for an electrician to walk around without a charged battery. It is even worse for batteries to go flat while drilling. This multi-charger will keep batteries fully charged and is easy to carry.
Electrician tool belt
The belt features a unique tape measure holder that allows the electrician to use a tape without detaching it from the belt. It also comes with removable pouches that are used to hold tools while working, and is well padded to provide the needed comfort. With this belt, an electrician will only carry the necessary tools and will receive enough comfort while carrying tools in one place.
Electrician hoodie
This unisex hoodie has a funny slogan that will suit any electrician regardless of fashion taste. The hoodie has been manufactured using quality garment and will serve as a reminder of the need to be proud as an electrician.
Black and decker screwdriver
Screwing can be tiring and may leave the wrist aching, but not when one uses this black and decker lightweight screwdriver. This motion activated screwdriver is able to control speed and direction. You only need to grip the trigger and twist in the right direction. It has a rechargeable battery, magnetic bit holder, and LED lights to provide light in dark spaces. An electrician will find it easier to use even on long projects.
Heated jacket
This jacket has a thermal lining that retains heat and prevents the body from cold. It is convenient for the electrician who needs to work in a cold site. It also has side pockets for keeping the hands warm and holding tools. The jacket comes with an integrated USB port that can be used to charge cell phones.
Zircon Multi Scanner
An electrician does not need to make unnecessary holes on client's wall. Not when this multi scanner can be used to discover what lies behind a wall. This is a handy gadget that will save time by locating wood or metal joists.
Corded XR Wet & Dry Vacuum
There will always be a need to clean up a mess without having to plug in a vacuum to a power system; whether it is a wet or dry area. This vacuum should make it easy to clean up cordlessly without the need to change the filter. The machine boasts of a highly efficient filter that is able to trap 99.97% of dust.
Pocket Electrician's Apron
It is adjusted to the waist and is made using Top Grain Leather. It has a hammer holder and small pockets for holding small devices like screw drivers.
Electricians Knee Pad
This knee pad is perfect for kneeling during work. It is light and comfortable and can be worn for the whole day because it is made using soft material and an elastic band, both of which work together to keep the pad in place. It will provide protection and comfort for the knee, as well as flexibility.
5.0 out of 5 starsComfortable on Rocks and Narrow Boards
These knee pads are great. I wear them all day – on concrete, rocks, and narrow boards- they are comfortable and do not slip.
I recommend them and I plan to buy a second pair…on that note, these are sold as singles, so you'll need to order two if you want a pair.
Funny Electrician T-shirt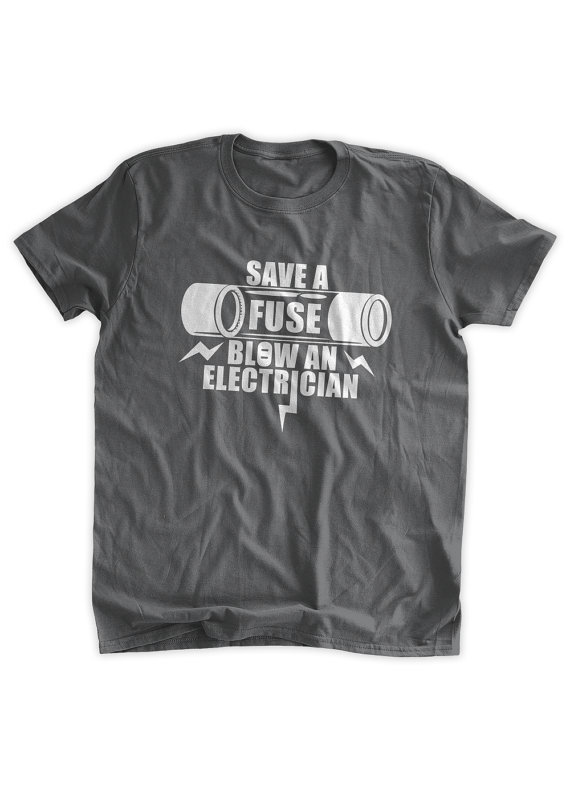 A hilarious t-shirt is great because its message can be used to spread love and motivation during a busy day. If you do not like this message, you are free to place your custom order, which can be printed in a variety of colors.
Electrical and Maintenance Tool Carrier
In most cases, an electrician will require a variety of tools to for the job, especially if the project is huge. This tool carrier will assist such an electrician with storage. It is uniquely designed to allow for extra pockets on the walls and allows for faster access to tools. It has extra padding and its multiple compartments are just what an electrician needs.
Electrician's Gloves
It is made out of spandex material which makes it breathable and comfortable to wear. It has a unique finger and palm material that is slip resistance when pulling cables and wires. This glove will protect fingers from harm and will make it easier and comfortable to perform tasks.
Electrical hazard protection shoes
Timberland is known for comfort and durability. This boots have been designed with comfort in mind and deliver the durability and comfort required by any electrician. It has a padded top collar to improve comfort and a steel safety toe to improve protection.
Screwdriver set
Screwdrivers wear out and sometimes get lost in trenches or in the ceiling. Therefore, replacing them is welcomed at any time because they are one of the basic tools for any electrician. Any electrician will admit that a screwdriver can get most of the work done.
Electrician watch
The watch is made using high quality plastic and is powered by a battery. It has an electronic theme and should serve as appreciation for the electrician's work.