Disclosure of Material Connection: Some of the links in this post may be "affiliate links." This means if you click on the link and purchase an item, I will receive an affiliate commission. Disclosure in accordance with the Federal Trade Commission's 16 CFR, Part 255. This site is a participant in the Amazon Services LLC Associates Program, an affiliate advertising program designed to provide a means for sites to earn advertising fees by advertising and linking to Amazon.
When you are searching for just the "right gift" for the flight attendant in your life, there may be a lot to choose from. There are plane themed gifts, ones specifically geared towards flight attendants, and more. You don't want to pick just any gift though, so here are some great choices. Check out these 20 best gift ideas for flight attendants to get some inspiration!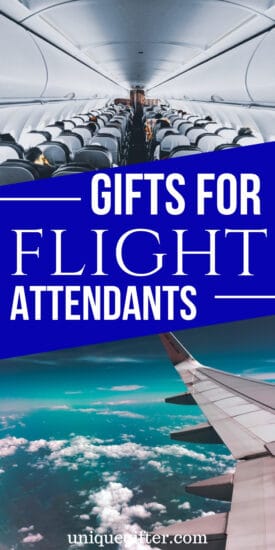 The 20 Best Gifts for Flight Attendants
Find something they'll actually want to take with them on that long-haul flight! (Or at least, back to their home!) These best gifts for flight attendants range from the practical, to the cute and of course the silly! Make of it what you will, but these are sure to put a smile on your favorite aviator service member's face!
The Flight Attendant 2020 TV Show Poster
Take your favorite flight attendant to a world of high-flying drama in the skies starring one of their own in this HBO original series! If they're a fan of the show, they're going to love this ultra-stylized poster print!
Airline Call Button key Chains and Necklaces
This one is either going to evoke some serious trauma, or get a good laugh. Either way, you're going to hit the button on this gift idea for flight attendants!
Catch Flights Soy Wax Candle
Of all of the service jobs out there, flight attendants are one of the first in line for a bit of R&R. And, who can blame them? Make them feel luxurious with this cute themed soy wax candle, or include it as a part of an airline-themed gift basket!
Airplane Paper Clips
We've all got paperwork, why not make your favorite flight attendant's bills look a little more organized with these adorably themed paperclips!?
Neutrogena Makeup Remover Facial Cleansing Towelette Singles
If you're going for the more 'practical' side of things, these will go a long way in between flights and especially in hotel rooms!
Matein Travel Backpack
This backpack is easily capable of storing almost a week of clothing, and it's expandable! It's made to fit most airline carry-on standards for easy storage, too.
GUZOSJO Square Silk Feeling Scarf
We all know how blistery an open runway can get, certainly not ideal if you're just a flight attendant trying to keep their hair from looking like a bird's nest once you reach the terminal! Gift them a cute and practical scarf like this to help keep things under control.
Airplane Necktie
I contest that cute airplane motifs aren't just for pilots! Whether they're at a formal function, or just want to show off their aviation industry pride, this awesome airplane necktie is perfect for the off-duty stewardess!
Vintage 80's Flight Attendant Dress (With Shoulder Pads!)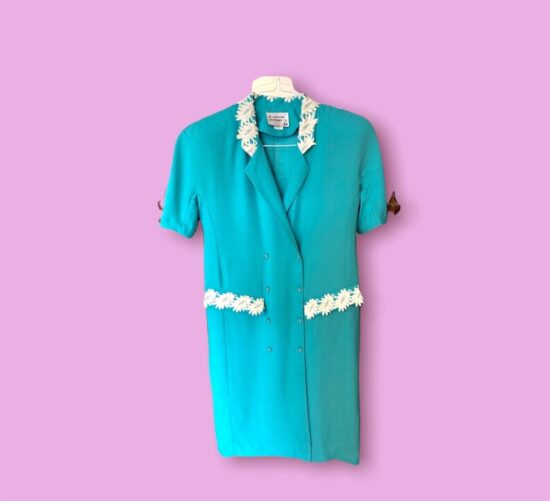 This airline flight attendant dress is straight from the 80's, literally! Cop this rad fit for the coolest Halloween costume a flight attendant could possibly hope to assemble! (Or wear it around the house, we won't judge!)
Flight Attendant Cake Topper
This fantastic flight attendant cake topper is perfect for helping your friend or loved one kick off their big day! Or, surprise a newly engaged couple. (Despite how cute these are, we recommend at least one of them is in fact a flight attendant!)
Aviation Slim Wallet
For the flight attendant on the go, this fabulously simple little wallet is a perfect cash and card holder to keep them organized! Flight attendants know, when you're spending all day meeting the needs of your passengers, it's more than easy to overlook your own. Also, it's made of real leather!
Cabin Crew 'My Roster' Cork Board
This cute little corkboard helps your favorite flight attendant keep track of their upcoming destinations in a calendar format featuring adorable pins and cards for creating airport codes on their flight path!
Keychain Pilot Duck
The best gifts for flight attendants wouldn't be complete without an adorable little keychain duck, would it? Grab one of these little guys to outfit their car keys in style, and give them an adorable little reminder that you're thinking of them before they take off for their next flight!
2 Pack TSA Approved Travel Luggage Locks
These handy little luggage locks keep their belongings safe and secure while they're travelling within the airport. They also meet TSA requirements, allowing you to use them in security without a worry.
Eloptop Luggage Travel Cup Holder
This isn't just any ordinary luggage beverage holder, it can comfortably accommodate just about any sized cup! It doesn't matter if they grab a Grande Americano in JFK, or a Venti Iced Matcha in YYZ, this baby can handle both with ease.
Off Duty Save Yourself Wine Glass
Everyone needs a custom stemless wine glass, right? It's not just me, is it? This cute little glass gives them something to look forward to once they kick off their shoes and lose the ascot after a long week on the job!
O'Hare Airport Map