Disclosure of Material Connection: Some of the links in this post may be "affiliate links." This means if you click on the link and purchase an item, I will receive an affiliate commission. Disclosure in accordance with the Federal Trade Commission's 16 CFR, Part 255. This site is a participant in the Amazon Services LLC Associates Program, an affiliate advertising program designed to provide a means for sites to earn advertising fees by advertising and linking to Amazon.
Gift Ideas for Ballerinas
She sparkles. She shines. Her eyes light up as she twirls her sweet little frame 'round and 'round. She's a beautiful ballerina! So when you are in need of just the right gift for your sweet little dancer, look no further. Here are some wonderful gift ideas for ballerinas in your life!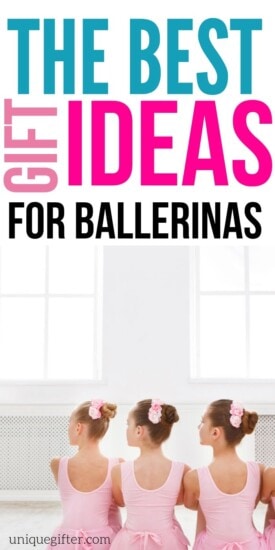 Lovely Gift Ideas For Ballerinas
Ballerinas are special and deserve a special gift every once in a while! Check out these gift ideas for inspiration.
Ballerina Mirror
This ballerina shaped mirror is perfect for any aged dancer! It comes in various sizes, so you can order just the right one to fit on your talented ballerina's bedroom wall!
Oh Plies Shirt
Need a gift for an older ballerina? Oh, Plies! There will be no rolling of eyes when she opens this sweet yet simple t-shirt.
Unicorn Ballerina Plush
This plush is the perfect gift to combine a love of unicorns (because really, have you ever known a girl who doesn't adore them?) and ballet!
Personalized Pencil Box
While this fully customizable pencil box was initially intended for crayons, pencils, markers, and other writing or school supplies, it can also be used to store other tiny trinkets.
Ballerina Blanket
How fun is this ballerina blanket! Just when you thought sleepovers couldn't get more fun or exciting, this blanket is sure to change your mind!
Hair Clips
Let's be honest here. Is there really such a thing is too many hair accessories?! Help keep those strays at bay with these sweet, little ballerina hair clips!
Musical Jewelry Box
Those cute little necklaces and bracelets need a home of their own. Check out this super fun musical jewelry box that displays a twirling ballerina each time it is opened. As a bonus, it even includes a ballerina necklace!
Dance Tote
Could the ballerina use a new tote to carry her gear to and from dance class and recitals? Check out this cute bag that can be personalized with her name! It's just the right size to fit all of her dance essentials, and then some!
Ballerina Hair Ties
No matter what shade of hair the ballerina has, she is going to look too sweet with her ponytail tied back in these adorable, sparkling, ballet shoe hair ties!
Small Backpack
This adorable backpack is the perfect size for those sweet little ballerinas who are just starting school. Though it is also great for carrying small belongings around the house! Plus, it can even be personalized, if desired!
18" Doll Ballet Clothes
A little girl's clothing obsession can easily be expanded when she has dolls. She is going to adore these sweet ballet clothes so that she can dress up her 18" doll-like a ballerina!
Non-slip Area Rug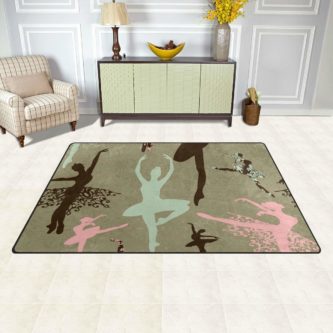 Is the ballerina getting a room makeover? You may want to look into this fun, round, ballerina area rug. It has a non-slip backing, so there is no need to purchase a mat for underneath.
#13. Personalized Ballerina Book
There is nothing more exciting about a book than when the main character shares similarities. But wait! The main character in this book doesn't just have similarities with your ballerina; it IS your ballerina! Customize the hair and skin colors, as well as add her name and birthdate.
#14. Musical Glitterdome
There is something so mesmerizing and peaceful about snow globes and glitter domes! The fun glitter dome is going to look perfect sitting atop your ballerina's dresser!
#15. Color Changing Pillow Case
I'm not sure who came up with the idea of reversible sequin products, but this beautiful ballerina pillow case is sure to be a hit! Flip the sequins to reveal a cute little ballerina and her name!
#16. I'd Rather Be Dancing Tee
Here's another tee for when cutesie is just too young. This tee is perfect to toss on after dance class!
#17. Ballerina Puzzle
Does this ballerina have a knack for puzzles? If so, challenge her with this 63 piece ballerina puzzle. It even comes in fun carrying case!
#18. Cake Topper
Take a look at this glittery cake topper is absolutely adorable! Not only is it just a glittery ballerina, with a pink, frilly tutu, but she can hold the ballerina's age, and even be personalized with her name!
#19. Memory Board
Every little girl needs a memory board in her room, to help display her ribbons, notes, and photos! Check out this fun ballet print that can be holding up her memories.
#20. Eiffel Tower Backpack
Buy Now
When a little girl's backpack just won't do anymore, this ballerina dancing in front of the Eiffel Tower one is much more adultish.
#21. Ballerina Ornament
If gifting Christmas ornaments has become a tradition each year, this ballerina ornament is going to make the perfect gift this year!
#22. Ceramic Ballet Shoes
An artsy ballerina is sure to love these ready to paint, ceramic ballet shoes! Don't forget to gift her a new set of paints, as well!
Jeweled Picture Frame
This ballerina picture frame is sophisticated enough to pass as a wonderful gift for an older ballerina, but also cute enough to be enjoyed by a new dancer!
#24. Tutu Hair Accessory Holder
Hair ties, bows, headbands, and clips need a place of their own. How cute is this organizing, hanging tutu, to store all of her favorite hair accessories?
Ballerina Coloring Set
Buy Now
Car rides can be a drag, but not when you have a coloring set to use! This is a fantastic gift for ballerinas who are always on the go.
Ballerina Clock
You might think a clock would be a boring gift, but not when it's a mirrored ballerina clock!
#27. Carter's Ballet PJs
These cute pajamas are perfect for when the little ballerina needs to catch some zzz's and re-energize.
Ballerina Rain Boots
Even ballerinas enjoy tromping around in mud puddles!
Drawstring Jewelry Bag
A drawstring jewelry bag is a great way to store jewelry while dancing. The bag can be tossed into a larger tote to keep jewelry from getting getting damaged or lost.
#30. Dance Bracelet
This pink and silver dance bracelet is too cute! And it's adjustable!
#31. No-Slip Workout Headband
Working out isn't meant to be attractive, but it doesn't mean a ballerina can't try her hardest to dress cute. This no-slip, ballerina slipper headband is sure to do the trick!
#32. Composition Notebook
Having fun school supplies makes school seem so much more fun and exciting, so check out this fun panda bear ballerina notebook!
These are the best gift ideas for ballerinas that you can find! They are sure to warm your favorite ballerina's heart and put a smile on her face.