Disclosure of Material Connection: Some of the links in this post may be "affiliate links." This means if you click on the link and purchase an item, I will receive an affiliate commission. Disclosure in accordance with the Federal Trade Commission's 16 CFR, Part 255. This site is a participant in the Amazon Services LLC Associates Program, an affiliate advertising program designed to provide a means for sites to earn advertising fees by advertising and linking to Amazon.
Check out these Top Gifts for the Mom of All Boys! Parenting can be a grueling gig, that's for sure! Especially when it comes to being the mother to boys. Though her boys can be wild and crazy, they still hold the key to her heart. Any boy mama is going to love receiving any of these fun, useful, or simply cute gifts!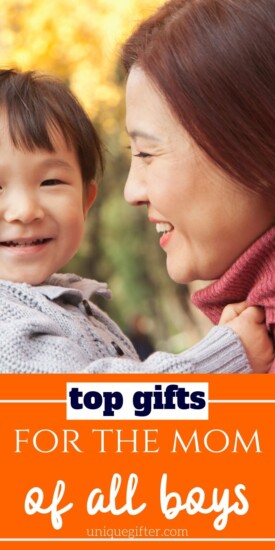 20 Thoughtful Top Gifts For The Mom Of All Boys
Boys help make the world go round, and they are their momma's world! She will adore all of these thoughtful gift ideas.

Willow Tree Figures
There is no sweeter mother/son home decor piece than this beautiful Willow Tree figure of a mother holding her sweet boys.
Outnumbered Tee
Any outnumbered boy mom would love to be strutting around in this awesome shirt. Best of all, it comes in a variety of colors!
My Boys Necklace
How sweet is this customizable necklace? Get it personalized with each son's name, as well as their birthstone. This is a gift mama is sure to treasure for a lifetime!
Mom of Boys Hat
Every mom needs a hat, for those "no time to shower" kind of days. This trucker hat is the perfect gift idea for any mom of boys!
Dirt and Monster Truck Tee
Do you know a mama with young boys? If so, not only is she going to adore this fun tee, but her little fellas are going to beg her to wear it every day! After all, what little boy doesn't have a fascination with dirt, monster trucks, superheroes, and dinosaurs?
There's These Boys Sign
Because not every moment is full of burps, farts, and playful punches. Those boys truly can melt hearts, from time to time!
Stainless Steel Wine Tumbler
After a long day of separating the boys from roughhousing, momma sure will appreciate having this stainless steel wine tumbler to enjoy a relaxing beverage. After all, even superheroes need a break from time to time!
Blessed With Boys Frame
This blessed with boys frame is going to look great in any room of the house! Personalize it with the boys' names at the bottom, and if you want to go that extra step, get a picture printed off before gifting, so the only thing mom needs to do is find somewhere to display it!
Love My Boys Keychain
Check out this hand-stamped, metal keychain! Each of mom's sons can have their own personalized metal plate attached to the keychain. While the listing says up to four names, you can likely message the seller if momma is genuinely a superhero with more than 4 rambunctious boys.
Letters to Son Journal
Sometimes sharing your feelings with your son can be difficult. So when they don't want to hear it, this journal is a great way to jot everything down, and still be able to share the love!
Mom and Son Journal
Instead of a blank journal to fill out with sweet words of wisdom, this book is more like a fun activity for moms and sons to do together. This journal is an excellent way for momma to get in a little extra time with her sons, all while learning more about one another.
Home is Where My Boys are Sign
Every mama knows that home is where her boys are. This homemade sign is going to look perfect hanging on the wall. Choose from a variety of color choices.
Apron Set
This next one is actually a gift for mama and her boys! Get them an apron set, which will help bring them closer together, while having a little extra fun in the kitchen!
Boy Maker Tee
Yeah! She's a boy maker, alright! Get mama one of these comfy boy maker tee shirts. It makes a great everyday shirt, whether on the run or staying in.
Mom of Water bottle
It's hard enough trying to stay hydrated throughout the day, especially when mama is running her boys all over the place. This 24 oz BPA free water bottle has hourly markings to help mom get her water every day.
Surrounded By Handsome Boys Sign
You know what they say, "A women with all sons will be surrounded by handsome men the rest of her life! It's true!
Boy Mama Plastic Tumbler
Here's a funny new take on what it means to be a boy momma. Less drama, and harder to keep alive, that's for sure! Choose from a glitter base, or leave it plain. You can even add your own personalization if desired!
Mama Loves Her Boys Tee
If you are looking for a shirt that is both cute and incredibly soft, this is your shirt! This one is women's sizing only, so you don't have to worry about a baggy fit.
Frat House Mug
Some days, it probably does feel like mama is living in a frat house. After all, boys will be boys! Fortunately, mama will be able to keep her sanity while sipping her coffee with this funny new mug!
Boy Mom Book
Sometimes it helps to know that you're not alone is raising boys. This is an excellent read for every boy mama. It is full of experiences that she can and will someday relate to.
Boy Mom Bangle Bracelet
Mama bear and her boy cubs can each have their very own bear charm dangling from this super simple, but super cute bangle bracelet.
Customizable Mama Bear Necklace
Know a boy mama who prefers necklaces to bracelets? Check out this sweet mama and baby bear necklace that can be personalized with mama, and an initial for each boy cub.
Snarky Mom Coloring Book
When the boys want mama to color with them, she should absolutely take some time to release her artistic talents. Get her this funny, snark coloring book that was made with moms in mind!
Bath Bombs
All moms find themselves hiding out in the bathroom at some point, for a little peace and quiet. You may as well help her make it extra relaxing with these amazing, handmade bath bombs!
Surrounded by Balls Tee
There is no such thing as having too many boy mom tees! And for the momma with sports-loving boys, this shirt is sure to make her laugh!
Mothers Need Time Outs Too Book
After chasing her little fellas around day in and day out, mom needs a break, too! This excellent book is a beautiful way to help her finally find a little time to herself.
Wooden Bath Caddy
Once the boys are in bed, it will be the perfect time for mama to whip out this bath caddy and relax in a warm bubble bath, with her favorite glass of bubbly, as well as a good read!
Drained Boy Mom Tee
Okay, this will be the last boy mom shirt to share with you. However, a boy mom of 2 is definitely going to love and understand this drained battery tee!
Turkish Bath Sheet
Every mom deserves to have her very own bath sheet that she doesn't have to share with filthy boys. She's absolutely going to love this extra thick, extra soft bath sheet that she doesn't have to share!
Tabletop Waterfall
Have you ever been in a house full of boys? It is not quiet! But that boy mom needs a quiet place to be able to relax, and this tabletop fountain should undoubtedly be in there to help her relax!
Clorox Urine Remover
Boy moms are quite familiar with the smell of urine, hitting them when they walk into the bathroom. But it doesn't have to be that way! Help her rid the bathroom of that foul smell.
Personalized Mom Voice Soy Candle
You know that boy mama has quite the mom voice, from raising all boys! These 100% soy candles come a large number of scents to choose from, and you will even have the option to choose the color of the label.