Disclosure of Material Connection: Some of the links in this post may be "affiliate links." This means if you click on the link and purchase an item, I will receive an affiliate commission. Disclosure in accordance with the Federal Trade Commission's 16 CFR, Part 255. This site is a participant in the Amazon Services LLC Associates Program, an affiliate advertising program designed to provide a means for sites to earn advertising fees by advertising and linking to Amazon.
You don't have to be a minimalist to appreciate that fewer toys mean less clutter, and less of a chance that you step on a piece of lego. There are all sorts of wonderful educational, consumable and generally non-toy stocking stuffers for kids. We've pulled together a list of over fifty stocking stuffer ideas and no, they aren't all candy to get your children even more excited than they already are on Christmas morning.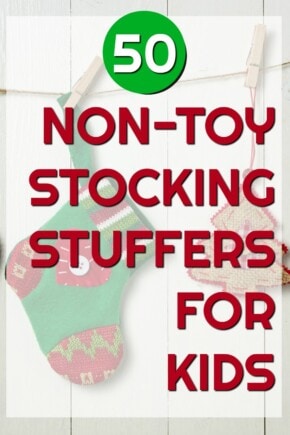 Please visit our list of the Most Incredible Stocking Stuffer ideas for literally everyone on your list, if you don't find what you need here!
Non-Toy Stocking Stuffers for Kids
Popcorn is one of my absolute favorites – buy a box and it works for the whole family. It's even gluten-free! Extra points if you get kettle corn, it's truly the best popcorn around.
Even in winter, sidewalk chalk can be hours and hours of creative fun for kids.
Expand their creativity with some Play-Doh… this is a great gift for all ages, including adults!
Oh the joys of coloring and creating art! Colored pencils make an excellent non-toy stocking stuffer.
I was always short red crayons, a few extra crayons would be a good addition to a young kid's stocking.
From regular crafting scissors to pairs with fancy edges, there are oodles of fun choices out there.
Gum has sugar, but isn't quite the same as a stocking full of candy, right?
Inspire little gardeners to learn about the magic of botany with some garden seeds.
A reusable water bottle to call their own, that keeps the water nice and cold and kiddos hydrated is a great gift.
From Kid's National Geographic to Treehouse, there are lots of great magazines full of pictures and educational content available for kids.
From superheroes to rainbows and animals with ears, there are dozens of practical and fun umbrellas out there that would make a perfect non-toy stocking stuffer for kids. An awesome choice for those of us who live on the "wet coast."
Keep their fingers warm in the dead of winter with some new gloves – this pair has glowing fingertips, how fun!
From a toque to a new ball cap, there are oodles of hats to suit every child.
Pick out a sheet (or 10) of stickers for their art projects, decorating their things or sticking to their arms.
Keep their lips moist this winter with some new lip chap – you can find fun colors, too, if that's what they'd love.
Whip up some new memories when you make cupcakes using their very own fun cupcake liners. Dollar stores usually have excellent selections.
Growing feet that are always on the move wear socks out and need more. Socks are really a perfect stocking stuffer for everyone.
Bow, barrettes, headbands and even hair elastics make excellent stocking fillers for kids.
Get a new tangle-free hairbrush for their stocking. There's a lot of really fun styles available. Hairbrushes do wear out, a new one feels luxurious on the scalp.
This T-rex head comb is a fun shape.
Find fun characters, flavors or even sparkles in a tube of kid's toothpaste for their stocking this year.
Stormtroopers cleaning your teeth? Yes, please! A new toothbrush is perfect for the "something they need" item this Christmas.
Protect their eyes with some UV-ray blocking sunglasses (yes, even in the winter). From superheroes to stylish just like yours, kids' sunglasses come in a wide range of styles.
While coloring books are all the rage for adults, they are still very much a creative outlet for kids!
Help your child manage their money with a new change purse or wallet.
Learn the geography of your country, region or the world with a map poster.
Make every day a straw day and eliminate the wasted plastic of disposable straws with their very own stainless straw.
This set even has bendy sections – the best part of straws!
Fun colored bath bombs are a nice treat for kids -, especially for pre-teens.
Magnetic poetry is the next level beyond letter magnets – arranging sentences and learning more words. There are many versions, from unicorn lovers to Spanish vocabulary!
Learn the basics of music with a recorder or a harmonica as a stocking stuffer.
Spend more time splashing around in the pool or exploring in the lake with a new set of goggles.
Learn how to use chopsticks from a young age with a set of fun character learning chopsticks.
These solar lights charge easily, making them a fun study in electronics, backup light during a power outage, perfect for building blanket forts and reading under the covers.
This is the no-mess version of coloring – no risk of crayons on the wall and no endless trail of paper throughout the house.
Are their shoelaces falling apart, or maybe some silver laces would be a fun touch to add to their shoes?
A classic playground toy that helps lead to a lifetime of fitness.
This cute owl makes a great partner for new colored pencils. There's also a giant nose pencil sharpener that's hilarious! "Don't stop sticking pencils up that nose."
Use glow in the dark stars to decorate their room and learn about the constellations!
Learning how to tell time is an excellent life skill, especially with an analog watch.
Pretend they are in outer space with a package of astronaut ice cream in their stocking this year.
Cookie cutters in shapes and styles that fit their interests are easy to find online these days.
See what you can find in the carpet, or the texture of the chimney, or the patterns in snowflakes with a new magnifying glass this winter.
Thanks to the internet, it is very easy to find how-to directions for origami shapes. Plus, the paper is lots of fun for a multitude of crafts.
Temporary tattoos are a fun idea, especially for a kid who wants to match mommy or daddy's tattoos!
This is a fun monster pencil pouch – you can even fill it with new crayons or colored pencils. There are oodles of choices for fun pencil pouches for school or home craft tables.
Cozy up this Christmas with a new pair of slippers in their stockings… or do stockings go in slippers?
Pick out a new lunch container they can call their own.
Perfect for younger kids, a novelty washcloth in a fun character shape will make bath time more entertaining.
Give them a leg up on thanking Grandma this year with a set of Thank You Notes.
Start creating a collection of their very own ornaments by adding one to their stocking each year – it's a great family Christmas tradition to start.
Find a box of bandaids starring their favorite superhero, cute flowers or their current cartoon obsession. Kids always seem to need another bandaid to make the boo-boo all better.
While you are on the hunt for the best stocking stuffers, you should really see these too: