Disclosure of Material Connection: Some of the links in this post may be "affiliate links." This means if you click on the link and purchase an item, I will receive an affiliate commission. Disclosure in accordance with the Federal Trade Commission's 16 CFR, Part 255. This site is a participant in the Amazon Services LLC Associates Program, an affiliate advertising program designed to provide a means for sites to earn advertising fees by advertising and linking to Amazon.
Retirement means she is entering a new chapter in her life, and with a great gift, she will be prepared to face the new challenges and to treasure old memories. First, you can start by finding out her plans after retirement before getting a gift that will suit her for that period.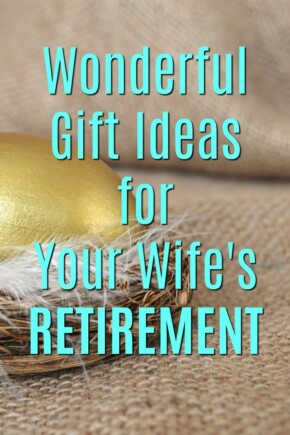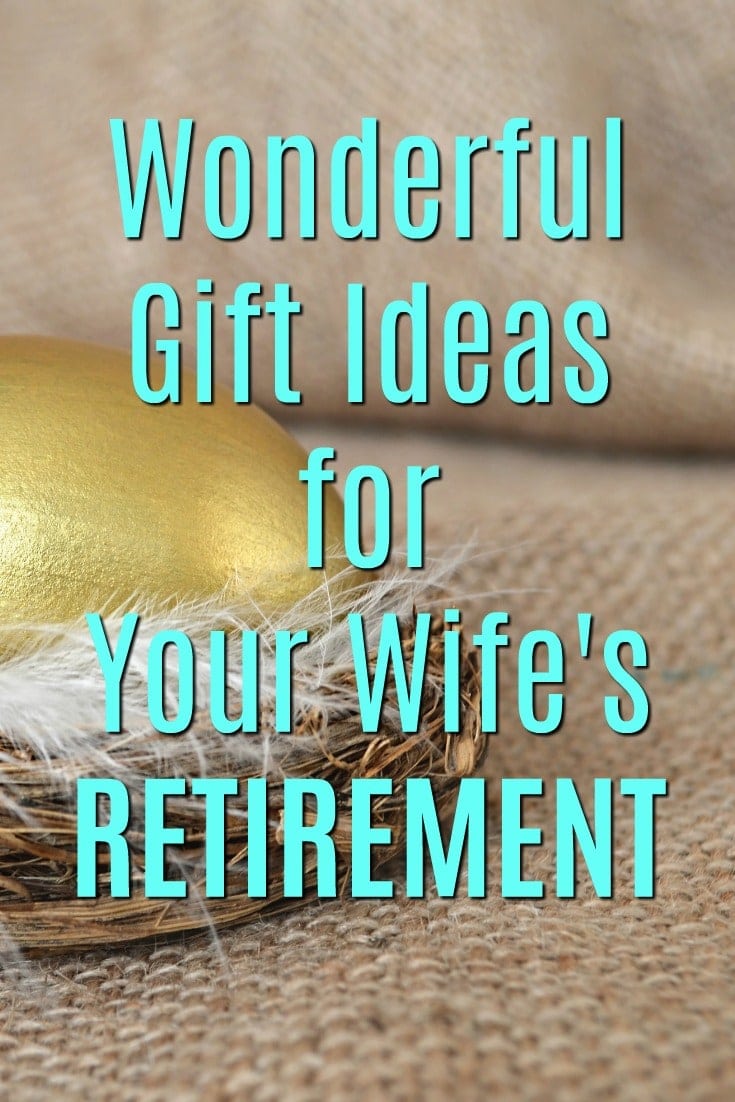 Alternatively, you can stick to getting her gifts that make her feel special and appreciated for the hard work she has endured. Either way, you need a well-thought gift that she is going to find useful.
Even though you have numerous options, here are some ideas:
Gift Ideas for Your Wife's Retirement
Personalized Warm Woven Oversized Star Scarf
Personalize this beautiful scarf with her initials. The scarf is large and can be worn in a number of styles. It will come handy when she needs to travel and is perfect for autumn. Most importantly, it will spruce up her outfits.
Women's Leather Watch Box
This box has a hinged glass lid that is ideal for showcasing her jewelry. It has velvet on the inside to keep her watches and bracelets protected. You can make the box worthy by personalizing it with her name. If she is a watch collector, she is going to thank you because now she can display her collections in an elegant box.
Custom wood sign
A unique wood sign that is customized for her will be a testimony that you are attentive to her needs. It is not a typical gift because it contains customized wordings that show your appreciation for her contributions. In the message, wish her well as she starts a new chapter in her life.
USB car charger
Sometimes she has to drive around or go on long trips, but she does not know how she is going to charge her smartphone or tablet. This makes a perfect gift for such a scenario. This USB charger will enable her power her portable devices with a touch of a button. It will do a fantastic job in keeping her devices fully powered.
Coffee maker
With this appliance, the retiree is going to make coffee countless times. It is easy to use and has tons of useful features that will guarantee her café quality coffee. This is probably going to be the centerpiece of her kitchen because it is reminiscent of style and durability.
6 Bottle Wine Assortments
If she loves wine, and most likely she does, then get her this assortment of six bottles. With this great collection, you will have given her a chance to enjoy different wines with enhanced flavors. This collection will guarantee diversity because it will cut across the different series available at Wine of the Month Club: Vintners Series, Classic Series, and Limited Series.
Personalized Cutting Board
Another asset that will beautify her kitchen. She is now free to use her time as she pleases and she is going to need her cooking done specially. A personalized cutting board looks stunning because it is made using bamboo and is engraved with her names/initials.
Simple Gold Earrings
You are her hubby, and you need to show her that you care for her. Not today or tomorrow, but every day of her life. Even after she has retired, surprise her with these 18K gold studs that are perfect for everyday wear. Let her spruce up her outfit with these beautiful pieces, and probably she will stop underestimating your taste.
Personalized mug
She can hold up to 12oz of liquid with this personalized mug. Its letters have been done using high-quality vinyl to guarantee they last longer. Let her enjoy her drink in style.
Grill thermometer
Most men overlook the usefulness of a grill thermometer, but you have to separate yourself from the sheep. This is a perfect gift for a woman who loves grilling. She will rely on this device for assurance that her food has been perfectly grilled.
Toiletry bag
Women have countless toiletries and cosmetics that need to be organized, especially when they are traveling. As she now leaves the working world, she is going to need another toiletry bag because she is turning a new leaf in her life. This bag is lightweight, and she will love it.
Food Processor
Food needs to be sliced almost on a daily basis. And even though she may already be having a food processor, a new one will put a smile on her face. She will feel better when slicing and mincing her food, and she will do so effortlessly. With its 450 Watt motor, she will shred, chop, mix, puree, and slice almost any type of food.
Vibration foot massager
She works hard, and she needs to relax once in a while. A vibrating foot massager will help her relax after a busy day. This massager has integrated control and will provide sensations at different points of her feet to make her feel better.
Personalized Tote Bag
She loves a personalized gift, especially when her name is beautifully sandwiched between colorful arrows. She is a woman, and she knows how to put this bag to good use. The bag may be used to carry clothes, her knitting projects, and various other accessories that she owns. It can also make a nice travel or outdoor bag because it has enough room to allow her carry all the things she needs while on the move.
Personalized wine glasses
These wine glasses are manufactured from durable glass and can be engraved with her initials of choice. If she is a wine lover, she is going to love this gift because she can flaunt them to her friends and prove that her hubby is thoughtful.
Crochet toolkit
If crocheting is not on her to-do list after retirement, then it's time to give her a chance. This crochet kit will allow her to crochet for longer without pain because it is designed to stop fatigue. The kit comes with a magnifier and scissors to help when performing a task. It is also compact and lightweight.
Steel Barbeque accessories
Even if she had a grill set, they must be old by now, and they need replacement. The retiree is starting a new life, and it is time to rejuvenate her kitchen tools. This tool should make her grilling convenient and serve her for a longer time. It will provide her with a diverse cooking experience and is easily portable.
Personalized picture frame
Not for a moment should you forget that she loves pictures and she needs one of her hanging around the house. This personalized picture frame will make her feel special while showcasing her favorite photo. You can write her name and date of retirement to bring fond memories, or you can go for a photo that reminds her of a particular time.
Personalized pen
Leaving the corporate world does not mean she will no longer be needing to write. Let her write with this custom wooden pen. This pen comes with a lovely box that can be engraved with her initials. It is a great retirement gift that will warm her heart and make her feel valued.
Bakeware set
Baking is fun, but when you have the right equipment. If she is a baking connoisseur, she needs more than the usual kitchen tools. When you get her this non-stick bakeware set, it will give her the morale to embark on her baking journey.