Buying something for Mr. or Ms. Richie your best friend isn't always the easiest thing to do. What do you get someone who can afford everything, all the time? You can't always gift them with friendship and loyalty, it's time to get a bit creative and think out the box a bit. Here are 20 gift ideas for your rich friend, when friendship and loyalty aren't the only gift you're looking to give.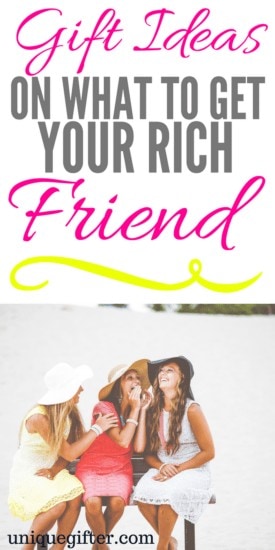 Creative Gift Ideas for Your Rich Friend
Get creative with some fun and unique gift ideas for your rich friends out there, (you know the ones!) There might not be a lot they can't get for themselves, but these pieces of inspiration can show them just how much you care. 
Hopefully you found the perfect gift ideas for spoiling your rich friend, regardless of your own budget. If you need more gifting inspo for that hard to shop for pal your rich guy friends may like one of these Best Father's Day Gifts for Rich Dads (even if they're not a dad) and you might fine something for the gal pals in this list of Clutter Free Gifts for Women.