Disclosure of Material Connection: Some of the links in this post may be "affiliate links." This means if you click on the link and purchase an item, I will receive an affiliate commission. Disclosure in accordance with the Federal Trade Commission's 16 CFR, Part 255. This site is a participant in the Amazon Services LLC Associates Program, an affiliate advertising program designed to provide a means for sites to earn advertising fees by advertising and linking to Amazon.
Virgo is the 6th zodiac sign – August 22nd to September 22nd. Impress the Virgo man in your life by finding something themed to his star sign or personality. Here's some great gift ideas or a Virgo man so that you pick out the perfect birthday present (or Christmas present, or anniversary present, or happy Tuesday present!).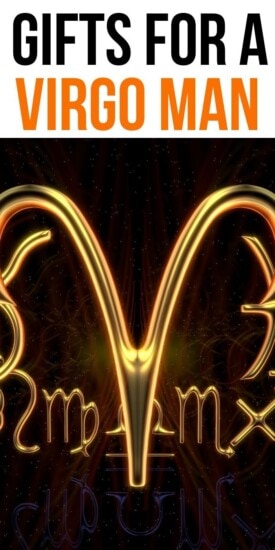 Gift Ideas for a Virgo Man
His birthday is coming up and your friend/boyfriend/husband/dude in your life needs a gift… but what? Does he know his astrological sign? Doesn't matter! Use his zodiac to pick out something he'll love.
Virgo Men's Shirt
Your Virgo man can show his pride with this t-shirt. All men are created equal but only the best are born Virgo, after all.
Get Lost Print
Virgos like to be left alone and this art print captures that perfectly. It has the Virgo constellation and the words "get lost" to really show visitors how your male Virgo friend feels.
Baseball Cap
Let him sport a little Virgo fashion with this cap featuring the Virgo zodiac symbol. Cool.
Beer Sleeve
He can keep his beer all cozy in this beer sleeve featuring the Virgo constellation.
Virgo Tea
Tea lovers will enjoy this Sencha green tea, and Virgos will love that it suits their astrological sign.
Mercury Poster
Mercury is the planet associated with Virgo and this low polygon version of the planet is sure to pique their interest.
What If Book
Give the analytical, bookwormish virgo this delightful read he's sure to love. This book has answers to questions he probably didn't even know he had.
Cleaning Drill
Virgos are practical but that doesn't mean Virgo men like to clean very much. This scrubber attaches to any cordless drill so cleaning is easier.
Planner
Get your Virgo man a nice, masculine planner so he can make sure his life is (even more) orderly.
Obsessive Chef Cutting Board
Play into his Virgo perfectionism with this highly accurate cutting board. Now all of his food can be cut perfectly!
It's Going to be OK
This little notepad has two benefits: Fill it out for your Virgo man's anxiety or let him use it to help with those cold Virgo traits.
Portable Vacuum
Virgos like things clean, even men. Get him a portable vacuum so he can use it in those hard to clean places like the car.
Duffle Bag
If the Virgo guys in your life like to travel or hit the gym they're going to love this practical gift idea.
Trivial Pursuit
Virgos love to show off how intelligent they are so get that Virgo man a copy of Trivial Pursuit and put his mind to the test – just make sure to join his team.
DIY Manual
A Virgo man likes order but he might not always know how to get there. Help him get there with this ridiculously thorough guide to DIYing everything.
Magnetic Wristband
If he likes doing any kind of handy work he's going to love this wristband. It's magnetic so you can just stick the screws and nails right to it to remain hands-free.
Complete Car Cleaning Kit
If he's a Virgo chances are he wants to keep his car neat and tidy. This complete cleaning kit has everything he needs to make sure it sparkles and shines!
Glow in the Dark Pillow
Featuring the Virgo constellation, this glow in the dark pillow has a masculine charm that your Virgo man is sure to love.
Perfectionist Book
If he's a bit of a perfectionist or suffering from low self-esteem this kind of book can be really motivating. Make sure it's something that won't offend him, though.
More Gifts for a Virgo Man
Buying gifts according to a person's astrological sign is many times the best way to go. This is especially true if you don't really know everything about the person yet. If you liked 20 gift ideas for the Virgo Man, you are going to love how many more gifts we found!
Gifts for the Virgo Man
The Virgo man is a practical being, so gift wise, you will want to get him something that is practical and helpful. However, a Virgo man's interests can span over so many different things. So, here are some ideas you can do for the Virgo in your life:
Waterproof Kindle Fire
Virgo men like to read. They love to learn new things and research "how-to" information. If you want to impress a Virgo Man, Kindle Fire is the way to go.
Stereo Gaming Headset
Video games aren't just for kids, and Virgo men love their gaming systems. Show them how much you know about them with this noise-canceling headset for Xbox 360.
Stix Hero II Gaming Laptop
If you want to go all out for your Virgo, he will love you forever after getting him this gaming laptop. This is perfect for him to download games, videos, and more.
Drill and Home Tool Kit
Because a Virgo man is very practical, a toolbox gift is something they will enjoy. Instead of seeing it as tools, they see them as toys to play with.
Wooden Beard Comb
If your love has a beard, he will love this Wooden Beard Comb. Virgos tend to like cleanliness and perfection. This perfection rolls over into their beard.
Engraved Pocket Knife
A pocket knife is both useful and practical fitting in with the Virgos sign. But, an engraved pocket knife adds a special twist to this practical device that he will want to use whenever he gets the chance.
Artisan Meat and Cheese Platter
Your Virgo also likes to enjoy the finer things in life such as Gourmet food. This Artisan Meat and Cheese Platter is the perfect sampler of gourmet meats, rich cheeses, and delectable crackers.
Coleman Roadtrip Portable Grill
Virgos like to visit with others and spend time gathering together. When it comes to getting a grill, one that is portable will be his best friend.
Heavy Duty BBQ Grill Set
Like any perfectionist, a Virgo will want to make sure his grilling is to absolute perfection, but he will need the right tools to do it. Get him a set of the best, so he feels like he is cooking the best!
Kitchen Knife Set
Virgos are meticulous about doing everything to perfection. If they aren't cooking, they may not have the right tools to get the job done. A good knife set will get them in the kitchen cooking up a gourmet meal.
Car Phone Mount
Car mounts are ideal for a Virgo man because they like everything neat and tidy. This car mount allows them to keep their phone at reach and have their car tidy in the process.
Car Tool Set
Virgo men like to do things with their hands, and if they can fix it, they will. A car toolset is a great gift that the Virgo can use time and time again.
Diagnostic Scanner
Although this may be an expensive gift, it will prove useful to the Virgo man. This diagnostic scanner allows him to find out what is wrong with his vehicle, look up a Youtube video, and fix it himself.
Keurig K- Classic Coffee Maker
Bookend Lamp Rustic Decor
If you haven't discovered it yet, Virgos love to read. They will have a multitude of books. This bookend lamp is great for them to have their books just where they can read them.
Personalized Poker Set Case
Virgos love spending time with others and getting to know them. This poker set is the perfect excuse to invite people over.
Gusto's Original BBQ Rubs
A man who has a grill and grilling tools also needs some great rubs for his meat. Of course, these are the best of the best for the perfectionist Virgo.
50 States 5,000 Ideas: Book
Virgo men like to read and learn new things. They also like to have experiences in life. This book is a perfect gift for the Virgo who wants to travel.
Car Trunk Organizer
Most Virgo men are adamant about organization. A car trunk organizer is not only a great way for your man to keep his stuff organized, but he will love it as a gift.
The Book of Unusual Knowledge
If you get a Virgo man something that will peak his intelligence, he will be in heaven. This book is perfect for a Virgo.
Do Not Disturb Socks
If you don't want to get anything too serious, yet, these socks are a funny gift that your Virgo will love. He will love these especially because a Virgo hates to be disturbed especially while gaming.
Toilet Golf
Seriously, this is just hilarious. If we know anything about men, it is that they take forever to poop. This is funny, practical, and a good way for them to work on their skills while sitting on the throne.
Booze Infused Jerky Crate
Booze and jerky go hand in hand with a Virgo man. Who wouldn't love delectable jerky infused with booze?!
Xbox Wireless Controller
As stated before, Virgos are big into their games. Even a simple controller is sure to make them over the moon happy. Plus, you can never have too many controllers.
Revelook Emergency Survival Kit
You never know when you are going to be in an emergency situation, and a Virgo likes to be organized and prepared. This kit is perfect, especially for the outdoor type of Virgo.
Uncorked!
Games are always fun, and a Virgo loves to learn a new game. This game is great for beer lovers. I even know some Virgos that brew their own beer.
Tactical Pen for Self Defense
If you know a Virgo, even their self defense has to be perfect. This is a great way to help keep your Virgo man safe while giving him something useful.
Hot Sauce Making Kit
Let your Virgo make his own hot sauce to perfection. This kit is perfect for the Virgo who wants to make even his sauces perfect.
Breakfast Sandwich Maker
Not only is this Sandwich Maker practical, but it makes life simpler for the Virgo. All he has to do is throw it all together and grab it and go.
Virgo men thoroughly enjoy receiving gifts. However, they like it more so if you can put some thought into it. The key to getting the perfect gift for your Virgo is understanding his characteristics. Enjoy these tips, we hope it helps!