Oh, have we got some exciting gifts for capybara lovers for you! Unless you've been living under a rock, or your social media needs serious retooling, you would have seen the world's largest rodent being buddies with almost every other animal on the planet.
If you're anything like me, you may have perhaps wondered whether it was possible to keep one as a pet. (The answer is only in Texas and Pennsylvania without a license and maybe in a few other states with a license. But the catch is you can't get just one because they're very social.)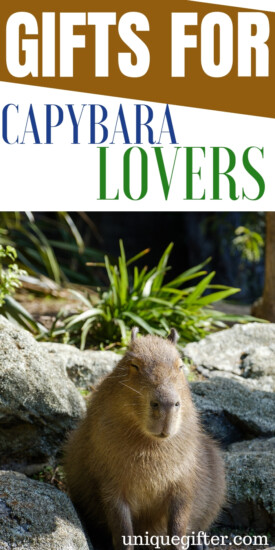 I strongly suspect that one of my dogs would get along with them, but it's also possible that getting a capybara sitter would be a lot harder than finding a dogsitter that meets my rigorous standards. So for now, I settle for a whole lot of capybara gear. (And perhaps forever because my family isn't crazy about the idea of bonding with semi-aquatic 150-lb rodents, don't ask me why.)
Really Cool Gifts For Capybara Lovers
You are going to go wild about these terrific gifts! 
I was too excited to share these gifts for capybara lovers with you! I hope you have found the perfect gift idea!