Disclosure of Material Connection: Some of the links in this post may be "affiliate links." This means if you click on the link and purchase an item, I will receive an affiliate commission. Disclosure in accordance with the Federal Trade Commission's 16 CFR, Part 255. This site is a participant in the Amazon Services LLC Associates Program, an affiliate advertising program designed to provide a means for sites to earn advertising fees by advertising and linking to Amazon.
Oh, have we got some exciting gifs for capybara lovers for you! Unless you've been living under a rock, or your social media needs serious retooling, you would have seen the world's largest rodent being buddies with almost every other animal on the planet. If you're anything like me, you may have perhaps wondered whether it was possible to keep one as a pet. (The answer is only in Texas and Pennsylvania without a license and maybe in a few other states with a license. But the catch is you can't get just one because they're very social.)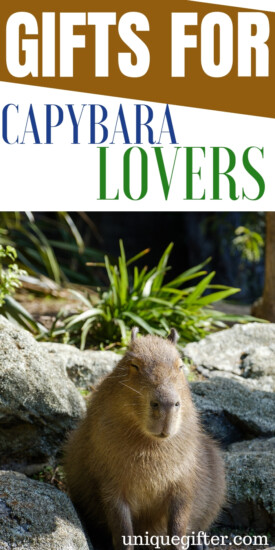 I strongly suspect that one of my dogs would get along with them, but it's also possible that getting a capybara sitter would be a lot harder than finding a dogsitter that meets my rigorous standards. So for now, I settle for a whole lot of capybara gear. (And perhaps forever because my family isn't crazy about the idea of bonding with semi-aquatic 150-lb rodents, don't ask me why.)
Really Cool Gifts For Capybara Lovers
You are going to go wild about these terrific gifts! 
Pocket Capybara Shirt
Real capybaras are far too big to be a pocket pet, true, but why not have tucked safely away, only to peep out every so often?
Canvas Messenger Bag
Sling all your school or office things into your very own capybara adorned 100% cotton messenger bag that has a large main compartment, two inner zippered pockets, and two outer magnetic snap pockets.
Capybara Mascot
This mini capybara can be added to your keychain, car rearview mirror instead of fuzzy dice, or attached to a bag. I like to think of it as my bag guardian.
Beach Towel
Perfect for take your capybara to the beach day! Measuring 30 inches by 60 inches, this terry towel is printed on one side and is made of 52% cotton and 48% polyester.
A Day in the Life: Rain Forest Animals
Share our capybara love with kids early. They shouldn't have to wait until adulthood to know about this noble friend to all animals.
Vinyl Stickers
These stickers could adorn the gift or be the gift, depending on your recipient's preferences. Personally, I always gift the stickers because who doesn't love having an extra set of stickers on hand for letters and cards?
Capybara Figurine
This nanoblock capybara is for the builders. 100 pieces of blocks, with instructions, this is good for builders who are a step above beginner.
Ring Box
These ring boxes (or other treasures boxes) aren't just cute; they're functional. The jury is out on whether the removeable head is creepy in additional to being clever. That's not a deal breaker, though, mildly creepy is often a sought after feature.
Capybara Decal
Measuring 5 inches tall and 4.5 inches wide, this oversized decal should last up to 7 years riding on your car window.
Flat Plushie
Ever since we met Ugly Dolls, we've been fans of the flat stuffed toys as much as the traditional plump plushes. The almost entirely 2D rendering makes for a funny version of the beloved animal.
Footie with Snaps
Capybaras and babies are the best team up!
NosuNosu Capybara-san (15pcs)
A full set of capybara friends in various sizes tempts me to play a Where's Waldo with them: take some to school, some to work, and hide some in the closet corners.
Pencil Pouch
We always have a use for a pencil pouch around here. Whether it's destined to bulge with art supplies or children's toys, or little treats, this is our favorite way to give a gift of money: tucked in beautiful reusable "envelope."
Notebook
A notebook with the matching pencil pouch is a lovely back to school set for kids in the fall. No student is too old for a little back to school gift like this.
Squeaky Plush
Squeaky plushes are generally the dog's domain, but we can make an exception for home décor and general love of capybaras.
Canvas Throw Pillow Cover
If you've been looking for new covers for your throw pillows like we've been, look no further! This cover is 18 inches by 18 inches, features a regal looking capy on the front, and is machine washable. The easiest way to host a herd of capybaras in your living room, I'd imagine.
A Complete Owner's Guide
It's essential to know how to care for a capy in case there's any remote chance one might find oneself in the company of or taking care of a delightful specimen.
Tote Bag
This tote bag, at 14 inches by 15 inches, is perfect for taking the capybara out and about with you: to the library or the doctor's office. The 100% cotton is hand printed, and best hand washed cold.
Mouse Pad
An 8 inch by 8-inch soft pad made of recycled rubber, this mouse pad shouldn't crack or peel over time.
Magnetic Phone Stand
This magnetic stand can hold up a phone or a more traditional GPS unit. It rotates 360 degrees and fits in cars with anti-shaking and anti-shock capabilities.
I was too excited to share these gifts for capybara lovers with you! I hope you have found the perfect gift idea!