Disclosure of Material Connection: Some of the links in this post may be "affiliate links." This means if you click on the link and purchase an item, I will receive an affiliate commission. Disclosure in accordance with the Federal Trade Commission's 16 CFR, Part 255. This site is a participant in the Amazon Services LLC Associates Program, an affiliate advertising program designed to provide a means for sites to earn advertising fees by advertising and linking to Amazon.
Look no further; I have the perfect gift ideas for vampire lovers right here! Alright, gals and ghouls get ready to sink your teeth into this one of a kind vampire gift guide! Soar through the night into some genuinely unique vampire-themed gifts to really get your blood pumping! Celebrate your favorite vampire lovers with this fabulous selection!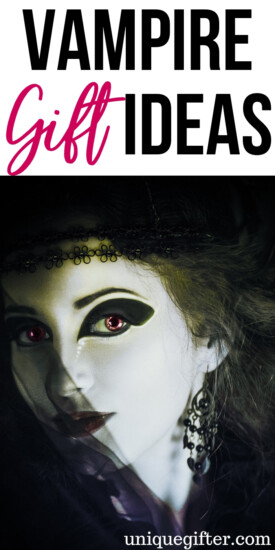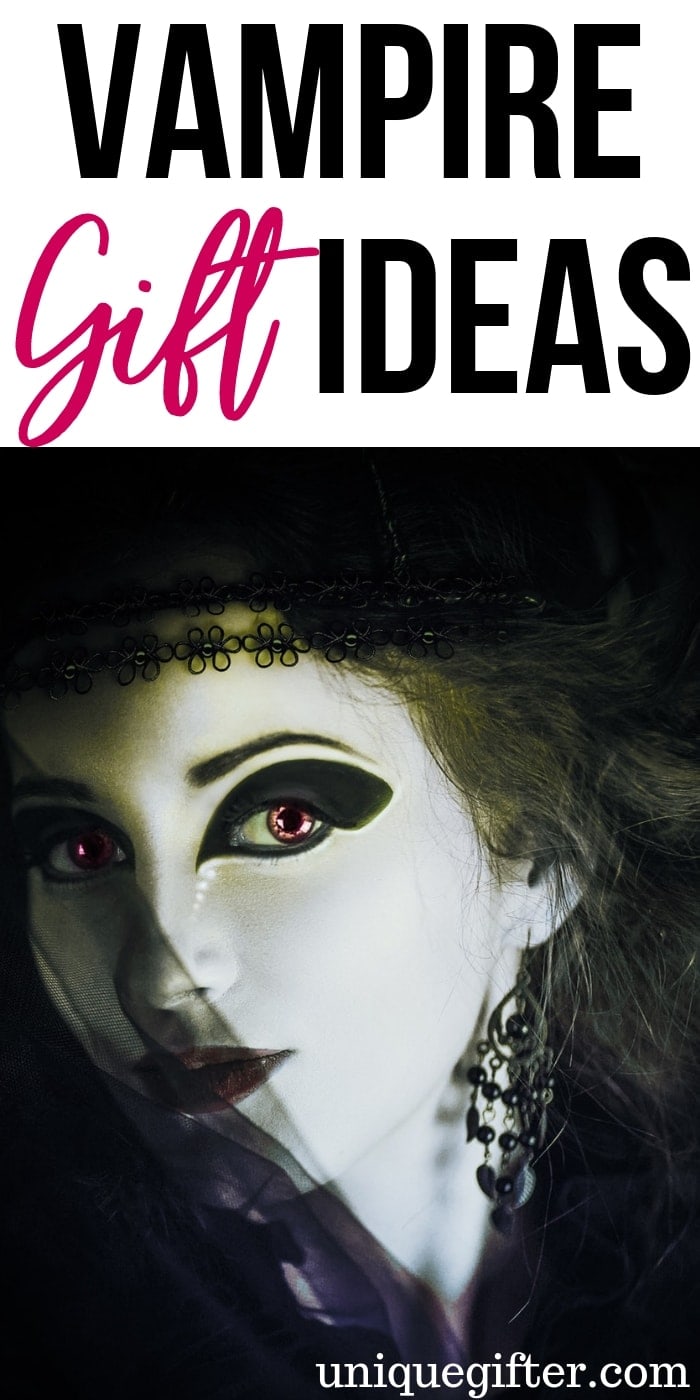 Creepy & Awesome Gift Ideas For Vampire Lovers
Anyone who loves vampires is going be stoked to get a present from this unique list of ideas!
Vampire Hunting Craft Kit
This vampire hunting kit is everything you need to get the party started! Excellent for throwing a vampire-themed party or as a craft on its own, this kit is a must-have!
Vampire Cups
These handmade vampire face cups are nothing but charm! Everyone knows vampires distract with their charming ways, and these mugs are no exception, their cute faces are sure to wow everyone at the office.
Vampire Soy Candle
This all-natural handmade line of soy candles brings out the vampires in all of us! In a blood orange scent, this candle comes in a sharp look that's sure to fit any vampire's loft!
Vampire Teeth
These costume vampire teeth come in three different sizes to suit vampires of all ages! Make your favorite vampire lover's costume complete this year with a set of fangs!
Vampire Blood D20's
This set of vampire-blood colored dice come in a set of 4 to 20 sided die, and bring out the vampire at the gaming table! Grab a set for that vampire fan of yours for their next tabletop adventure!
Vampire Charm Necklace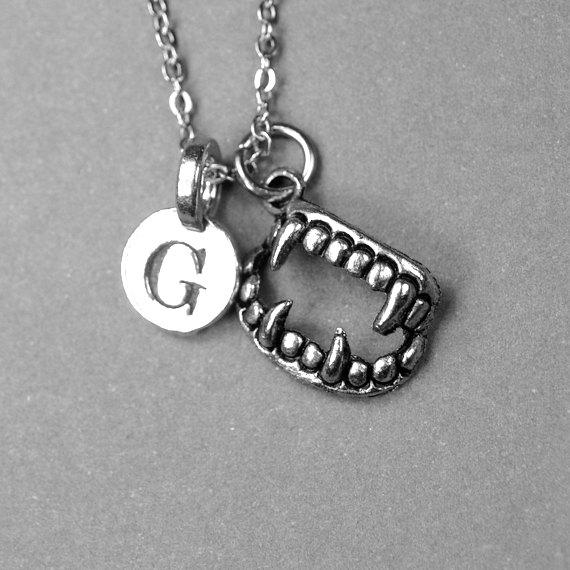 This personalized charm necklace includes the recipient's initial alongside a silver-plated pewter set of vampire's teeth! Perfect for Halloween or just about any occasion you can't go wrong with a charm!
Vampire Bat Statue
This brass statue is a replica of an ancient vampire bat complete with plenty of detail! Add a touch of design to your favorite vampire's lair! Pick one up for the most important piece of home decor out there!
Vampire Foaming Soap
This faux vampire blood foaming soap is a vampire lover's ultimate scrub! Who says there's no room for a theme in the bathroom?
Cat Vampire Cape
This adorable miniature vampire cape is perfect for the pet-loving vampire fan out there! Even their pet can live out their wildest vampire adventures in this cute and thematic cape!
Dracula Art Print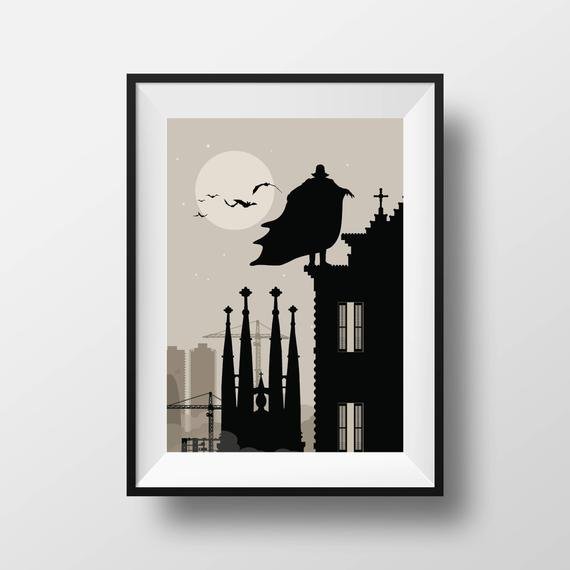 This stunning art print celebrates Bram Stoker's Dracula book cover in a canvas frame, perfect for that touch of gothic decor vampires are always on the hunt for! Pick one up for the office, study, or living room.
Vampire Wine Glass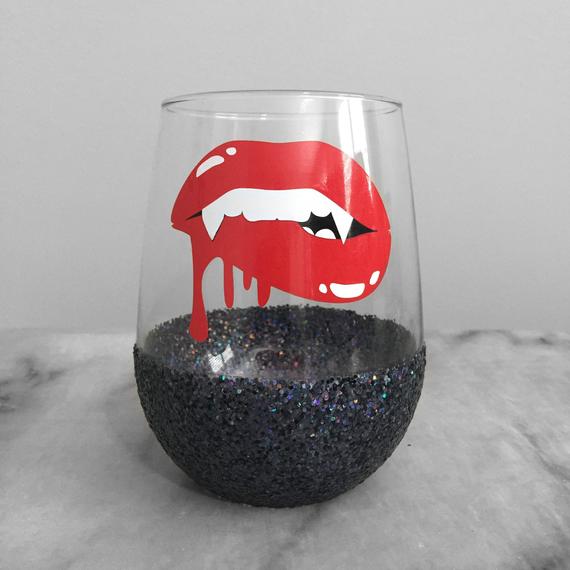 This handmade customized wine glass comes complete with the sparkly vampires are known for! With a dash of glitter and some enticing vampire fangs, this wine glass will be the life of the party!
The Lost Boys
Experience one of the most famous vampire films on DVD! Perfect for a vampire screening party, this film makes for an excellent vampire gift for any occasion!
Vampire Soothers
This pack of vampire teeth baby soothers is the perfect gift for the fledgling young vampires out there! Perfect for baby showers or gift exchanges grab one for a cute and funny baby vampire gift!
Vampire Crystal Necklace
This stunning vampire style necklace is great for costumes, cosplays, or vampire parties! With a gorgeous crystal, it'll have everyone's heads turning!
Vampire Bath Bomb
This adorable vampire blood bath bomb comes complete with a dripping blood design that's sure to make bathtime a blast! Experience the thrill of the hunt with this one of a kind vampire gift, a fizzing vampiric bath bomb!
Personalized Vampire Number
This is one for the younger vampire lover's, especially as a birthday surprise! This personalized vampire styled carved number is handmade for your little vampire's birthday celebration.
Vampire Academy Book Set
Richelle Mead's Vampire series is truly one to be celebrated! Pick up this set for any of your loving vampire friends, perfect for gift exchanges or loved ones; it's sure to get a good response. Pair with any one of our other gifts for an awesome vampire-themed gift basket!
Vampire Haunted House Party Packs
This set of adorable folding haunted house gift boxes will be the life of your vampire themed party! Gift them on their own for a crafty gift set, or for the ultimate vampire get together!
Dracula Wine Bottle Holder
This one's a real no brainer! It's the famous Dracula upending your favorite bottle of wine, perfect for the gothic kitchen!
Vampire Coffin Earrings
These handmade earrings come complete with their own ornate miniature coffin! Made to order and perfect for your vampire-loving friend or family member, they're sure to be the centerpiece of their jewelry collection!
Hopefully, you've had a hauntingly good time sifting through these vampire favorites! Let us know which ones got your bats flying, and your werewolves howling! I am sure you will find the most unique and fun gift ideas for vampire lovers in this list!