Disclosure of Material Connection: Some of the links in this post may be "affiliate links." This means if you click on the link and purchase an item, I will receive an affiliate commission. Disclosure in accordance with the Federal Trade Commission's 16 CFR, Part 255. This site is a participant in the Amazon Services LLC Associates Program, an affiliate advertising program designed to provide a means for sites to earn advertising fees by advertising and linking to Amazon.
There's nothing better than a hot cup of coffee, any time of day. And the Keurig Brewing system brought a whole new way for coffee lovers to get their daily mug of joe one cup at a time. It's no wonder so many people love their Keurig Brewers. But when someone you love, loves their Keurig, it can be difficult to find them the perfect gift to feed their obsession, so here are some ideas.
Feed Their Keurig Obsession With These Gift Ideas
20. Keurig Brand Travel Mug
What better way to show off their love for their favorite brewer brand but a matching travel mug? With a patented auto-seal technology, this travel mug is spill proof and leak proof so they won't lose a drop of that liquid gold.
Buy Now
19. Keurig Brew Over Ice Tumbler
For iced coffee lovers, Keurig has another brand-sporting option, in this tumbler. The double-walled design helps keep drinks cooler, longer and the lid is made to be spill resistant, or spill proof with the straw removed.
Buy Now
18. 6-piece Mug Set and Stand
For those relaxing days at home this mug set and stand is the perfect way to relax and enjoy a Keurig brew. They'll love the the colors inside and the matching details on the exterior, and everyone will know what these mugs are for, they're labeled "Coffee" on the side as well. The stand is perfect for setting up right next to a brewer for a stylish touch with easy coffee access.
Buy Now
17. Drink Holder Table Clamp
So now your coffee lover has a cute container for their coffee, but where do they put it? These clamps, which come in three bright color choices, are amazing, because they keep the coffee mug off the table and protected from accidental spills. This particular model comes with a cut out for a mug handle, so it can be used with any type of beverage container.
16. Coffee Mug Cozy
These cute little cozies are like sweaters for mugs. Let your coffee lover keep their hands protected from the heat and make their coffee look so stylish. The best thing about this one in particular is that it is handmade, so you can support a small business while you make your coffee look adorably unique.
15. Brookstone Beverage Warmer
If a cozy just isn't warm enough, this beverage warmer will ensure their cup of joe stays nice and toasty until the very last drop. It can be used with any cup and has two temperature settings so they can choose just how hot to keep their drink. Its sleek design and compact size make it perfect for the office or a home workspace.
14. K-Cup Collage Storage Unit
There are many different kinds of K-cup storage units available, but this is one especially eye-catching. The collage design is stylish enough to put right on the counter, and it stores K-cups right in plain sight for easy accessibility, the perfect blend of style and function.
13. Under Brewer Storage Drawer
If your Keurig lover's counter space is limited or they need even more K-cup storage, this under brewer drawer is a perfect solution. This specially designed drawer can pull out for K-cup access, or the entire unit can be rolled forward for access to the brewer.
12. Variety Sampler
Of course, once they have the storage unit, they'll need to fill it with K-Cups! This variety pack includes 40 different types of K-cups, for a sample of all the flavors without having to buy all the boxes. This particular set is for brewers other than the 2.0 but there are 2.0 K-Cup variety packs available as well!
11. My K-Cup Reusable Coffee Filter
If you don't want to buy all the different cups and flavors, a reusable filter allows the user to use any type of ground coffee! Perfect for the environmentally conscious Keurig lover, or for someone looking to cut down on the cost of their Keurig obsession.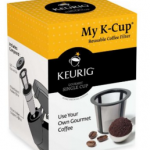 10. Keurig Brewer Care Kit
The best coffee comes from a clean brewer. With two water filter cartridges and a descaling cleaning solution, this care kit helps to ensure your Keurig always gives the best brew. Definitely a must- have for the Keurig obsessed.
9. Brewer Accents
Sometimes, a Keurig lover needs to show their brewer some extra love, and one amazing way to do that is with these brewer accents! These decals come in 7 colors, to match their décor or just their mood and are easy to apply to a 2.0 brewer.
8. Norpo Glass Froth Master
For that perfect latte at home, a milk frother is a must. This one is a hand frother, which doesn't add steam, so the froth is lighter and easier to digest. It's a great addition to any coffee lover's kitchen.
7. Hand Held Frother
If hand frothing doesn't sound like your thing, this is a great alternative. You can put this frother directly into your mug so you have fewer dishes to wash. It's battery operated and works in just a few seconds for a perfect latte.
6. Syrup Recipes for Coffee and Tea
For those who like flavors and sweeteners in their coffee, this book is the perfect gift. It's full of recipes for different flavors of syrups written in easy to read and follow formats. There are plenty of syrups on the market, but there's something great about making syrups at home, with your own ingredients and none of the extra chemicals from commercial syrups.
5. Mesh Shaker
This small shaker is a great addition to any coffee lover's kitchen. Perfect for adding a dusting of cocoa or cinnamon to complement a latte or cappuccino, this shaker allows the coffee lover to add a professional looking touch to their morning brew.
4. Latte Art Stencils
For the next level of latte enjoyment, these stencils are the perfect gift. They can be used with the mesh shaker to put a personal touch on any foamy drink.
3. The Coffee Recipe Book
Once your friend's Keurig obsession is set with all the tools and syrups they need to make their coffee like a pro, they may be in need of some inspiration. This book has recipes and ideas for specialty coffees so you can let out your inner barista!
2. Rivo Cappuccino and Latte System
This is one of the newer Keurig brewers on the market. It is an espresso maker with a built-in milk frother. The Rivo is like a coffee shop in your kitchen, make lattes, cappuccinos, Americano, and espresso all in one machine. The milk frother even has a cold setting for that perfect iced latte. Take their love for Keurig to the next level with the Rivo.
1. Keurig KOLD.
And of course, the ultimate Keurig gift this Christmas is the newest product from Keurig, the Keurig KOLD. The KOLD drink making system is different than previous Keurig models, it doesn't even make coffee, the Keurig KOLD is all about your favorite cold beverages, served chilled at around 39 degrees Fahrenheit. From flavored waters and sports drinks, to seltzers and craft sodas, the Keurig KOLD is all you need to make your favorite non-coffee drinks, and it's the perfect gift for the Keurig obsessed who already has it all!
Help satisfy their Keurig obsession with these awesome gift ideas to inspire their inner barista! Which ideas inspired you to make the perfect Keurig themed gift? Any one of these would make the perfect Keurig coffee gift basket, let us know how it turns out!
See also: Know a tea lover who's got a cupboard full of their favorite teas? Help feed their tea loving addiction with these awesome tea themed gift ideas for inspiration!