Disclosure of Material Connection: Some of the links in this post may be "affiliate links." This means if you click on the link and purchase an item, I will receive an affiliate commission. Disclosure in accordance with the Federal Trade Commission's 16 CFR, Part 255. This site is a participant in the Amazon Services LLC Associates Program, an affiliate advertising program designed to provide a means for sites to earn advertising fees by advertising and linking to Amazon.
Life is all about the luxury, so why not have them wake up to pampering on Christmas morning? These luxury stocking stuffer ideas are perfect for just that!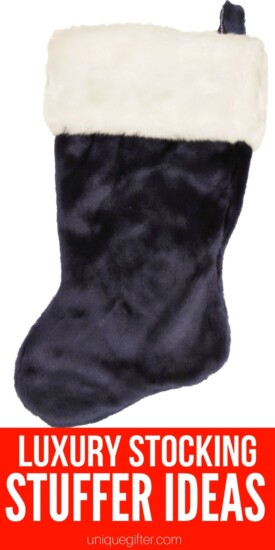 Luxury Stocking Stuffer Ideas
Just because they're luxurious doesn't mean they have to break the bank. We do have some great ideas for expensive stocking stuffers on this list, but there's plenty of budget-friendly luxury stocking stuffers on this list.
Men's Fuzzy Slipper Socks
Men are so hard to shop for when it comes to luxury stocking stuffers. Make the guys in your life feel warm and cozy with these luxurious slipper socks that won't blow your Christmas budget.
Nice Nail Polish
Pick up some salon-quality or professional nail polish as a luxury gift idea. They're small enough to fit in any stocking, but have a big impact come Christmas morning! It might seem expensive but the quality really does matter.
Beard Comb
If you're shopping for a guy who sports a beard (and hopefully takes that seriously) give him a luxurious beard comb to ramp up his grooming routine. It works great with beard oil!
Himalayan Body Scrub
This is a great luxury stocking stuffer idea for women, men, and teens. This amazing scrub, made from pure Himalayan salt, will make them feel amazing.
Yeti Mug
When people think about luxury travel mugs the Yeti brand always comes to mind. Slip one in their stocking this Christmas so they can keep all their holiday beverages warm for hours.
Linen Washcloth
This isn't just any luxury gift idea. This set of two washcloths are made from linen and will easily become the most amazing part of someone's beauty routine.
Handmade Scarf
This one happens to be made from fine merino wool (which is oh so soft) and cotton for a perfect blend of luxury and style. Stuff this in their stocking (literally) for an unexpected Christmas morning surprise.
Business Card Holder
A great luxury stocking stuffer idea for the business owners or executives in your life! They'll look a lot more professional than just pulling a card from their wallet, that's for sure.
Artisanal Truffle Collection
When it comes to luxury stocking stuffers a regular box of chocolates just won't do. Instead, add a box of high end truffles like these made to order Swiss chocolates.
Personalized Golf Towel
If your partner is passionate about their golf game, consider adding one of these personalized golf towels to their stocking this Christmas. They'll definitely be the envy of their friends when golf season starts back up again!
Beard Wash and Conditioner
Beards are totally in style right now but so many guys don't bother taking care of them properly. Whether you're shopping for someone who needs to improve their beard maintenance routine or a guy who's passionate about beard upkeep, he's going to love this luxury beard shampoo and conditioner combo.
Exfoliating Brush
This another luxury stocking stuffer idea that will upgrade someone's beauty routine. Exfoliating is great for the skin, as well as circulation and blood flow.
Gourmet Cooking Seasoning
If you're looking for the perfect luxury stocking stuffer for a foodie, this is it. These gourmet cooking sea salt blends are just waiting to be tested out in your kitchen on Christmas day.
Women's Fuzzy Slipper Socks
Who doesn't want to have warm and cozy toes, especially during winter? These luxurious socks are exactly what you want when relaxing: soft, fuzzy, and cozy.
Extra Large Loofah
This is one of those gifts that no one will buy for themselves but everyone appreciates. This extra-large loofah will add some luxury to their daily routine.
Water Bottle With Infuser
Yep, you can even make water into a luxury item. This water bottle has a built-in infuser, perfect for adding some natural flavor to every sip.
Dog Hoodie
Maybe your dog has their own stocking but if not you could safely put this luxury dog hoodie in a pet parent's stocking.
Wearable Nail Polish Holder
If you're buying stocking stuffers for someone who likes to paint their own nails this is a fantastic gift idea. They put the nail polish bottle in the holder for easy access while giving themselves a manicure.
Shaving Kit
You'll have to unwrap this shaving set and put it inside the included kit bag but it's worth it. This luxurious collection includes a brush, shaving soap cream, and razor.
Traveller's Scarf
A great stocking stuffer idea of you're planning some winter travelling! It looks like a regular infinity scarf but has a pocket for valuables like their passport, cash, and keys.
Luxury Bar Soap
These handmade soaps are made with unique ingredients and fragrances like "bay rum, pine tar, patchouli, and island citrus".
Heart Earrings
Jewelry of any kind makes perfect luxury stocking stuffer ideas. These would be an adorable addition to a teenage girl's, girlfriend's, or wife's stocking for a Christmas morning surprise.
Silk Pillowcase
Whether you're downright fancy or you want something better for your hair and skin, a silk pillowcase is the pinnacle of luxury when it comes to sleeping. Pick one up in their favourite colour or one that matches the bedroom.
High End Makeup Palette
These makeup palettes can run over a hundred dollars, so they definitely make the list of luxury stocking stuffers. Find one from a quality, trendy brand.
Manicure Set
Filing your nails manually is so last year. Tuck this professional electric manicure set into their stocking to completely revolutionize their home manicures!
Luxury Hot Chocolate
Treat them better than the grocery store hot chocolate. Luxury hot chocolate tins are perfectly sized for stocking stuffers and will warm them up on Christmas morning.
Soy Candle
These soy candles are all-natural and hand-poured making them a perfect luxury gift. The scent has woody and crisp notes, perfect to make your home feel cozy this winter.
Driving Gloves
Now that winter is upon us, we have to start keeping warm. Add a pair of wool-lined driving gloves to their stocking this Christmas so that those early morning commutes are at least a little less cold.
Gold "Princess" Pencils
Gold pencils, because your princess is too important to write with anything else. A great gift for teens and adults.
Bamboo Washcloths
Bamboo fibres are so soft and luxurious that these facecloths just had to make the list. Not only that, they're organic and anti-microbial.
Gummy Bear Soap
They might look good enough to eat but don't let them pop these cute bears in their mouths. You get a tin of gummy bear-shaped soap in your choice of scent.
Whiskey Stones
If you have someone who likes whiskey on the rocks on your gift list these make a handy stocking stuffer. You could even add a small bottle of their favourite brand in there too!
Personalized Guitar Pick
Not only is this a luxurious gift for a guitarist, it's also a sentimental one. Add this to the stocking of a guitar-playing spouse or child.
French Soap
If you're searching for luxury stocking stuffer ideas that aren't very expensive, but still pamper whoever you give them to you, French soap is the perfect solution.
Air Pods
These are the best gift idea out there for iPhone users! If they have a different kind of smartphone pick up a luxury brand of Bluetooth headphones that's compatible with their device.
Handheld Clothing Steamer
Until you've used one you don't know what you're missing with a clothing steamer. This mini one is perfect for smaller jobs or travelling.
Handmade Shaving Soap
This handmade shaving soap gets worked into a thick lather that's perfect for shaving. Plus it's made with Bentonite clay which reduces redness.
Carry On Cocktail Kit
This little kit is a perfect luxury stocking stuffer for someone who likes to travel (or who you have an upcoming trip with.) It comes with everything they need to make a mixed drink on board, just purchase the alcohol (not included) in-flight.
Ray-Ban Sunglasses
There's a reason this brand is synonymous with sunglasses. If they don't already have a pair (or want another) now is the time to gift these timeless, yet trendy shades in someone's stocking.
Linen Dinner Napkins
Now these might be a non-traditional stocking stuffer idea but for someone who's passionate about entertaining they're a perfect luxury gift idea!
Kopi Luwak Coffee
What makes this coffee so expensive? Well a small animal, called a Luwak, digested the beans before they were roasted. Some people think it sounds gross, others consider it to be the ultimate luxury.
Wooden Salt and Pepper Shakers
What makes these salt and pepper shakers luxury items, exactly? We'll they're made from luxurious (and expensive) canary wood.
Cashmere Scarf
When you think of luxury fabrics usually cashmere is the first to come in mind. Keep them warm all winter long with this ultra-soft cashmere scarf.
Personalized Luggage Tag
No more confusion at the airport! These personalized luggage tags are super stylish and can be gifted just in time for a winter getaway.
Chanel No. 5 Perfume
Well, you could really get any kind of luxury perfume as a stocking stuffer but if you're not sure what to buy a classic like Chanel No. 5 is probably a safe bet.
Intense Therapy Lip Balm
If the cold, dry air is already having an effect on their lips this winter this is not only a luxury stocking stuffer idea, it's an essential one. Instead of regular lip balm, opt for something more high end like this intense therapy balm.
Designer Watch
Pick up a designer watch they've been eyeing and sneak it into their stocking. If you're not sure what to buy, choose a design that's sophisticated yet modern, like this Micheal Kors watch.
Diamond Jewellery
Diamonds are a girl's best friend, right? They're also the best of the best for luxury stocking stuffer ideas. Head out to the jewellery store and pick her up something nice or buy something handmade like this gorgeous diamond trio necklace.
Whether you're looking for something expensive or bringing some budget-friendly pampering Christmas morning, these luxury stocking stuffer ideas should at least help you get inspired this holiday season.