Disclosure of Material Connection: Some of the links in this post may be "affiliate links." This means if you click on the link and purchase an item, I will receive an affiliate commission. Disclosure in accordance with the Federal Trade Commission's 16 CFR, Part 255. This site is a participant in the Amazon Services LLC Associates Program, an affiliate advertising program designed to provide a means for sites to earn advertising fees by advertising and linking to Amazon.
Gifts for Opera Lovers
Ah, the opera! It's a unique art form that tells moving stories through voice and orchestral pieces. Yes, it's usually sung in a foreign language, but there's usually supertitles to bring an audience into the story. There are opera lovers of all ages, so there's plenty of options when you're searching for gifts!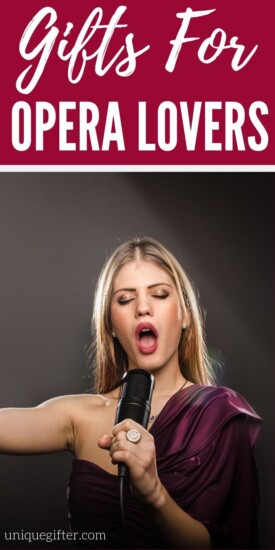 "Yes, I speak Puccini" T-Shirt
Puccini is a very famous opera composer. Any opera lover will understand.
Brainstream Al Dente The Singing Floating Pasta Timer – Cook Every Pasta Perfectly Every Time
Give them a little chuckle when they're cooking their pasta dinners! Seriously drop Al Dente into the pot of boiling water and he'll sing when it's done!
Levenhuk Broadway 325C Amethyst Opera Glasses
Sometimes your seats can be really far away and opera glasses like these are ideal for seeing the show more up close. These come with a removable chain and are a neat accessory for a suit or evening gown.
Vintage Opera Librettos Set of 8
Vintage librettos are great gifts for opera lovers! They're easy to display or frame.
La Boheme Canvas Vintage Opera Poster
This well-known opera has a long history that many opera lovers know & love.
BOOK: 100 Great Operas And Their Stories: Act-By-Act Synopses
Introduce an opera lover to an opera they don't know. A book like this breaks some of the most popular titles down, act by act.
Giacomo Puccini Silhouette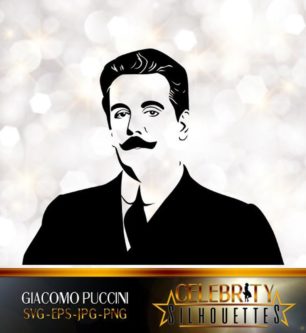 A silhouette of this famous composer would make a great addition to a music room, studio, or in a frame on a piano.
BOOK: The Opera Lover's Companion
Another book that breaks down some of the most popular operas. The majority of this book covers the five great opera composers—Mozart, Verdi, Wagner, Puccini, and Strauss.
MARBLE bust of Mozart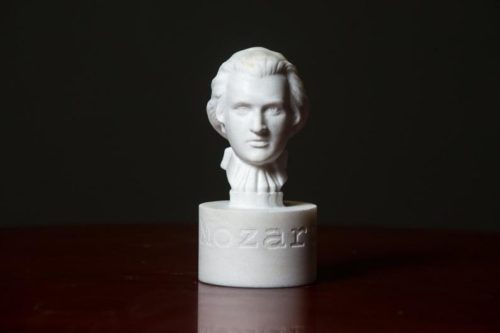 Keep this best of Mozart on a desk, piano, or anywhere someone might be listening to opera!
Don Giovanni Print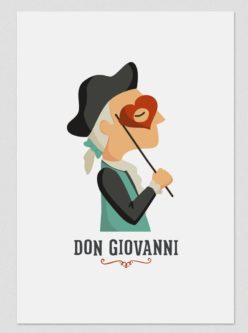 Don Giovanni is a two-act opera written by Mozart. This would be an excellent gift for someone who loves the opera or has performed in the opera!
Sydney Opera House Travel Poster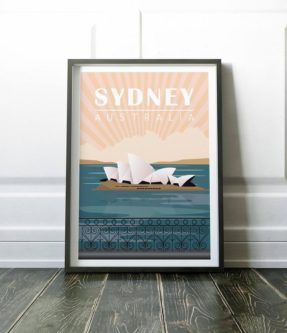 This is one of the most distinguishable opera houses in the world. Well-versed opera lovers will definitely recognize the architecture.
The Phantom Of The Opera Recycled Book Purse
This purse made from a recycled book is a unique way to upcycle a book and show off a show that an opera lover enjoys!
Giuseppe Verdi Original Art Print
Taking a spin on the Obama 'Hope' Print, this large poster of Verdi is a classic idea for opera fans.
MOVIE: Bel Canto
Julianne Moore portrays an American opera singer that is held hostage after performing at a Japanese businessman's birthday party. Produced in 2018.
Fun Opera Glasses Large Cloth Napkins – 18″ – Set
Perfect for parties or everyday dining room decor. These cloth napkins with opera glasses are fun!
BOOK: Mozart: A Life
Considered the biography that debunks all of the myths around Mozart's life, author Paul Johnson has created a book that appeals to music aficionados and newbies.
"Singing is an Athletic Event" T-Shirt
Any opera singer or opera lover will completely agree with this statement!
Book: Puccini Without Excuses
Ah, Puccini. This book gives readers insight into this composer who is responsible for the majority of the operas performed around the world today. Equal parts biography, fun facts, anecdotes, and more, any reader will enjoy the insights gleaned from this book!
Coffee Mug
This coffee mug is so cute and will make anyone who loves the combination of cats and the Opera super happy.
This pen is of great quality and has an engraved quote on it from the great Beethoven.
Another way to please your opera-loving friends and family is just to provide them with tickets or a season subscription for tickets as well! Any way that you can support their love of this art form will surely be appreciated.