Disclosure of Material Connection: Some of the links in this post may be "affiliate links." This means if you click on the link and purchase an item, I will receive an affiliate commission. Disclosure in accordance with the Federal Trade Commission's 16 CFR, Part 255. This site is a participant in the Amazon Services LLC Associates Program, an affiliate advertising program designed to provide a means for sites to earn advertising fees by advertising and linking to Amazon.
This no sew snowflake hat for kids is so easy to make! You don't have to break out the sewing machine even for one second! The supplies are fundamental, but your child is going to go crazy for the personalized hat. The best part is that this is genuinely the easiest hat project you could ever make. Your kiddos may even want to join in on the fun and help you put it together. Okay, let's get started before winter gets here. :)
Supplies Needed For No Sew Hat
There is a great chance that you already have most of these supplies sitting around the house. If not, they are at least super simple and inexpensive.
How To Make A No Sew Snowflake Hat For Kids
These hats are super simple to make, and you need very few supplies. Here are your easy steps to get started.
First Step: Fold the white or blue piece of felt as shown. Start by joining the edges to create a triangle, and then refold lining up the edges.
Second Step: Take scissors and start snipping away! Create a snowflake just as you would with paper. The fun thing is if you do more than one of these hats, no two will be the same.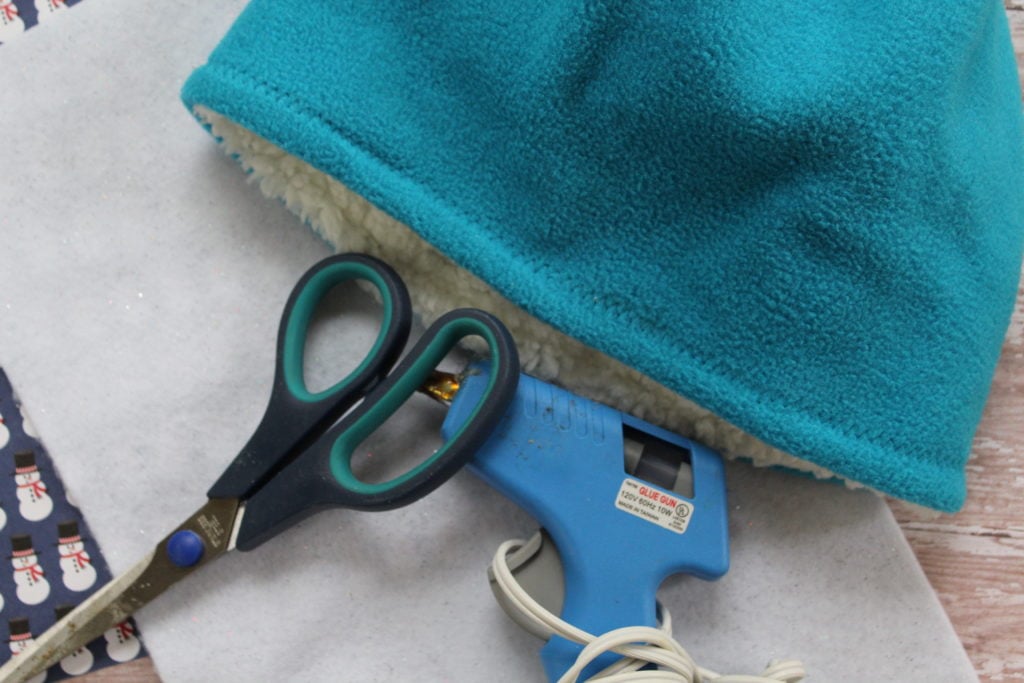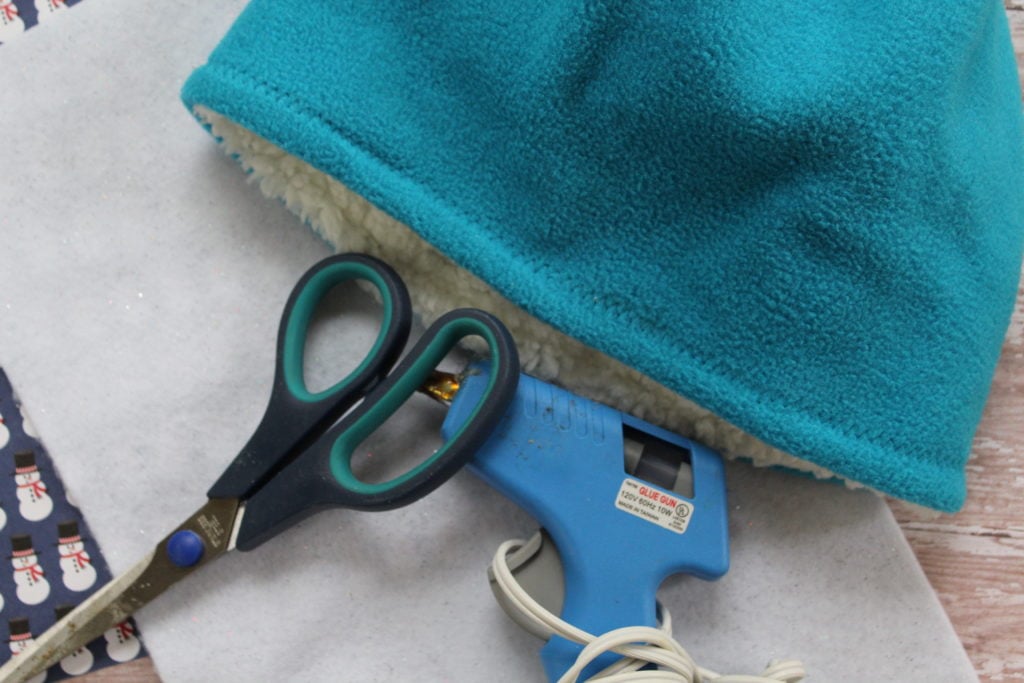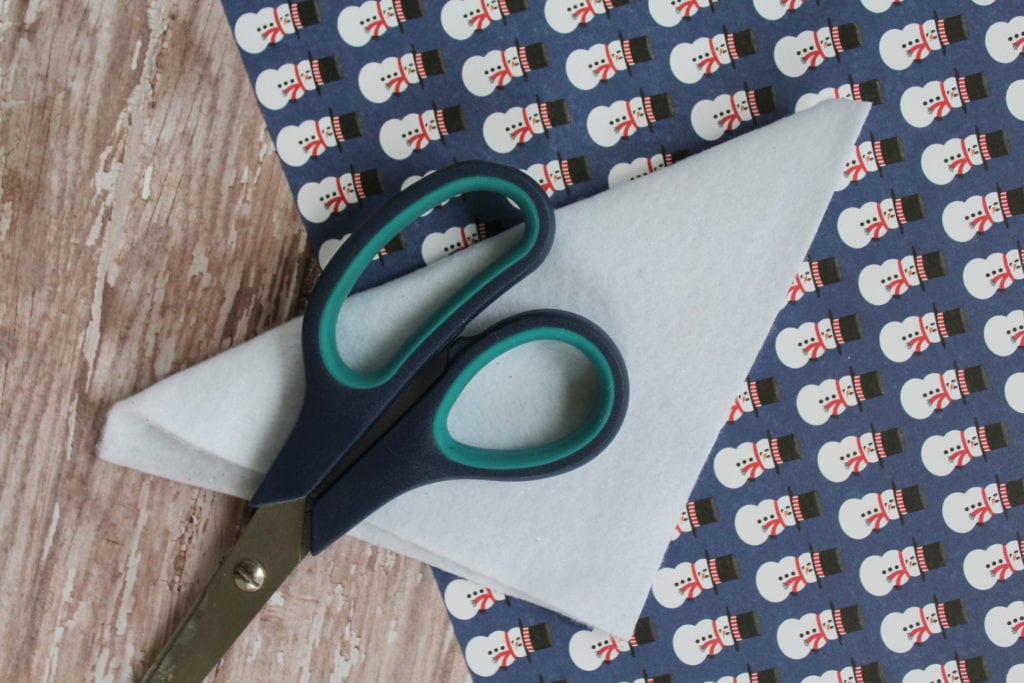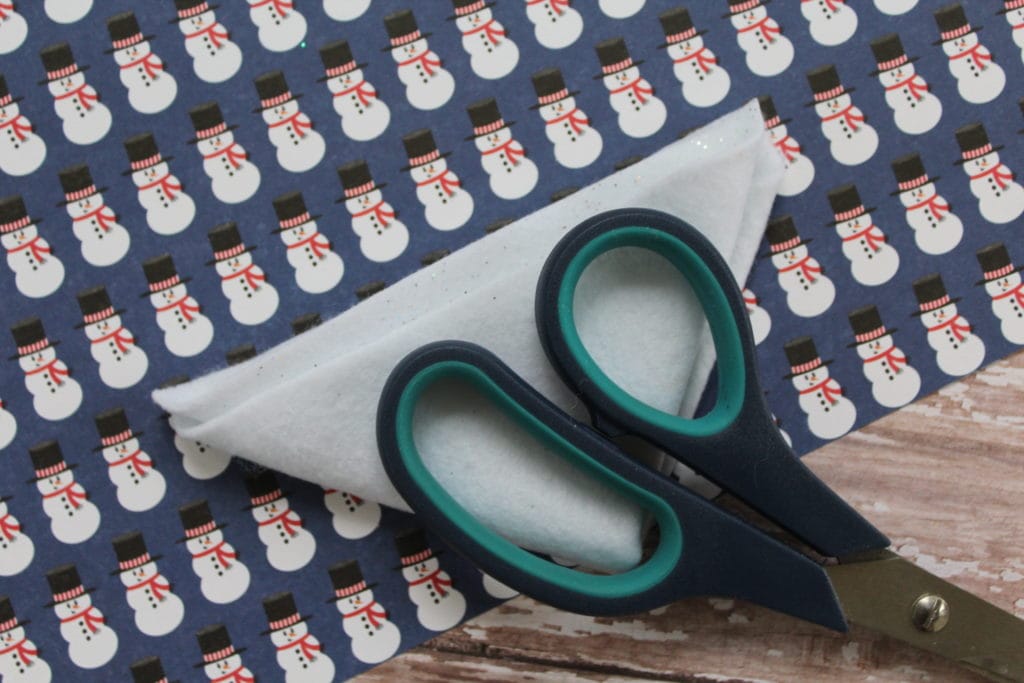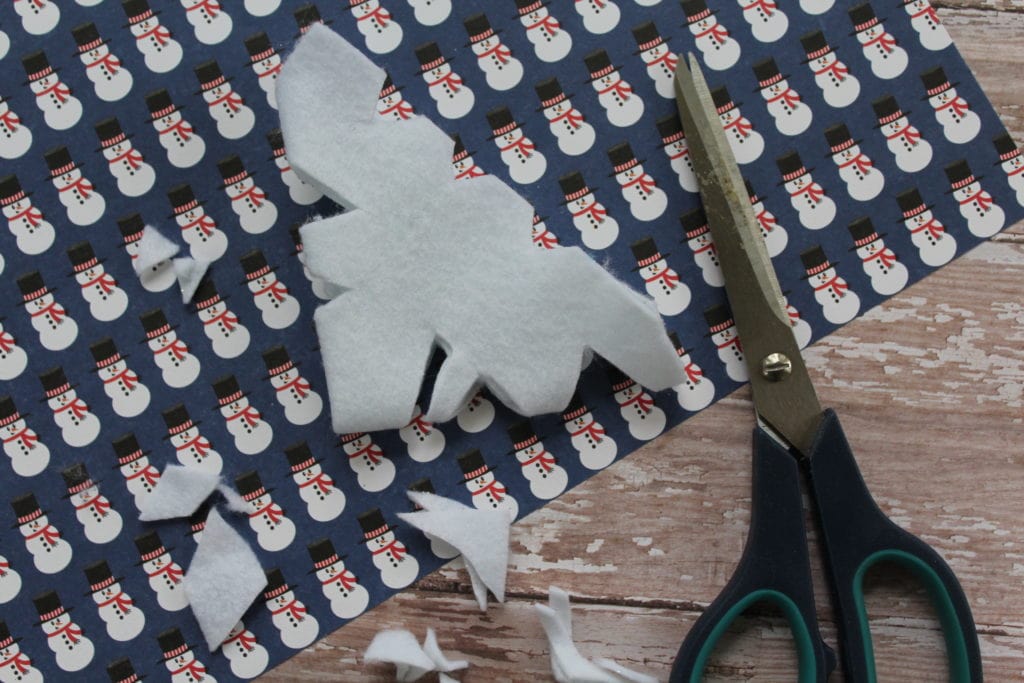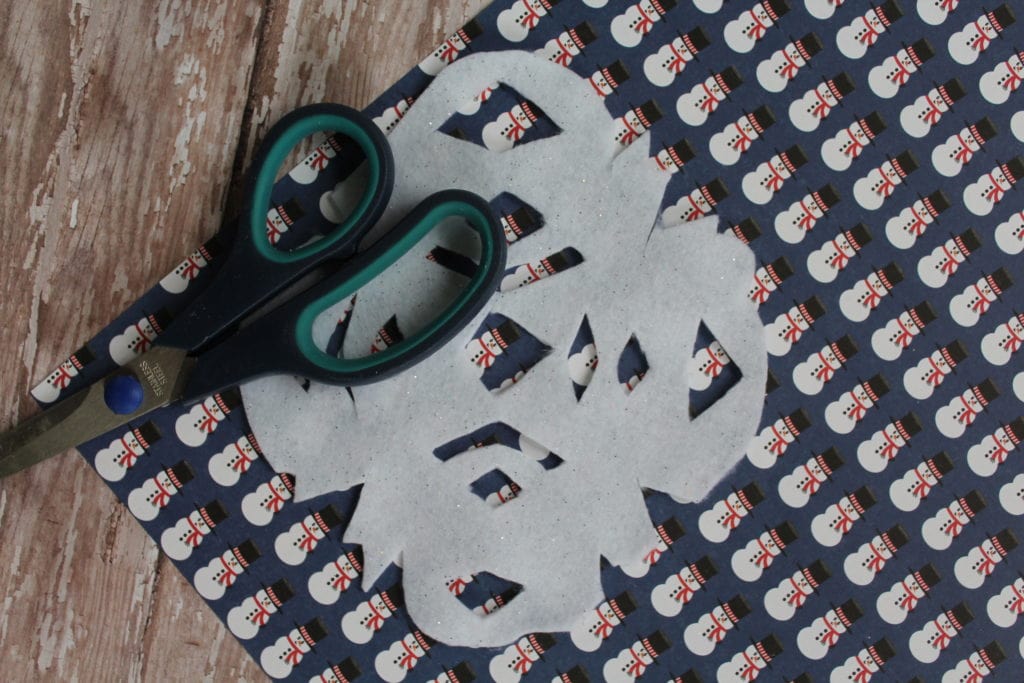 Third Step: Open the felt to reveal your snowflake shape. Trim as needed.
Fourth Step: Apply a generous amount of fabric glue to the back of the snowflake. You can also use mending tape if you wish, which allows you to iron the design on.

Fifth Step: Press the snowflake to the front of the hat. Place something heavy on top of the design to help it adhere nicely.
Sixth Step: Once the snowflake is dry and in place, you are free to enjoy it. Turn the hat inside out when washing to protect the snowflake design.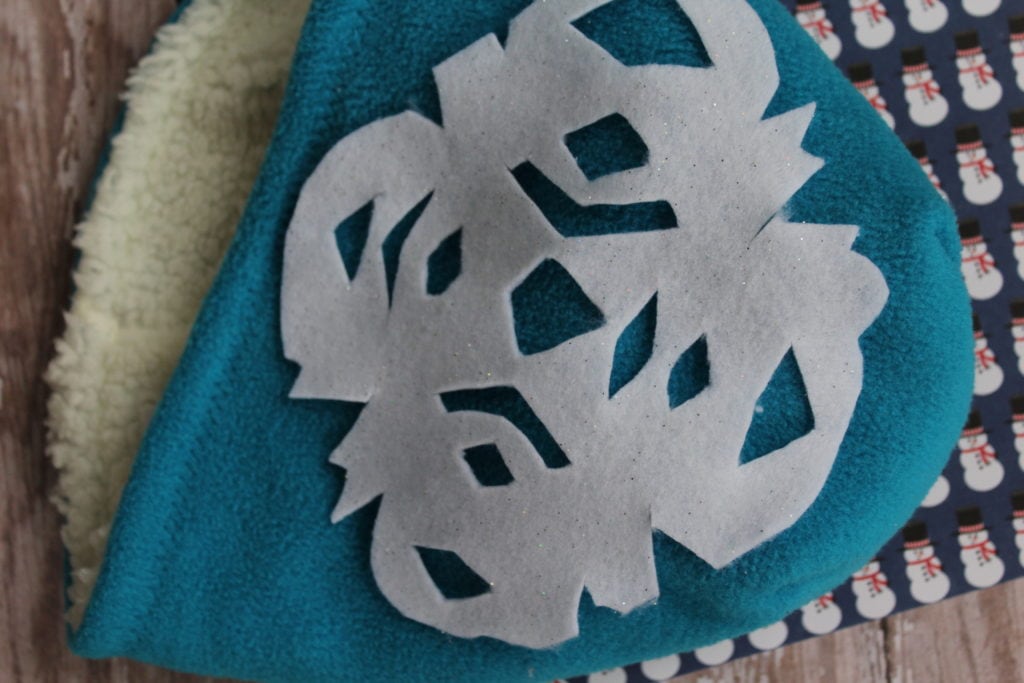 No-Sew Snowflake Hat For Kids
This no-sew snowflake hat for kids will keep their heads warm on those freezing cold days. Plus, they make great gift ideas too. If your child needs a gift for a school party or gift exchange, this would be a great idea. Plus, if you like to make things and sell at craft shows, this is a great idea.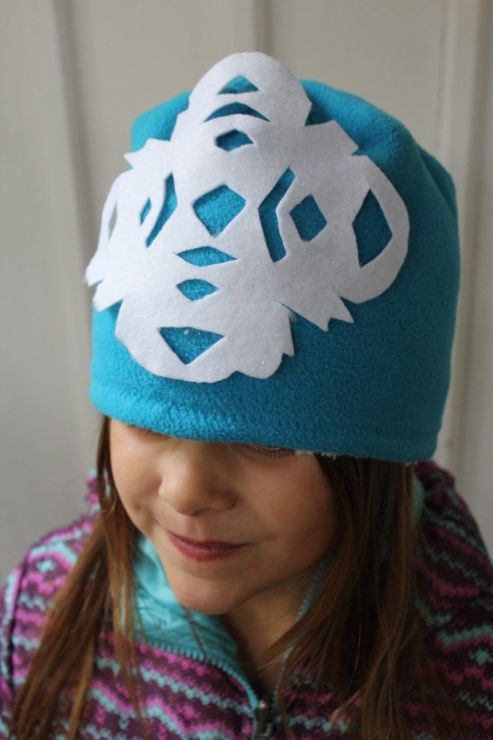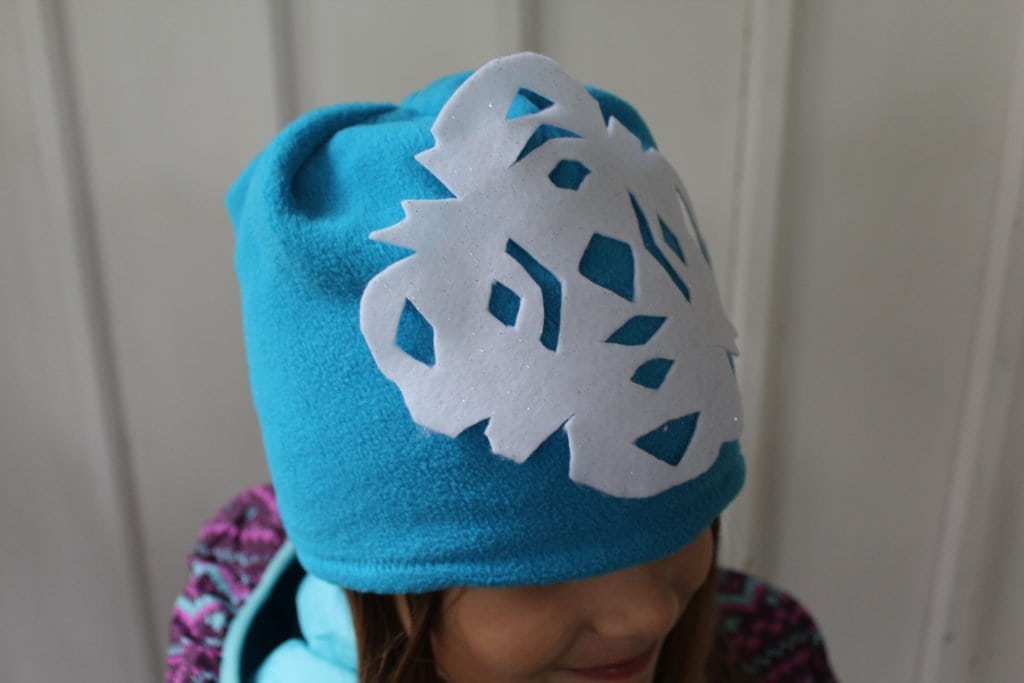 More No Sew Hat Ideas
This idea is for a no sew snowflake hat for kids, but there are some other ideas you could try out too.
Monogram – If you want to add a monogram to the hat, just cut the letter out of the fleece and follow the rest of the directions.
Various Snowflakes – You could do several different snowflakes all different sizes on the hat for a fun and playful touch.
Hearts – Cut out a large heart or a few smaller ones and place them on the hat.