Disclosure of Material Connection: Some of the links in this post may be "affiliate links." This means if you click on the link and purchase an item, I will receive an affiliate commission. Disclosure in accordance with the Federal Trade Commission's 16 CFR, Part 255. This site is a participant in the Amazon Services LLC Associates Program, an affiliate advertising program designed to provide a means for sites to earn advertising fees by advertising and linking to Amazon.
When you're done gifting to your favorite romantic option *coughShanecough* you can start wooing your friends and family in quite similar ways. These gifts for Stardew Valley fans are definitely going to increase your relationship meter.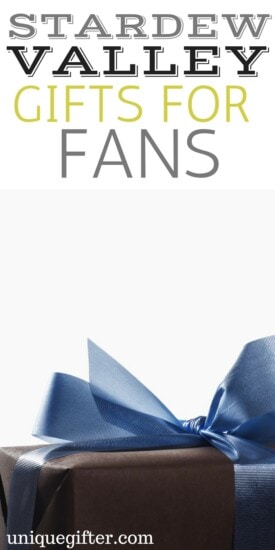 Jumino Plush
Now you can have your very own Jumino to watch over your bedroom with these adorable plushies. Buy them one in every color!
Stardew Valley Stickers
Stickers are so much fun and these custom Stardew Valley ones are ready for you to stick onto everything. Just what you needed in your life.
Perler Characters
Why not give them the gift of their favorite bachelor?
Shadow Box Art
This cool 3D shadow box beautifully depicts a typical farm scene from Stardew Valley.
Yoba Pin/Magnet
If you haven't played the game, Yoba is an ancient guardian who watches over Stardew Valley.
Junimo Ornament
Another great Junimo gift idea, this one is a stained glass style ornament. What's really cool isn't that they can be ordered in any color (they can though), but that you can watch the creator on Twitch making things for their Etsy store.
Stardew Valley Map Mug
This is a must have gift for any Stardew Valley fan. The mug shows a map of the valley!
Cross Stitch Pin Cushion
This listing is just for the pattern so you could gift that to them if they're crafty. Otherwise, if you happen to be the crafty one, this would make a perfect, handmade gift!
Printable Checklist
When you're playing a game like Stardew Valley having a checklist of all the things you're working towards is really handy. These printable sheets are detailed and look great too.
Hat Mouse Print
The hat mouse is one of my favorite characters in Stardew Valley. He sells you hats as you complete other challenges which adds a little fun to the game. This print is a reproduction of original art.
Stardew Valley Collector's Edition
Even if they already have a copy of the game, chances are they just own the digital version. Nothing beats having a physical copy of your favorite indie games.
Pixel Pins
Who doesn't want a pin of their favorite Stardew Valley character?
Stardew Valley Journal
This journal is actually a really unique gift idea for Stardew Valley fans. It's a journal where they can write the daily happenings on their farm and keep track of what they're working on between play sessions.
Junimo Decal
Now they can stick these pixelated Junimos anywhere they like! Perfect for laptops or other devices.
Stardrop Onesie
The perfect gift for Stardew Valley fans that also have babies. This onesie has a stardrop on it which is a special item in the game.
Bachelor Buttons
Alex, Elliot, Harvey, Sam, and Sebastian (sorry no Shane, he was added as a bachelor in an update) are available as pins or magnets. Buy them their favorite or the whole set!
Stardew Valley Paper
Stardew Valley inspired printable paper is a great gift for a crafty fan.
Pelican Town Pin Up
Inspired by vintage pin ups, this art print is a fake advertisement for the town's produce.
Stardew Valley T-Shirt
This t-shirt simply has the logo on it, but it's a good way for Stardew Valley fans to show off what they love.
Bluebird Feather Necklace
Don't get this for just any Stardew Valley fan. The bluebird feather in the game is a special gift: something you give to someone you want to marry. Give with caution!
With these gifts Stardew Valley fans will feel a little more at home when taking a break from the farm.