Disclosure of Material Connection: Some of the links in this post may be "affiliate links." This means if you click on the link and purchase an item, I will receive an affiliate commission. Disclosure in accordance with the Federal Trade Commission's 16 CFR, Part 255. This site is a participant in the Amazon Services LLC Associates Program, an affiliate advertising program designed to provide a means for sites to earn advertising fees by advertising and linking to Amazon.
Is your girlfriend a wine enthusiast? Surely she doesn't need yet another bottle of wine to add to her collection… Are you stuck for a unique gift idea? Not sure which wine gifts your girlfriend actually wants…..
Wine Gifts your Girlfriend Actually Wants
We've got you covered with the following 20 wine gifts your girlfriend actually wants for her birthday!
Red Wine Decanter and Aerator
Perfect for red wine connoisseurs, this decanter aerates red wine to make the taste bolder and better. With this, your girlfriend's wine-drinking experience will be extraordinary.
The Best Wine Gift your Girlfriend actually Wants
Spirits Crystal Stemless Wine Glasses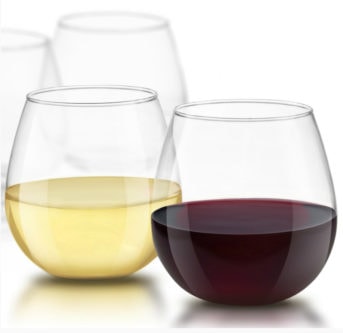 Why does your girlfriend need more wine glasses? Well, these aren't just your ordinary wine glasses. These are stemless and completely shatter-resistant. They're perfect for a casual night or for hosting a wine party.
Wine Travel Bag and Picnic Set
Great for summer picnics to share with your beau, this wine picnic set has everything you need for an outing at the beach or park with a tasty bottle of merlot.
Wine Bottle Cork Fairy Lights
Add a little bit of magic to your home decor with these adorable wine bottle fairy lights. They are a cute and simple decoration that give a practical use to old wine bottles.
Wall-mounted Wine Rack
This wall-mounted wine rack has a sleek and elegant design for practical wine bottle storage. It even features hangers for wine glasses too!
Wine Colouring Book for Adults
Adult colouring books are becoming popular for both stress relief and entertainment. Don't let your girlfriend miss out with this nifty wine-themed colouring book.
Wine Wipes
Wine stains on teeth and lips can be awkward and annoying to deal with. Wine Wipes are a quick fix and the perfect gift for the pearly whites of red wine lovers.
Gemstone Bottle Stopper
No wine enthusiast can ever have too many bottle stoppers. With a variety of gemstones to choose from, you can find the perfect one for your girlfriend's personality.
A Taste for Wine and Murder – Murder Mystery Game
Is your girlfriend both a wine lover and board game enthusiast? Combine her two passions with this haunting 'Wine and Murder' mystery game.
Wine Box Sign Coasters
Every glass of wine needs a coaster upon which to rest their delicate stem. These funny and functional coasters do just the thing.
If You Can Read This…' Socks
One can never have too many socks – especially cute wine-related ones. Just have a glass ready and be prepared to follow through.
Novelty Wine Pourer
Sir Perky is the perfect addition to a girls night or just for a bit of a laugh. He is perky and ready to satisfy all of your girlfriend's wine desires.
There's a Chance This is Wine'
This gorgeous mug is a great gift for a girlfriend who loves humour and coffee. (Or if you actually want to help disguise her borderline alcoholic day drinking habits).
Wine Soap
All females love fancy soap, that's just a fact. She will love this tasty aroma of rose and luscious red wine.
Wine Molecule Necklace
Wine's chemical structure has been turned into a piece of elegant and delicate jewellery. Jewellery and wine are definitely a girl's best friend.
Wine Cup Shaped Candle Holder
This wine cup shaped candle holder set is a great gift for a girlfriend who loves to entertain guests. It is the perfect centrepiece for a table at a wine party.
Cooking With Wine
Does your girlfriend love to cook? Using wine will enhance the flavour of meals and perhaps there will even be a glass or two leftovers. Give her some inspiration with an appropriate cookbook.
Wine Bottle Cake Pan
Is your girlfriend more of a baker? Let her combine cakes with wine with this awesome wine bottle cake pan.
Apron with a Wine Theme
Since we are on the cooking with wine theme… why not combine the above with the perfect wine lover's apron?
Wine Cork Phone Case
For something that is unique and quirky, this wine cork phone case isn't something you see every day.
King and Queen Glass Set
Just in case you need to reinforce the point that wine is her thing – give a little and take a little with his 'King' beer and 'Queen' wine glass set. An adorable couples gift.
If your girlfriend is a drinker, but not a wine drinker, check out our post "20 Gifts for Alcoholics| But not real Alcoholics."