Planning a St. Patrick's Day party or just want to celebrate the luck of the Irish at home? March 17th is a great day to get out some green or Irish decor to dress up your home, office or classroom. Need inspiration? Check out these decorating ideas ideas and find some good luck this St. Patrick's Day!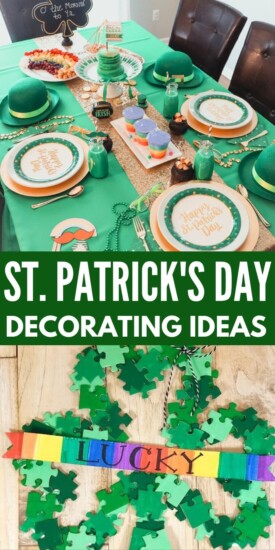 See also: Need to plan a whole day of St. Patrick's Day celebration and fun? Check out our St. Patty's Day crafts for kids! 
Here's 8 St. Patrick's Day Decorating Ideas to Use!
With St. Patrick's Day fast upon us, a few quick and easy decorating ideas go a long way! I know I'll rely on some of these ideas this year. And of course, you want to keep it fresh year after year. With any luck you'll have your family jumping for joy! Enjoy these splendid St. Patrick's Day decorating tips to really make your place look as good as a pot of gold. 
8 St. Patrick's Day Decor Ideas
Dress your home up in all the green you can find and celebrate the day! What are some of your favorite ways to decorate for St. Patrick's Day?