Disclosure of Material Connection: Some of the links in this post may be "affiliate links." This means if you click on the link and purchase an item, I will receive an affiliate commission. Disclosure in accordance with the Federal Trade Commission's 16 CFR, Part 255. This site is a participant in the Amazon Services LLC Associates Program, an affiliate advertising program designed to provide a means for sites to earn advertising fees by advertising and linking to Amazon.
Whether your dad or another dad you know is a Christian, you will probably want to customize his gift for Father's Day. There are so many different things you can choose for him and at the same time, you want to get him something he will truly like. He is a godly man, trying to be the best father he can be, and sometimes that is a hard road. The following list has so many gifts for each Christian dad for Father's Day, so be sure to browse each one and see which one will make your dad's face light up!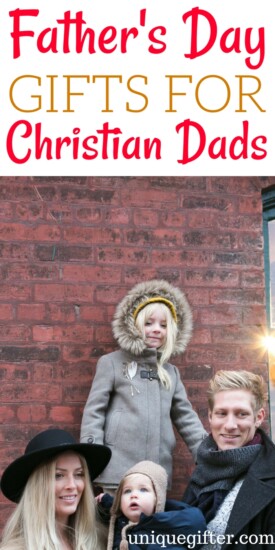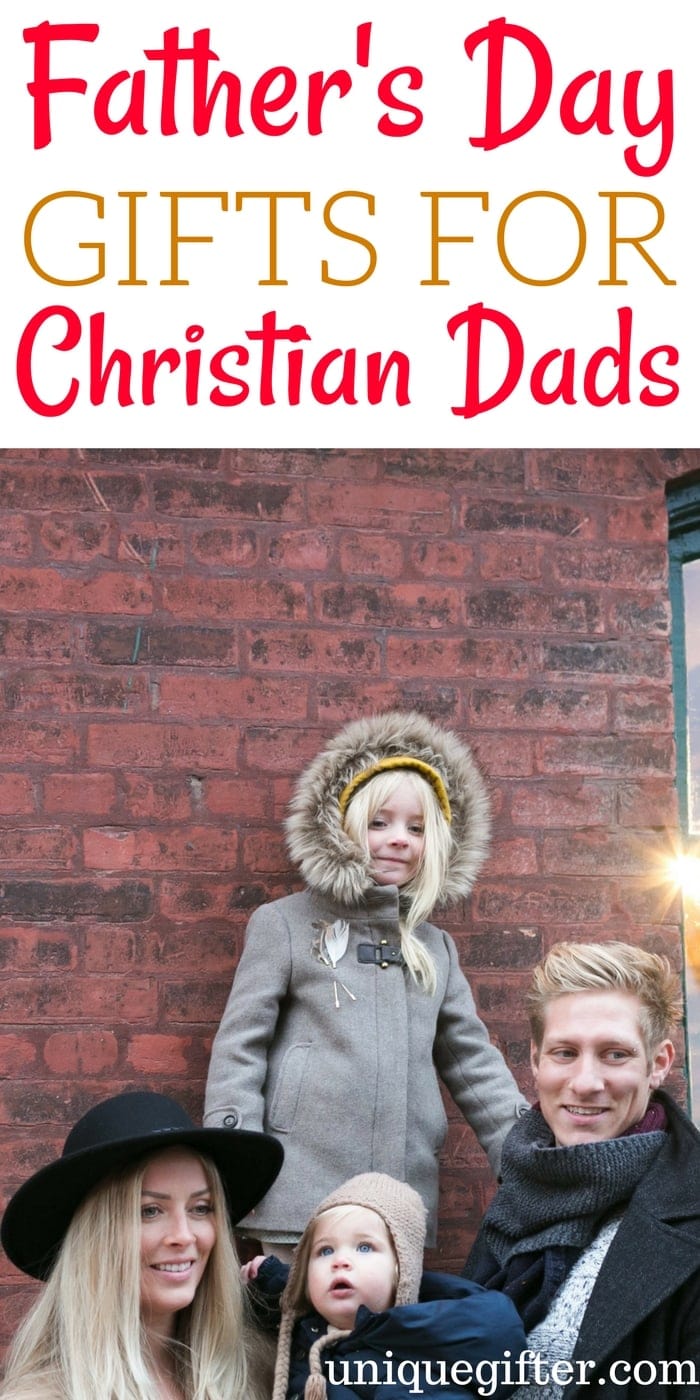 Father's Day Gifts for Christian Dads
Footprints Poem Key Fob
The Footprints poem is a popular poem, and this key fob will surely remind him that he is not alone, that God is with him every step of the way.
"Be still Psalm 46:10" Shirt
When times are rough, he needs to be still and trust God. This Psalm 46:10 shirt is a good reminder of that, and might even encourage another person he comes in contact with while he's wearing it.
Christian Fish Cufflinks
If he enjoys wearing suits to work, he will definitely enjoy these Christian fish cufflinks to go with it.
John 3:16 Black Cross Engraved Necklace
Most Christians like to wear cross necklaces. John 3:16 printed on this one is a good reminder to him that God gave His only son for his salvation.
"Blessed is the man…" Wall Art
This blessed is the man wall art will look nicely in his home, office, or anywhere else he decides to put it.
"Father we love you 1 John 3:1" Wood Block
The simplest of sayings, but a phrase that will bring him comfort, on a wood block he can put up on his bookshelf or desk to look at often.
"Amazing husband, father, & man of God" Coffee Mug
He is truly an amazing husband, father, and man of God. He always does his best for those he loves.
"Team Jesus" Shirt
Such a short phrase to show that he is always doing God's work, no matter where he is.
"My Faithful Year" Men's Planner
Help him have a faithful year ahead, starting this Father's Day. Sometimes we all need a little guidance and this planner will help him a lot as he moves forward.
"My dad my hero" Cross Chain Charm
Your dad is your hero. He is also your example of how to be a Christian and that makes him an even bigger hero to you.
"To the world you are a dad. To our family you are the world. The righteous man walks in his integrity; his children are blessed after him." Wood Sign
He is your dad, he is your world, and he is a righteous man who cares for his family. This wood sign can go anywhere and look great.
Dad's Christian Bookmarks
Instead of just placing any old paper in his Bible, he can use one of these beautiful bookmarks to mark his place as he reads through the Word.
"Blessed daddy" V-Neck Shirt
He is a blessed dad. He probably doesn't need a reminder, but he would surely like to wear this shirt with pride in his children.
"Jesus football & Coffee" Mug
Jesus, football, and coffee are a good way to spend a day once in a while.
Psalm 127 Arrows with Bible Verse Wall Art
Wall art may not seem like the best gift for a dad, but he will really love looking at this Psalm 127 wall art every day.
"Man of God" Pens Set
He is a man of God, and as such, he needs pens to write Bible study notes.
"I have called you by name, you are mine Isaiah 43:1" Dog Tag Necklace
He is your dad, but he is God's creation. He can hold this scripture close to heart with his new necklace.
Sterling Silver Cross Ring
If your dad enjoys wearing rings, he will love to receive this sterling silver cross ring for Father's Day this year.
"I love it when my wife lets me listen to Christian rock" Shirt
He loves listening to Christian rock, but sometimes your mom doesn't let him, so when she does, he is ecstatic.
"For I know the plans I have for you…" Jeremiah 29:11 Coffee Mug
God knows the plans He has for all of us. As your dad starts his day, he may need that reminder because mornings and sometimes even whole days, can be challenging.
For the godly man, their Father's Day gift will mean a whole lot more when it is a reminder of what God has done for him and continues to do.