Disclosure of Material Connection: Some of the links in this post may be "affiliate links." This means if you click on the link and purchase an item, I will receive an affiliate commission. Disclosure in accordance with the Federal Trade Commission's 16 CFR, Part 255. This site is a participant in the Amazon Services LLC Associates Program, an affiliate advertising program designed to provide a means for sites to earn advertising fees by advertising and linking to Amazon.
Losing a daughter is one of the most horrific pains any parent can go through. The hopes and dreams for your sweet daughter are shattered. It doesn't matter if she was a baby or a full-grown adult the heartache is almost unbearable. It's the memories and the little things that can provide them comfort during the most horrible time of their life. Giving them a special gift will help lift their spirits and will show that you care. They will know that you are there in their time of need.
20 Thoughtful Sympathy Gift Ideas For Loss of Daughter
These lovely gifts will help show that you are there for the person and are beautiful mementos they will cherish.
"If I Listen Closely" Bracelet
This stunning bracelet has a quote written on the inside of it. You won't see the words while wearing it, but mom will know it's there.
"Beyond Tears" Book
This book will help both parents with the loss of their daughter. It won't take the pain away, but it will give them much-needed comfort.
LifeSong Milestones Wall Hanging
There is so much meaning in this piece of art. Any parent that lost their beautiful daughter would love it.
Photo Book
This can be so personal and comforting to the parents. You just need to get ahold of some photos of their daughter and order this customized photo book.
Daughter Memorial Print
Mom and dad will need tissues when they read this amazing poem, but they will love it. Customizing it makes it even more special.
Memorial Necklace
This necklace is beautiful and a perfect sympathy gift. You can send a personalized message with it too.
"See You In Heaven" Bracelet
In morse code, this bracelet says, "See You In Heaven." Such a sentimental and amazing gift for anyone who lost a daughter.
In Loving Memory Butterfly
This gorgeous butterfly comes with a poem that will bring a smile to their face each time they see a butterfly.
Memorial Quilt
This handmade quilt is made by using your lost loved one's clothing. They will have something that is a piece of their daughter.
"Shattered: Surviving The Loss of A Child"
This book can help parents start down the path of healing. It will give them guidance and comfort along the way.
Journal
This journal is beautiful and will give the grieving parents a place to put their thoughts and sorrows into words.
Memorial Feather Keepsake
A unique and beautiful sentiment that will mean so much to the parents. They will be able to look at it and be reminded that their daughter is still close by.
Sending You An Angel Statue
A gorgeous angel statue made of granite and stone. This beautiful gift will last forever and is very meaningful.
Memory Box
This box is the perfect place for mom or dad to place their sentimental memorabilia. Maybe a lock of hair, pair of baby booties or some special photos.
Loss Quote Necklace


If their daughter passed from an illness this would be a perfect gift. It's stunning and the quote is beautiful.
Weeping Angel Stone
This weeping angel speaks volumes for a parent that has lost a daughter. There is no greater pain and you can see how the angel depicts that.
Custom Wind Chime
There is so much beauty and peacefulness when you listen to the sounds of a wind chime. It will provide lots of comfort to help ease their sorrow.
Heavenside Daughter Sculpture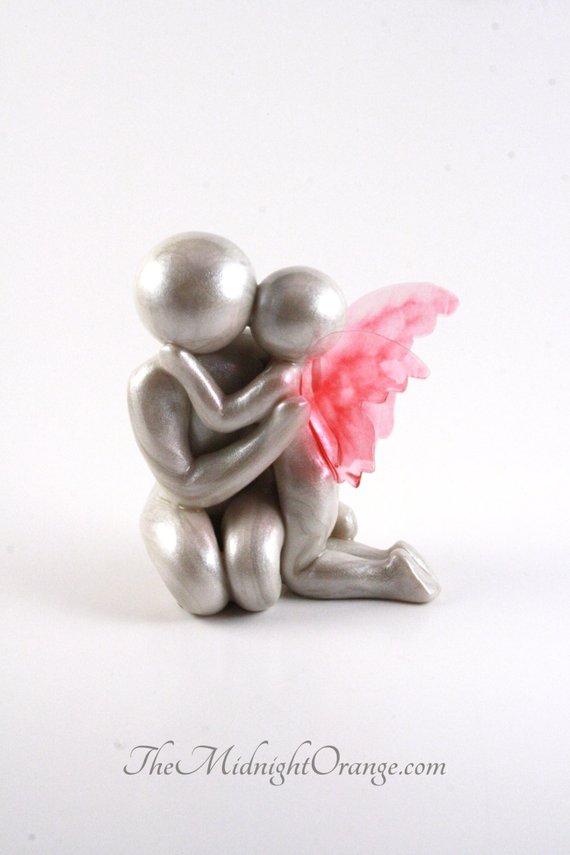 Sometimes when people lose a daughter they forget about dad. Give him this beautiful piece of art that depicts the love of a daughter and her daddy.
Handwriting Bracelet
How stunning is this bracelet? Give them this beautiful gift so they can look at it and see the handwriting of their amazing daughter.
Personalized Memorial Sign
This is so true for any parent that has lost a daughter. This sign will give them some comfort as they try to heal. Add a photo of their daughter to make it even more special.
There are no words that will heal their wounds and that is okay. Sometimes you don't have to say anything. Just show your love for them.