Disclosure of Material Connection: Some of the links in this post may be "affiliate links." This means if you click on the link and purchase an item, I will receive an affiliate commission. Disclosure in accordance with the Federal Trade Commission's 16 CFR, Part 255. This site is a participant in the Amazon Services LLC Associates Program, an affiliate advertising program designed to provide a means for sites to earn advertising fees by advertising and linking to Amazon.
No matter how a person loses a son, the loss is catastrophic and leaves them feeling hurt and empty inside. They may spend a lot of time wondering what they could have done differently to save him. Time is the only thing that can really heal their broken hearts, but giving them a token of your love for them will ease the pain at least a little. It will show them that you love them and that you are hurting for them as well. Sometimes it is hard to find words of comfort, so let these gifts do the talking for you.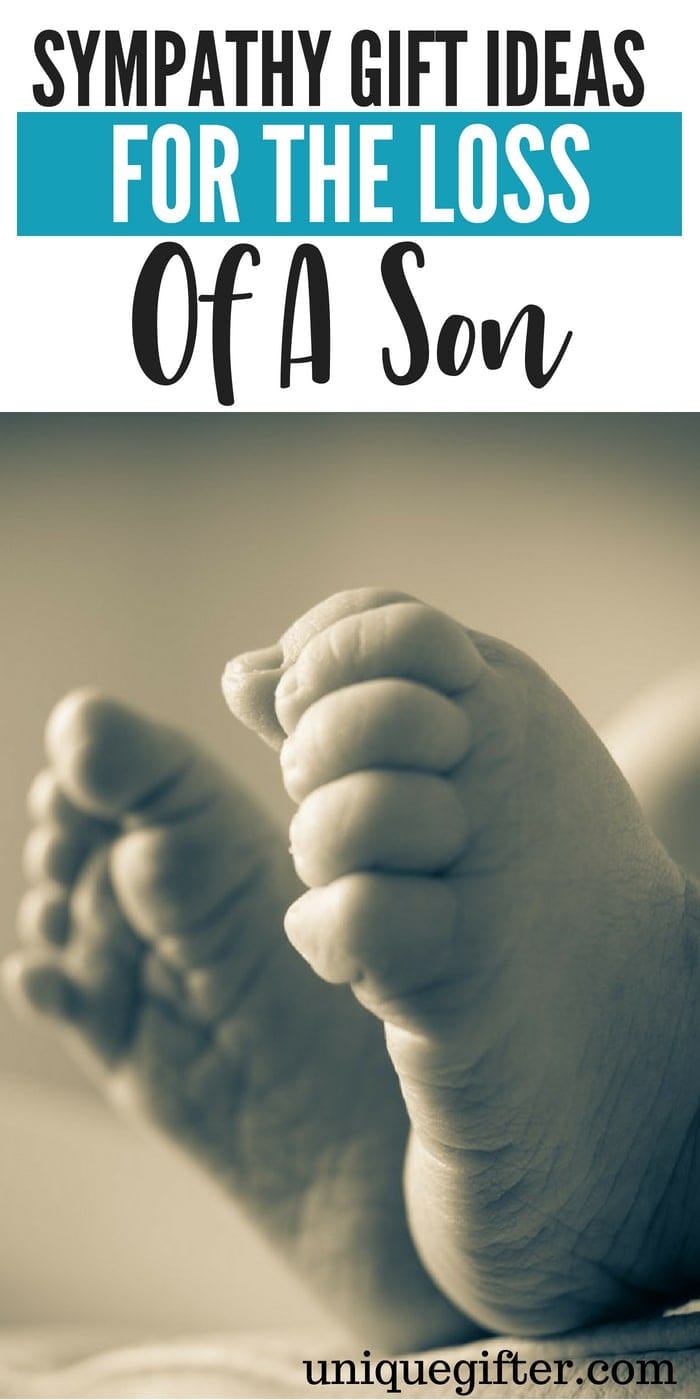 Loving and Memorable Sympathy Gift Ideas For Loss Of Son
"If Roses Grow In Heaven" Poem
Such a sweet and beautiful tribute to the son that was lost. This poem will warm their hearts
Jar of Wishes
Thoughtful sentiment for the grieving parents. These words of encouragement will help them face each day
Memorial Necklace
A gorgeous reminder of the love between a momma and her son. You can customize it with his birthstone and his name
Secret Message Spiral Stamped Bracelet
This gift is so unique. You can personalize this with a special quote or bible verse. They will be so touched by this gift
"I Carry Your Heart In Mine" Necklace
This necklace is perfect for the mom who lost her baby boy. She will have something she can physically wear to show the world that her baby existed
"Forever In My Heart" Frame
A beautiful keepsake that can be displayed with their son's picture. It is a heartfelt gift that has an amazing poem too
Memorial Candle Holder
This gorgeous sympathy gift will be treasured for many years to come. The words are so special and it will mean even more when it is personalized
Dog Tag Keychain
This gift is especially good for a dad who lost his son. A perfect way to carry his photo around everywhere dad goes
Linked Heart Memorial Bracelet
This heartfelt gesture will be truly loved and adored. It's stunning and it has linked hearts much like a mother and her son whose hearts are linked forever
Memory Shirt Pillow
They will feel nothing but love for this sentimental gift. This pillow will be something they can squeeze anytime they want
Guardian Angel Tumbler
Several colors to choose from for this thoughtful tumbler. The angel wings are gorgeous
Comfort Bowl
You may wonder what in the world a "comfort bowl" is. Well, it has painted stones that the recipient can read and be encouraged. This will help the grieving process and give them hope
"Because Someone We Love Is In Heaven" Sign
A versatile piece that can be hung up or can be displayed on a desk or shelf. They will love how thoughtful you are
Care Package
This care package is just what the doctor ordered. Some rest and relaxation to help ease the heart and mind
Gourmet Fruit Basket
When people lose a loved one the often don't have a big appetite. This gift basket is great because it gives them some light food options that can give them the strength they need to keep going. If you would rather get a meal to them, we have some ideas. 
Personalized Wind Chimes
This wind chimes are stunning and will help the grieving family when they hear the chimes ringing. Very touching gift that they will love for a long time
Gourmet Gift Basket
Freshly made coffee cakes and loaves of bread that taste great and mean so much. They will even do a custom message for you to make it more special
A Dozen Succulents
Succulents are so pretty and low maintenance. They can transform any space and are different than flowers
KindNotes Jar of Messages
Give comfort with these words to help ease some of the pain. Reading a message when they are really hurting will help lift their spirits
"Living, Loving and Losing a Son"
This book is about a mom who lost her son and the journey or grief she went on. Her story may help give comfort during the heartbreaking time they are going through
These amazing gifts are sentimental and meaningful. They will help give comfort when it is needed the most