Disclosure of Material Connection: Some of the links in this post may be "affiliate links." This means if you click on the link and purchase an item, I will receive an affiliate commission. Disclosure in accordance with the Federal Trade Commission's 16 CFR, Part 255. This site is a participant in the Amazon Services LLC Associates Program, an affiliate advertising program designed to provide a means for sites to earn advertising fees by advertising and linking to Amazon.
Pacers fans! Gearing up for a new season? After you're done ordering your season tickets, check out some of these awesome Indiana Pacers fan gift ideas! Whether it's for a basketball game watch party, or celebrating your favorite fan! These are some of the most unique, iconic and memorable Pacers themed gift ideas we could find. What will you be strutting into the arena with the next game?
Our Favorite Indiana Pacers Fan Gift Ideas
These are some of the coolest Pacers themed gift ideas out there. From one of a kind apparel, to memorable collectables!
Indiana Pacers License Plate Frame
Give your ride the love and attention it deserves with this eye catching Pacers license plate frame! Everyone's going to know who the biggest fan is when you pull into the lot for the next game. This thing also makes the perfect Pacers gift basket idea, too!
Indiana Pacers Tumbler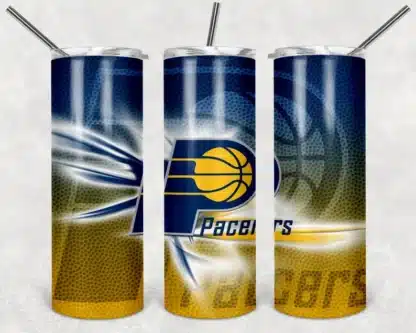 This tumbler will score all of the points when it comes to style and practicality! Holds up to 20 oz of hot or cold beverages this tumbler is perfect for game days at home or on the road.
Pacers Baby Outfit
Start your next new little Pacers fan when they're young! This stylish NBA licensed onesie is perfect for your favorite fan to be! Sizes 0 to 24 months available!
Indiana Pacers Basketball Cards
Oladipo, Miller, Sabonis… These basketball cards come with collectible wristbands and cases so you can celebrate the legacy of these iconic Indiana Pacers stars! This is the perfect gift idea for an Indiana Pacers fan who just can't get enough collectibles in their life.
Indiana Pacers New Era Cap
The snapback with all of the style, and the official logo for the Indiana Pacers! These caps are the true mark of any NBA fan, and give you exactly the kind of style you want when game time rolls around.
NBA Official Pacers Throw Blanket
This blanket has all of your favorite Pacers patterns to make the perfect blanket for snuggling up during a game! Give the gift of soft warm comfort with this Indiana Pacers fleece throw blanket.
Indiana Pacers Beach Towel
This is a beach towel styles like a retro Pacers poster! You'll love the vintage appeal, and any fan would appreciate the convenience of representing their favorite team on their next beach vacation! Catch the rays while the Pacers score some hoops.
Reborn Pacers Book
This book chronicles the Indiana Pacers and their glorious uprising in Indianapolis. After a 14 year hiatus, it marks the team's rise and return to the sport of pro basketball. This is perfect light reading for any passionate Indiana Pacers fan!
NBA Pacers Fan Mats
These are vinyl, heavy duty floor mats for your car or truck that just scream Pacers fan! Let everyone who steps into your ride know just how passionate you are about your favorite team with these eye catching floor mats.
Funko POP Victor Oladipo
This little vinyl figurine commemorates the legendary Victor Oladipo, #4 of the Indiana Pacers! Snag one of these little guys, they make the perfect easily collectible gift idea on the planet!
Indiana Pacers Fieldhouse Stadium Poster Print
This print commemorates the legendary Fieldhouse Stadium! It comes in a neat retro style that evokes the golden age of basketball! It makes for a flashy and eye catching piece of décor.
Pacers Lapel Pin
This adorable pin celebrates everyone's favorite Pacer's mascot! With open arms, he's the symbol of a deep fandom for this well loved NBA franchise. Wear him to the next game and people will be asking you where you got it!
NBA Pacers Official Hoodie
This is one stylish piece of team gear! It's perfect for keeping warm and cozy on the way to the court. The stylish graphic featuring the team's logo makes the hoodie one any Indiana Pacers fan would love to receive as a gift!
Pacers Wall Art

No collection of sports memorabilia is complete without a classic poster! This poster would look great in any Indiana Pacers bedroom, living room, or man cave.
Indiana Pacers Shorts
Stylish and cool these Indiana Pacer basketball shorts would be perfect for any fan to keep cool, hit the gym up, or play some basketball!
Indiana Pacers Lanyard
Know a Indiana Pacers fan that's always losing their keys? This lanyard would make the perfect gift to not only help keep track of their keys but to also show off their love of the Pacers.
Indiana Pacers Duffel Bag
This Indiana Pacer sports bad not only shows off the teams logo but also stores basketballs! Perfect for any fan that also enjoys playing basketball.
These awesome Indiana Pacers fan gift ideas are sure to score some points with your favorite fan! The next time you're headed to a game, throwing a watch party or planning a Pacer's themed party, find some inspiration in unique and memorable gifts like these. What's the wildest piece of Pacer's gear you've seen? Let me know! Thanks for stopping.