Disclosure of Material Connection: Some of the links in this post may be "affiliate links." This means if you click on the link and purchase an item, I will receive an affiliate commission. Disclosure in accordance with the Federal Trade Commission's 16 CFR, Part 255. This site is a participant in the Amazon Services LLC Associates Program, an affiliate advertising program designed to provide a means for sites to earn advertising fees by advertising and linking to Amazon.
If you are looking for fresh ways to impress travelers that book your Airbnb, and score some awesome reviews, you may want to consider a welcome gift. With the perfect gift, you will give guests a stay that they will never forget. If you are ready to boost those ratings, and attract even more guests, check out these cool Welcome Gifts for Airbnb Renters.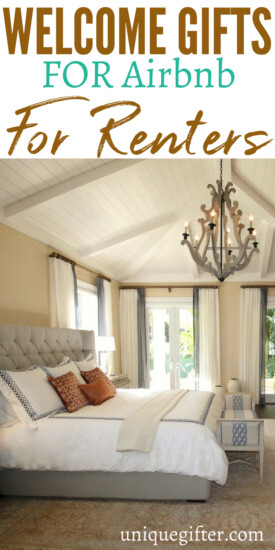 What is an Airbnb Welcome Basket?
An Airbnb Welcome basket is a collection of small gifts, added as a nice touch that guests would not experience if they chose to stay at a hotel. These items are provided to your vacation rental guests as a free gift, to make their trip a unique, welcoming experience that is memorable, and hopefully encourages them to stay again!
A welcome basket is another way to help your guests relax, as well as reinforce the theme or vibes of your property, making them feel like they chose the best possible place to stay for their needs.
How does it help them relax? They've been traveling, in some form or another, carted their luggage up, settled in, and now they have a nice surprise! Perhaps you've set out a snack basket and some cold beverages are available in the fridge, so they don't have to be hangry while sorting out their next move, or waiting for some take out to arrive.
Key Considerations for Airbnb Welcome Baskets for Guests
When planning your Airbnb welcome basket – or VRFO, Housfy, etc. you want to think strategically. Keep the following criteria in mind when you select welcome basket ideas, to balance giving your guests the best possible experience and making it all manageable for you as the owner or property manager.
Item Cost and Your Budget
A rule of thumb is to spend 10-20% of your gross single nightly room rate on a vacation rental gift basket. Whoa, you might feel that is a lot, but it's only of ONE night, and many people have a two night minimum stay. Usually this means your budget is $10-30 per turnover. While that might not seem like enough of a budget to make a difference for your guest experience, it really can! The welcoming touches are what lead to happy guests, good ratings and more bookings, so the impact to your profits is worth the cost to make your business stronger.
It's always sad to find out your hard earned money has been wasted, so do not splash out on items that might never be used.
Target Audience
When making your selections, be sure to think of your main customers. Are your bookings from couples looking for a weekend away, or do you attract families with small children? Think through who your most common guests are and how the Airbnb welcome gifts will align to their wants and needs.
Perishability & Best Before Dates
Stocking up generally keeps costs low and ease of making baskets high, but make sure you don't get too many items that could go bad or hit their best before dates without being used!
Local Laws
While alcohol is a common recommendation for welcome baskets, it may put you on the wrong side of the law. Be sure to check regulations where you live. Often, it is safer to skip altogether. Plus, many people do not drink for various reasons and will not be keen to see a free bottle of booze when they arrive.
If your town has a plastic bag ban, custom reusable bags featuring your Airbnb name and logo are a triple win – your guests have what they need to easily visit stores in your area, they have a souvenir to take home (make sure to tell them it's theirs!), and you get advertising and memories for your business.
Creative Welcome Gifts for Airbnb Renters
Custom Soap Favor on Wooden Dish
These custom soap favors are a great way for you to welcome long-term guests who are probably anxious to hop in a nice warm shower.
Coffee Mugs
If you offer coffee or tea at your Airbnb, these Retro State Coffee Mugs would make a really great welcome gift. Get a mug that matches your state, that is theirs to keep as a trip souvenir.
Snack Gift Basket
Travelers will certainly appreciate having snacks on hand during their stay, or even to take with them on the road.
A great thing about snack baskets is the size can be customized to the number of guests checking in. Having a selection of 6 items seems like an overwhelming, luxurious choice, but it can often be done for under $10! Free snack baskets are one of the best ways to get people thinking "this is why I choose to stay in Airbnbs," because just think of the cost of a hotel mini bar!
Opt for a mix of sweet, protein filled, vegan, gluten free, nut-free and savory. Adding in smaller items on top of single serve chips and pretzels, for example adding mints or caramels, is an easy way to make baskets feel very generous with the addition of just two or three small things. Here are some wholesale snack items you can purchase to use in your gift basket:
Spa Slippers
Spa slippers can be a rather inexpensive gift for you to use to welcome your guests. These are a great way to help travelers feel comfortable during their stay.
Personalized Keychain Tag
You can have this keychain customized to say "Welcome" or whatever message you prefer as a treat for your guests.
Spa Gift Set
There is nothing like winding down with a lavender scented bath after a long day of traveling.
Travelers Journal
These journals can be used for travelers to jot down their thoughts and experiences during their vacation. It can even be used as a sketchbook during downtime.
Luggage Tags
A unique luggage tag for each of your guests can be a really nice treat. Customize with a travel saying, your Airbnb's name, or your location.
Travel Wish Bracelet
This travel wish bracelet is definitely not your ordinary accessory. This is a really fun welcome gift for you to consider for your guests.
Passport Covers
Travelers will definitely appreciate having a new passport cover as a welcome gift.
Sleep Masks
There is nothing like a good night's rest after a long day of traveling. These sleep masks can definitely help make that happen.
Toiletry Pouches
Toiletry pouches make it so easy to carry all of your hygiene products, especially when you're on the road. You may want to consider this when selecting a welcome gift.
Beauty Gift Set
This Burts Bees Travel Sized Kit will be a huge hit with guests. This would make a really great welcome gift for long term guests.
Shampoo + Conditioner Easy Use Tubes
Shampoo + Conditioner Easy Use Tubes are a simple welcome gift that is definitely useful during the stay.
Socks
Socks can be a rather inexpensive welcome gift, and they are a good idea especially when the temperature drops. If you own a winter destination, it may seem a bit silly, but these are a good choice!
Hot Cocoa Box
A Hot Cocoa Variety Box is perfect for those chilly seasons. Guests will love warming up over a delicious cup of hot cocoa.
Drawstring Hood Rain Poncho
A high quality poncho is definitely much-needed during a vacation, especially in locations where rainy days are so prevalent.
Fanny Pack
Fanny packs are in style, and they are also super convenient. Travelers will appreciate having this waist accessory during their stay.
You don't have to spend big bucks going the extra mile for your guests. You can show your appreciation through a simple welcome gift your guests will definitely approve of.