Disclosure of Material Connection: Some of the links in this post may be "affiliate links." This means if you click on the link and purchase an item, I will receive an affiliate commission. Disclosure in accordance with the Federal Trade Commission's 16 CFR, Part 255. This site is a participant in the Amazon Services LLC Associates Program, an affiliate advertising program designed to provide a means for sites to earn advertising fees by advertising and linking to Amazon.
Hey y'all! I'm a native of NC and here to show you some great gifts for those who love and/or miss North Cackalacky! I have some great gifts that might be a perfect fit for you or a gift for a friend or loved one. From fun shirts that showcase the heart of North Carolina to wall decor and even some jewelry!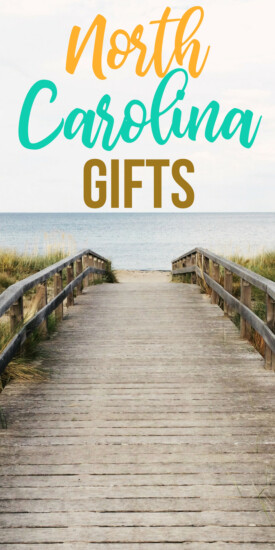 Epic North Carolina Gifts
NC Heart Shirt
Wear your heart on your sleeve (well really just on the front of this shirt)
Tiny North Carolina Necklace
This dainty necklace is a subtle reminder of home.
NC Beer Cap Map
Collect caps from NC craft beers with this wood NC beer map.
Wooden NC Sign
This handmade wooden sign is a great decor piece for a North Carolinian's home.
North Carolina Tote
A functional gift with a taste of home
NC Map Wallet
This colorful clutch makes it easy to have North Carolina at your fingertips
North Carolina Ornament
This ornament is the perfect Christmas gift for anyone who loves NC!
NC Map Print
A colorful map of North Carolina is sure to brighten up any room
Personalized NC Bracelet
This handmade leather bracelet can be customized for any of the NC lovers in your life.
Ocean Mist NC Soap
Support local businesses and give the scent of the NC coast with this ocean mist handmade soap.
North Carolina Pillow
Home is where the heart is, and yours is in NC!
Tarheels Mini Football Helmet
Gift this to a true blue Tarheels fan so they can show off their team
NC Pig Flag Hat
North Carolinians are serious about their pork y'all
Homesick NC Scented Candle
When you're feeling homesick, light this candle and relax to the scent of beautiful NC.
North Carolina Door Mat
Make a house a home with this NC doormat.
Starbucks North Carolina Mug
This special edition mug makes a morning coffee that much better.
Greensboro Wall Art Canvas
As a Greensboro native I'm a bit biased, but this company also makes many other city canvases to fill your home with a bit of your hometown.
NC Cheese Plate
Historic North Carolina Puzzle
Discover the history of NC with this fun puzzle.
North Carolina Flag
No NC household is complete without a North Carolina Flag!