Disclosure of Material Connection: Some of the links in this post may be "affiliate links." This means if you click on the link and purchase an item, I will receive an affiliate commission. Disclosure in accordance with the Federal Trade Commission's 16 CFR, Part 255. This site is a participant in the Amazon Services LLC Associates Program, an affiliate advertising program designed to provide a means for sites to earn advertising fees by advertising and linking to Amazon.
It always warms my heart when a friend knows my fandoms well enough to pick a practical and totally geeky gift. Among my favorites: a Doctor Who robe, and my PChan keychain.
The housewarming gift of a lifetime for any geek comes in a surprisingly small package! These nostalgic framed prints from Xreart will warm their hearts, too.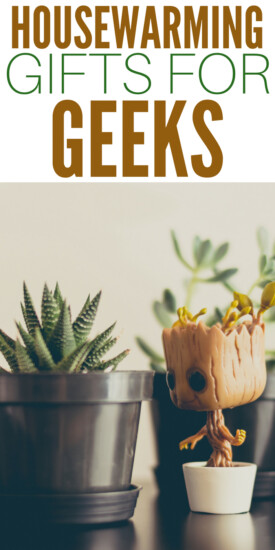 You should know that such a wide array of fandoms out there this only scratches the surface, but it's a good start!
Housewarming Gifts for Geeks
Succulent Bulbasaur planter
If you have any Pokemon gardeners in your life, give them the gift of a small herd of Bulbosaurs!
Nintendo Switch Games Block
Old school gamers have rejoiced for the Nintendo Switch, keep their new cartridges safe in this delightful block.
Nintendo Controller Print Set
This print is perfect for the truly dedicated Nintendo lover and it even looks a bit Art Deco!
Pokemon Terrarium (for display)
I thought this was a darling little indoor garden but it turns out that it's the lowest maintenance environment you could ask for!
Vash the Stampede Slate Coasters
Natural slate is the perfect setting for a Vash.
Vash the Stampede Coffee Mug
A slightly silly combination of Starbucks and Vash would put a smile on your coffee drinking nerd's face.
Hikaru Ichijou's VF-1 Valkyrie of Macross Hoodie
Stay warm in high tech style. We could all have used one of these when we moved into our stone-cold apartment.
Full Metal Alchemist Ouroboros Keychain
A new keychain for a new set of home keys is most appropriate.
Overwatch Ultimate Shotglasses
A toast to the new home with your gaming geek's Overwatch favorites!
Genma (Ranma 1/2) Pillow
Genma in panda mode never ever fails to make me laugh – this pillow is perfect for a chair or sofa.
PChan Pig Layered Paper Cut Art Shadowbox
P Chan is totally underrated and this shadowbox is the perfect artsy way to sneak him into the home.
Totoro Fishing Wall Art Applique Sticker
This is probably meant for a nursery but I would absolutely love it in just about any room, including the kitchen.
My Neighbour Totoro Lamp
This lamp is amazing – great for a nursery or a reading nook.
Rouxbe Online Cooking Course
If your geek friend is past the cool factor of samurai kitchen swords, and into perfecting their skills, a Rouxbe online cooking course might be just the thing to get them spending some solid time in their new home. These self-paced courses are available on a variety of topics, or a membership model, and make an excellent gift. Click here to read a full review of Rouxbe.
Avengers Name Letters
Avengers Cotton Napkins
Environmentally friendly, reduce waste, and heroic? Yes please.
Old School Marvel Heroes Lamp Shade
I love having one old timey Marvel item in a room – a lamp shade is one of those unexpected touches.
Minimalist Marvel Hero Prints
We are the worst at putting up photos when we move but art prints like these look great on the wall or propped up on the mantel.
Doctor Who Gallifreyan Clock
Is there anything more timey wimey than this Gallifreyan clock?
Star Wars Whiskey Decanter Set
I don't even drink much anymore and I love this set. If your Star Wars geek appreciates whiskey, they should appreciate it even more poured from this decanter.
Spiderman Dresser Knob
These are really cool. As someone who usually has little appreciation for furniture aesthetics, I would wholeheartedly be into changing out the knobs on our dressers for these.
Is there something out there that you absolutely love to give to your geeky friends? Or something you'd truly love to receive? Let us know!