Disclosure of Material Connection: Some of the links in this post may be "affiliate links." This means if you click on the link and purchase an item, I will receive an affiliate commission. Disclosure in accordance with the Federal Trade Commission's 16 CFR, Part 255. This site is a participant in the Amazon Services LLC Associates Program, an affiliate advertising program designed to provide a means for sites to earn advertising fees by advertising and linking to Amazon.
Well, it's been over 100 degrees here all week, and I don't have any air conditioning. That basically makes me an expert when it comes to gifts for people with no A/C. Trust me when I say anything helps!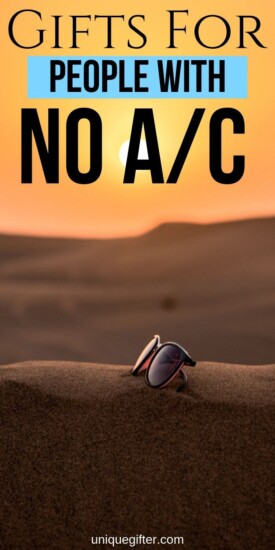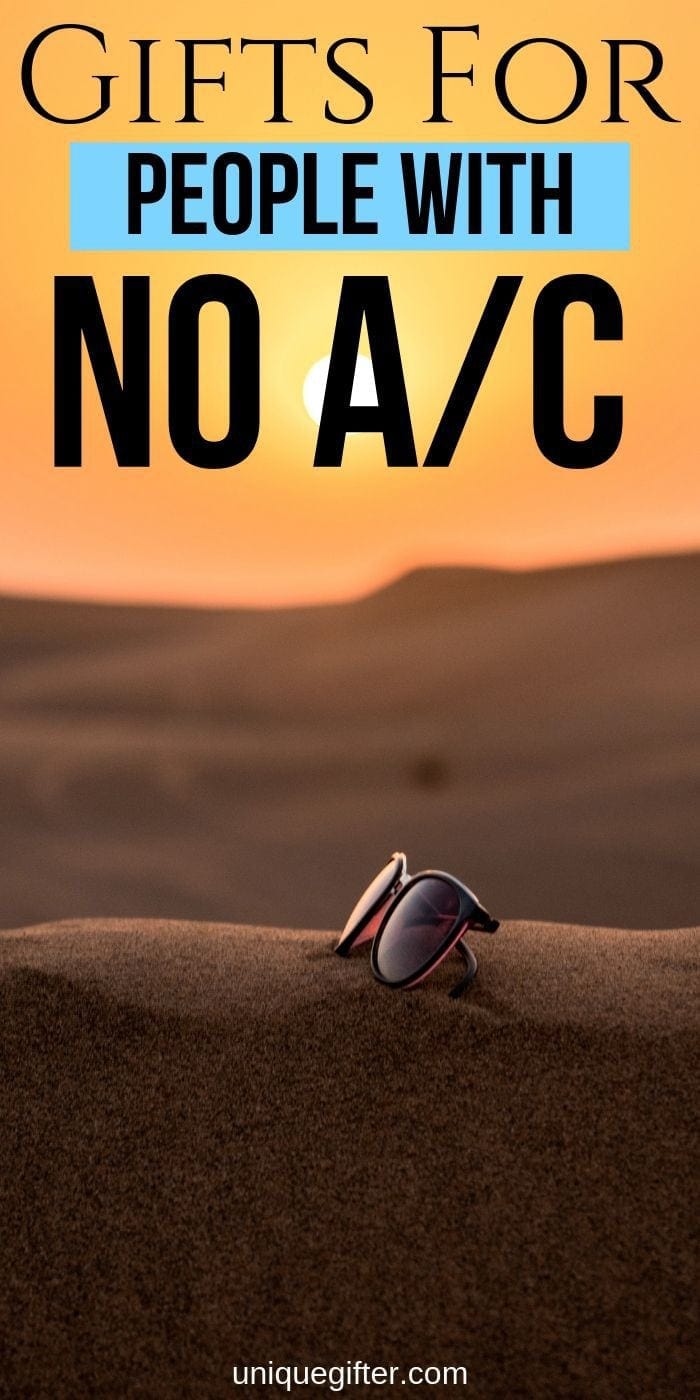 Gifts for people with no A/C
If you've ever lived with no air conditioning, you know that it can be a little bit miserable. That means the gift recipient you're thinking of is probably a little bit miserable too. You can help them cool off with these great gift ideas.
Cooling mattress cover
Buy Now
The hardest part about having no AC, in my opinion, is trying to fall asleep when it's too hot. Something like this can really make going to bed a little easier.
Cooling towels
These keep cool for up to 3 hours and are perfect for when you have to sit in a house with no air conditioning. They're even safe for pets!
Pet cooling mat
Speaking of pets, if you're shopping for gifts for people with no A/C who are also pet owners, this mat is a great idea. After all, pets get too hot too!
Personal cooler
Even if you can't cool down the whole house, you can at least make yourself feel better. These are handy at home with no A/C or while out in the heat.
Blackout curtains
A lot of people don't realize that having thick curtains can actually help your house stay cooler. These block out the sun and help keep cool air in your home.
Japanese cooling stickers
These are really popular in Japan but not so much here, but I can't figure out why. Just peel and stick for instant cooling on your face.
Fan
You can't have gifts for people with no A/C without including a fan! There's a lot of options to choose from in any price range, but these Dyson ones are supposed to be the best.
Cooling band
You just soak this band in cool water, and it stays cold for longer than a regular cloth. Great for taking the edge off on the hottest days at home with no air conditioning.
Ice pop molds
What better way to cool off in the summer than to do what you did as a kid. Making your own popsicles is a great way to cool off on a hot summer day.
Cold therapy socks
For some reason, the temperature you feel can affect the rest of your body. These cold therapy socks have gel inside that stays cold while you wear them.
Cooling blanket
Apparently, this blanket will keep you cool even in the heat. It draws heat from the body to help you stay cool. Seems a lot better than my wet bedsheet I use…
Iced coffee maker
I don't know about the gift recipient on your list, but I can't go without coffee, even in summer. Give them something that won't heat their bodies up more but still lets them enjoy their vices, like this iced coffee maker.
Arctic Air
As seen on TV! Instead of freon, like an AC unit, it uses water to cool you. This would be great to put right next to the bed.
Misting fan
If you want to use water to cool differently, a misting fan is always good too. It blows cool water out and air out of the fan while adding new meaning to Netflix and chill.
Dehumidifier
Depending on the type of heat in your area, a dehumidifier might help a lot. If you live somewhere that's hot and muggy taking some of that moisture out of the air will make it feel cooler.
Cool mist humidifier
Like the dehumidifier, a humidifier will help with hot, dry heat. Make sure it's cool mist though – you don't want warm air blowing out!
Water bottle
It not only cools you down a little bit but it's super important to stay hydrated in the summer. Especially if you're sweating with no A/C.
Instant cooling towels
If you're looking for something you don't have to get wet first, these cooling towels are a good option. They're ready to go!
Cooling tie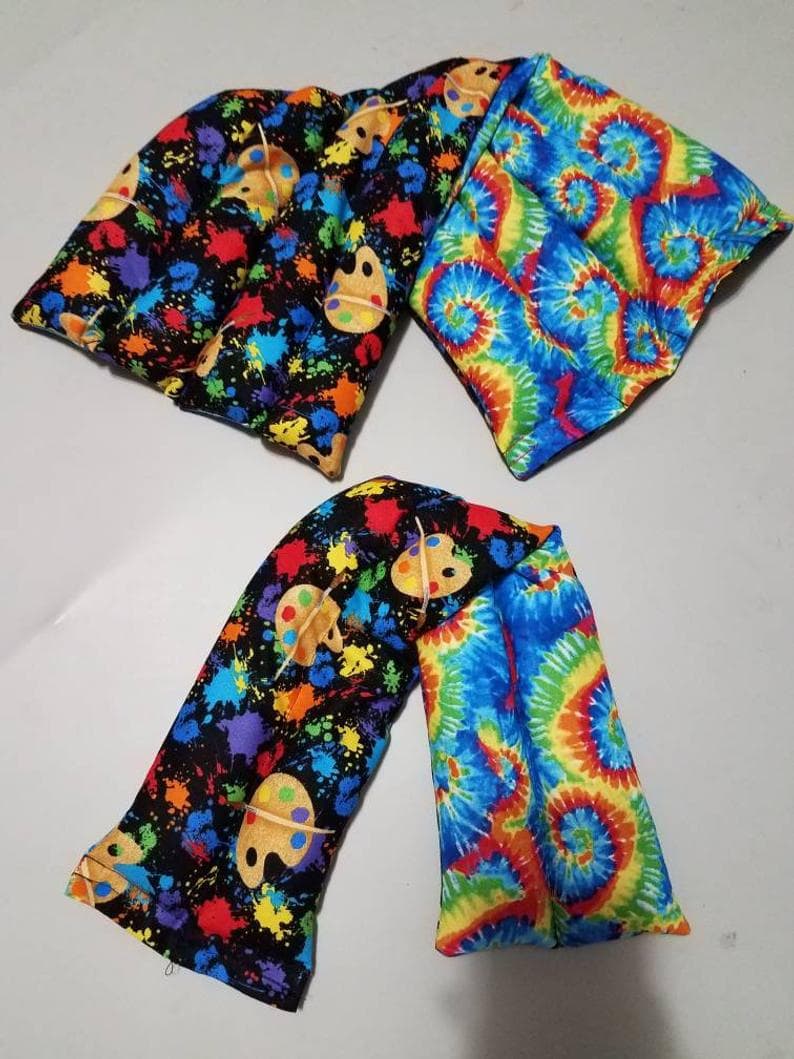 This is great if there's no A/C at the office. A cooling tie needs to be soaked in water then keeps you cool for the whole day.
Air conditioner
What are the best gifts for people with no A/C? Air conditioning, of course! A portable or window unit can be installed in most places. Seriously, it will change their lives.
Leave a comment with how you stay cool in the summer. I hope you found exactly what you are looking for when it comes to gifts for people with no a/c.